Nothing compares to the hikes in Gatlinburg. Whether you're hiking with kids, or you're looking for a more challenging solo-hike, it's impossible to overstate the beauty of the Great Smoky Mountains region. This region is sprinkled with waterfalls, wildlife, historic remains of original homesteads, wildflowers, old growth forests, and breathtaking panoramic views.
The Great Smoky Mountains National Park is located between Tennessee and North Carolina and, as one of the largest protected regions of the United States, covers over half a million acres of land. With a wide range of elevations and terrain, Great Smoky Mountains National Park and the surrounding area has some of the best hiking and adventures in the world.
With all the options of places to hike, this list will help you decide on which hike is best for you according to difficulty and interest. We ranked the hiking trails in the GSMNP and nearby Gatlinburg based on unique features, including scenic views, ease of access for families, and natural attractions like waterfalls and streams.
Remember, no matter your experience, you need sturdy hiking shoes,boots or trail runners. For strenuous hikes and hikes with steep inclines, bring along a trekking poles for extra stability. You'll also want to carry a backpack with water, snacks, and depending on the time of year, bug spray and sunscreen. Remember to treat the trails and nature with respect by not littering or damaging the foliage.
Best hikes near Gatlinburg in the Great Smoky Mountains
1. Roaring Fork Motor Nature Trail
Distance: 5.5 miles
Difficulty: moderate (1800' elevation gain)
Unique Features: two waterfalls, historic buildings
From beginning to end this trail is full of surprises and excitement. You'll find an authentic mountain farmstead at the head of the trail surrounded by hardwood forest.
If you're in the mood for a moderately difficult hike with a breathtaking views, this trail leads to not one, but two of the best known waterfalls in the Great Smoke Mountains National Park: Grotto Falls and Rainbow Falls.
The Trillium Gap Trail takes you to the 80-foot tall, single-drop waterfall, Rainbow Falls, which got its name by the brilliant rainbow that appears in the mist on sunny days. And there is always Grotto Falls, a 25-foot high waterfall: a perfectly shaded and moist retreat on hot summer days. Note: this trail is closed during the winter, but the waterfalls can still be accessed through the Rainbow Falls trailhead.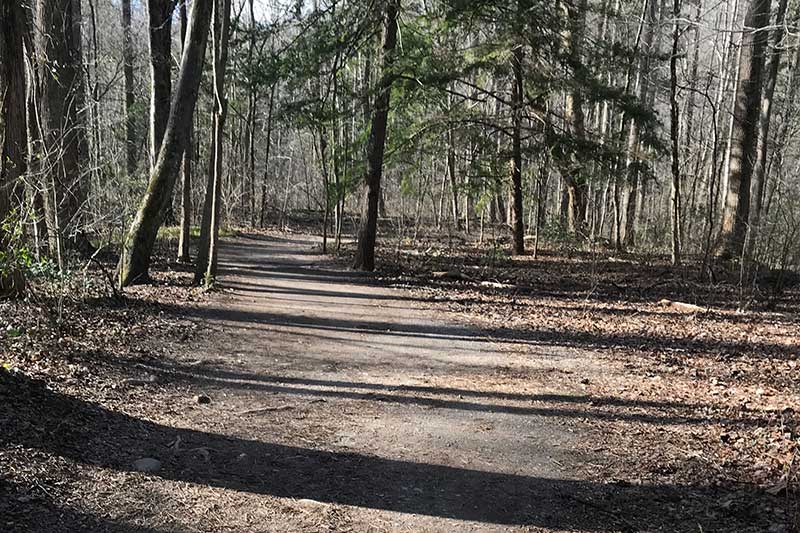 ---
2. Laurel Falls Trail
Distance: 2.3 miles
Difficulty: very easy (314' elevation gain)
Unique Features: waterfalls, paved trail
Out of all of the hikes in Gatlinburg, I consider this the perfect waterfall hike for families. Even families with young children. Located 3.8 miles from Sugarlands Visitor Center near Gatlinburg, this trail is easily accessible and has an elevation gain of only 314 feet.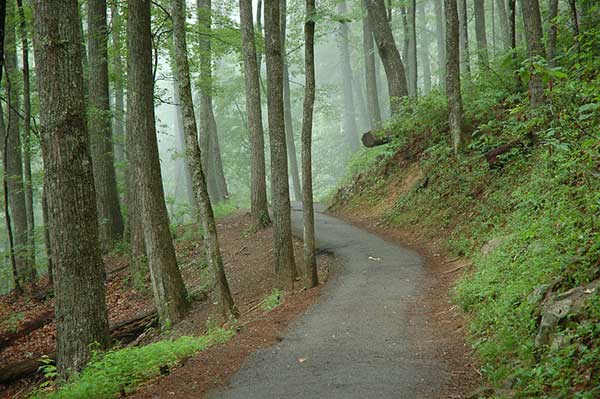 This also has one of the only paved trails in the Smokies. Get here early, though. The ample parking fills up quickly due to this trail's popularity. I suggest checking this one out on a weekday.
This trail is rich with history, too. It was established in 1932 as a way to provide fire crews with access to Cove Mountain. But now the trail mostly known for its 80 foot waterfall. The best time of year to hike this trail is in May since you'll get to see all the flowers, including mountain laurel, blooming.
---
3. Ramsey Cascades Trail
Distance: 8 miles
Difficulty: strenuous (2,190' elevation gain)
Unique Features: waterfall, old growth forest
Rough terrain and elevation gains of 2,190 feet make this hike a challenge for some of the most experienced among us. So don't forget your hiking sticks if you attempt this one. The hike begins on an old gravel road which ends at a junction with the Greenbrier Pinnacle Tail.
Once the road ends, you'll enter the largest old-growth forest remaining in the Smokies. Some of the oldest trees in Great Smoky Mountains National Park are found along this trail.
The trail follows an off-shoot of Little Pigeon River which produces countless waterfalls and stunning rapids. The 20-foot footbridge may test those with a fear of heights, but if you're a true adventurer, you could always picnic on the stone ledge at the top of the falls.
This trail ends with the tallest waterfall in GSMNP, Ramsey Cascades, which drops 100 feet down cascading stone. If you go during the summer, watch out for hornet nests.
---
4. Alum Cave Trail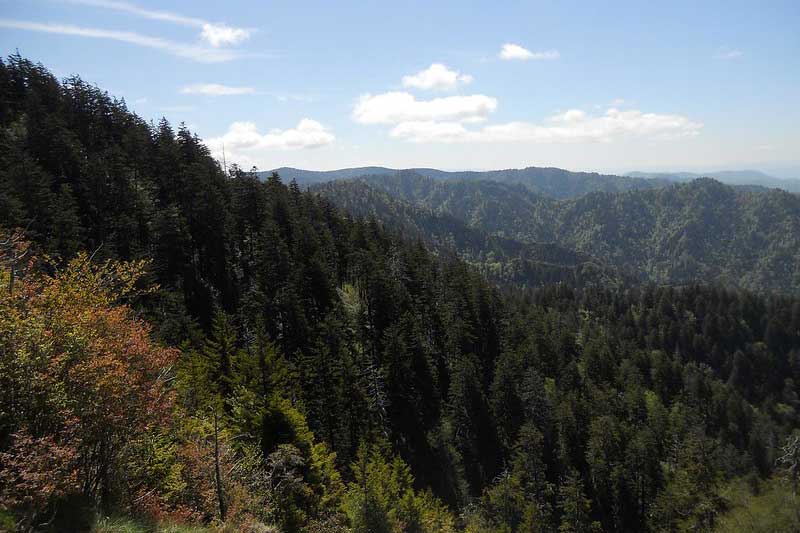 Distance: 4.4 miles
Difficulty: moderate (elevation gain 1,125)
Unique Features: views, cave
Alum Cave Trail is often described by families as the best hike in the Smokies. This unique hike starts with a slow, staired incline up Arch Rock which leads to Alum Cave with a view of Anakeesta Ridge.
Further along, you will come across the lookout point where Little Duck Hawk Ridge is visible to the west and Myrtle Point to the northeast. It's apparent right away that Alum Cave is no cave at all, but a bluff that towers over you at 80 feet high.
This hike is great for kids and can lead to enriching conversations about its history as an Epsom salt mine and source for saltpeter which was made into gunpowder. The massive bluff makes for great photographs.
---
5. Rocky Top/Thunderhead Mountain Trail
Distance: 13.9 miles
Difficulty: extremely strenuous (3,665' elevation gain)
Unique Features: panoramic views, mountain laurel
Rocky Top is not for the light of heart. This hike is known for its steep incline, but picturesque views. Most avid hikers agree that this hike provides some of the best views of the Smokies which make it well worth the difficulty.
This hike begins at Anthony Creek Trailhead, and is not a hike to bring the little ones along for. This hike features a historic horse and sheep trails surrounded by rhododendron and mountain laurel in the summer. Five miles into this hike, you'll experience stunning views of the Smokies as you continue toward Rocky Top by hopping on the Appalachian Trail.
Thunderhead Mountain consists of three summits, all of which are visible from the Spence Field clearing. If you're considering this hike, plan ahead; pack a lunch, plenty of water, an extra pair of socks, and your hiking sticks.
---
6. Little River Trail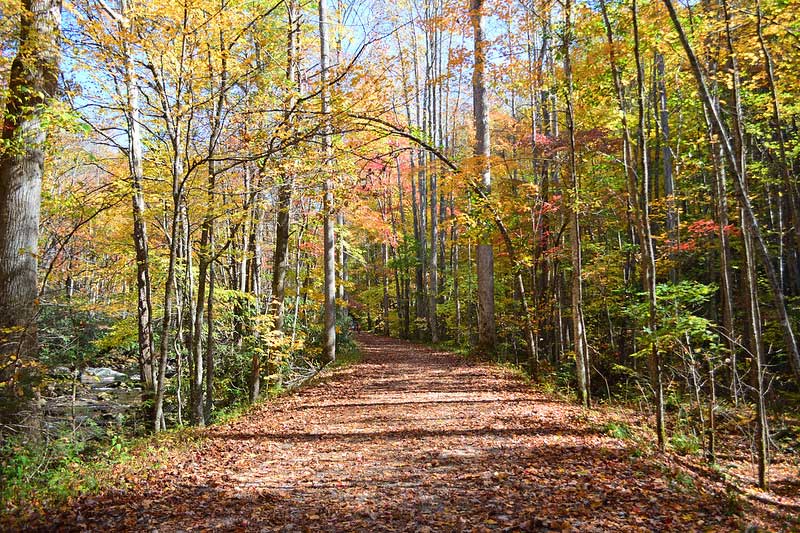 Distance: 4.9 miles
Difficulty: low-moderate (412' elevation gain)
Unique Features: streams, wildflowers, historical sites, waterfall
Little River Trail makes for an easy, yet exciting day hike. This destination is just southwest of Gatlinburg and makes for a great day trip for families looking for some fresh air. This hike follows the cascading stream of the Little River.
Little River is known for having some of the clearest, most pristine water. Along the route, are several historic cottages from the 1920s, which many people call "Millionaire's Row," and vibrant wildflowers in the spring and summer. Some other features include Huskey Branch Falls and a small footbridges.
If you're feeling energetic and looking for a longer outing, you could even keeping hiking the along the river beyond the turnaround point or hop on the Huskey Gap.
---
7. Mount Sterling via Big Creek Loop
Distance: 12.2 miles
Difficulty: high-moderate (689' elevation gain)
Unique Features: panoramic views, waterfalls, old growth forest, historic site
This long hike offers plenty of adventure. There are swimming holes, a campsite, multiple waterfalls, and a 60-foot fire tower. Despite the full hike being difficult and most suitable for hiking enthusiasts, this hike can be pared down to shorter distances.
The first leg of the trail does not have the extreme elevations of the latter part. If your kids are joining, you can aim for the remains of a 35-foot chimney at just a third of a mile from the trailhead, or you could go further to Midnight Hole Falls at 1.5 miles or Mouse Creek Falls at 2 miles.
If you are looking for longer distance and duration, hikers can take the Baxter Creek Trails to the Big Creek Campground.
---
8. Porters Creek Trail
Distance: 4 miles
Difficulty: low-moderate (699' elevation gain)
Unique Features: waterfalls, stream, flowers, historical, old growth forest
Porters Creek offers the best of what most hikers are looking for. This 4-mile hike begins as an old gravel trail that follows along Porters Creek, and is lined with wildflowers, including yellow trillium, toothwort, dwarf ginseng, and wild geranium.
And the perks of being an adventurer become apparent right away with the Elbert Cantrell historic farmstead just two-thirds of a mile from the trailhead. This trail is a great choice in wintertime. Because of its low elevation, it doesn't get the snowfall other trails experience.
It's also an excellent option for a family hike or camping, if you're willing to trek another 1.7 miles back to the campsite. If you have kids, they'll be amazed by the 60-foot Fern Branch Waterfall.
---
9. Abrams Falls Trail
Distance: 5.2 miles
Difficulty: low-moderate (675' elevation gain)
Unique Features: waterfalls
This hike takes most people about 3.5 hours to walk back to the waterfall and can be a great options for hiking families. This trail was once rated as dangerous because of the water, rocks, and changes in elevation, but if you wear the correct gear (including sunscreen) and plan to bring water and snacks, most people don't hesitate to bring their children.
The dramatic high-volume waterfall makes for great photos, and there are plenty of spots to stop and snap a photo. Abram's Creek Campground is about 5 miles away if you're in the mood for camping. People often report seeing wildlife despite this being a highly trafficked trail.
---
10. Chimney Tops Trail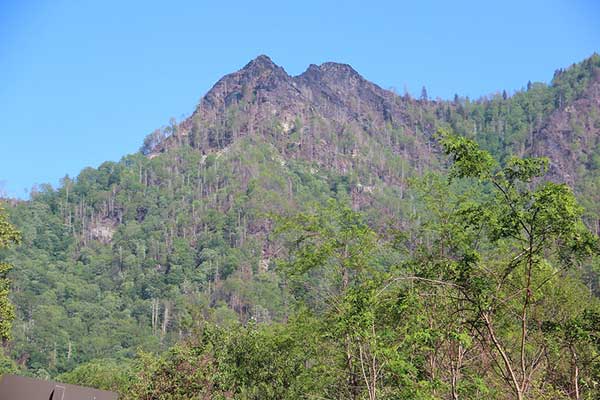 Distance: 3.8 miles
Difficulty: moderate (1,487' elevation gain)
Unique Features: panoramic views
This recently restored trail is steep, but well-trafficked due to its shorter length and outstanding views. Chimney Top Trail starts with a low to moderate incline, but as you reach the Chimney Tops, the trail becomes extremely steep.
Most hikers suggest you take your time and take breaks as needed, but all hikers of this trail agree that the views of the stone and the peaks of Mt. LeConte are worth the sweat to get there. This trail is great for active families, although, I wouldn't recommend bringing small children.
But if you have little ones, it's worth waiting for their hiking skills to develop and taking them later to experience one of the greatest hikes in the Smokies.
---
11. Andrews Bald
Distance: 3.5 miles
Difficulty: low-moderate (899' elevation gain)
Unique Features: panoramic views
Andrews Bald trail may have a humorous name, but the hike is fun, unique, and offers breathtaking views of the Great Smoky Mountain highlands for hikers of all ages. From this trail, you can see Fontana dam and the Smokies.
The 1.75 mile trek out leads you through a relic of the last ice age, spruce-fir forest, which can only exist in the unique conditions of the high elevation in Southern Appalachian Mountains.
The forest eventually opens up to reveal Andrews Bald, a clearing, where it feels as if you can see the entire Great Smoky Mountain range. This "steep but fun trail" is great for families with kids of various ages, and offers a change in ecosystems which can keep everyone engaged in the adventure.
---
12. Spruce Flat Falls Trail
Distance: 1.8 miles
Difficulty: very easy (164' elevation gain)
Unique Features: river, views, waterfall
Definitely one of the best kept secrets as far as hikes in Gatlinburg. Bring the kids and grandparents, and pack a picnic or wear bathing suits and bring towels if the temperature allows it. If you're a hiker that likes solitude, this trail is free of the crowds you'll find on some of the others.
You do have the chance of seeing bears on your way to the four-tiered 20-foot waterfall with its striking pool. People often go wading into the pools during warmer months or stop at the waterfall to enjoy a leisurely lunch. If you go during the summer be sure to bring bug spray. No matter what time of year you go, everyone agrees this trail is great for a leisurely day in nature.
---
13. Kephart Prong Trail
Distance: 4.2 miles
Difficulty: low
Unique Features: stream, flowers, historical remnants
Described as "Zen," this trail is peaceful without being boring. The trail begins by crossing the Oconoluftee River and follows the Kephart Prong upstream. Because of its accessibility, this trail is a favorite among hikers of all ages for all seasons. If you have small children, they'll love the all the historic remnants, including a fireplace and brick wall.
There are also plenty of resting place along the trail, including a log shelter which can be booked for camping, a picnic area, and footbridges. This hike is said to be a great hike to introduce small children to backpacking, a good child carrier backpack might come in handy here.
---
14. Charlies Bunion and the Jumpoff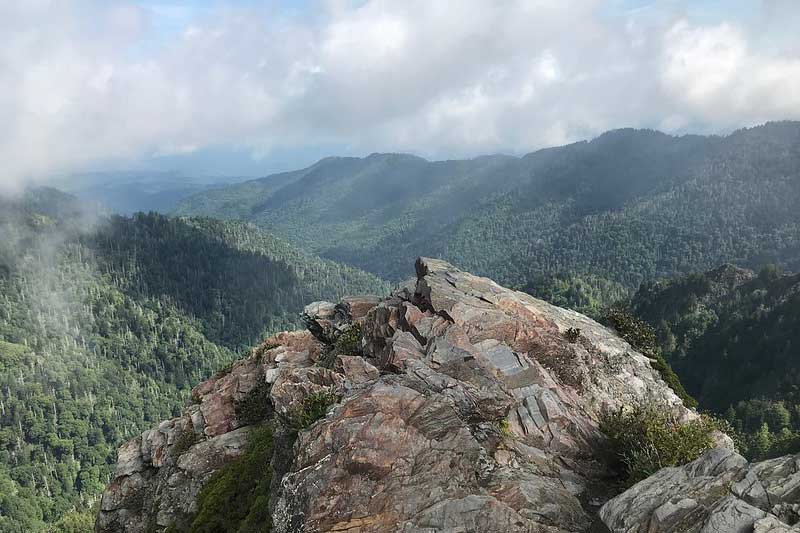 Distance: 8.1
Difficulty: moderate (1,640' elevation gain)
Unique Features: panoramic views
People travel from all over to hike Charlies Bunion and its extension, the Jumpoff Trail. Located about a half an hour from Gatlinburg, this trail is often crowded and requires spikes or traction devices to prevent slipping (and possible injury) in the winter.
Its shade makes it a great choice for spring and summer hikes. You can expect to possibly see deer, bears, and hogs while hiking this well-shaded leg of the Appalachian Trail. If you get here early, make sure you wait at the Jumpoff for the fog to clear in order to see the deep greens of the forest which contrast with the vibrant wildflowers you'll see along the way.
---
15. Gatlinburg Trail
Distance: 3.8 miles
Difficulty: very easy (164' elevation gain)
Unique Features: waterfalls, paved trail, footbridge
This hike makes the list because it is only one of two hikes in the Smokies that allows dogs and bicycles, making it great for the whole family. The Gatlinburg Trail is often referred to as a "park-to-town" trail because it begins in the Sugarlands Visitor Center and follows the West Prong of the Litter Pigeon River to the City of Gatlinburg. From this trail, you can spot turkeys, black bears, and ruins from the original homesteads in this area.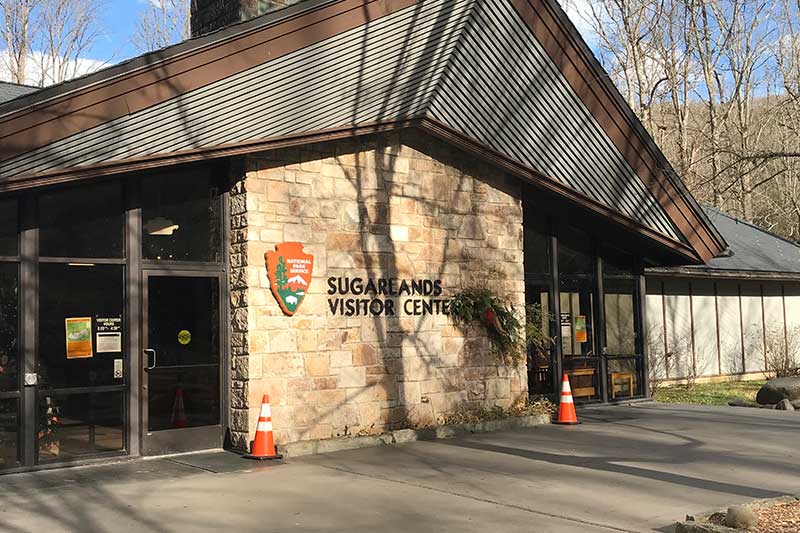 There are even numerous tiered waterfalls along this route. If you're bringing your kids along, they will love the footbridge that gives them a stunning view of the river and place to hunt salamanders.
No matter which trails you choose, Great Smoky Mountains National Park has some of the best hikes in the United States. You can even start with some of the less intimidating trails like Porters Creek Trail or Laurel Falls Trail, and eventually work your way up to Rocky Top or Ramsey Cascades Trail. Let the trails inspire you and your family to join in the tradition of exploring the wilderness.