Gatlinburg in Tennessee is a mountain resort city that offers a great, relaxing getaway. You get great views of the Smoky Mountains and it's a quick drive to visit the national park from the city. Sitting at an elevation of 1,280 feet you can also expect an average of 9 inches of snow annually. However, it isn't snowy year-round and there are certain months that are better than others to experience the snow. To make sure you can make the most of your winter getaway plans, here's all the information you need on the best time to see snow in Gatlinburg.
Best time of year to see snow in Gatlinburg
January and February are two of the best months to see snow in Gatlinburg. These months also bring the most snowstorms in the Smoky Mountains. Generally, you just need precipitation and temperatures below 32 degrees Fahrenheit for light snow, so, in colder years, you might catch more snow than the typical averages. However, when there is light snow, it typically melts after a few hours on the ground.
Some years there is snow before Thanksgiving or Christmas, but this is quite rare. Technically you can't completely rule out snow in Gatlinburg in November or April. Still, they aren't the best bet for seeing snow, especially enough to play in. Once May comes around, the weather is generally not cold enough anymore.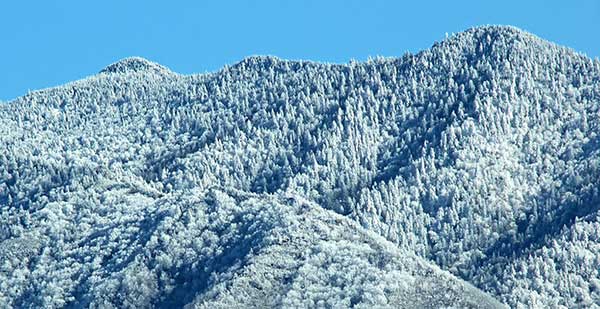 How much snow to expect in Gatlinburg
Every year, Gatlinburg receives an average of 9 inches of snowfall. However, the weather forecast for the Smoky Mountains changes each year, with some years offering snowfall during months you typically don't get snow in Gatlinburg. For example, in 2018, there was light snow in November on the 15th and 27th.
The average snowfall totals by month since 2000 in Gatlinburg are as follows:
| | |
| --- | --- |
| Month | Average snowfall in Gatlinburg (inches) |
| November | 0 |
| December | 1 |
| January | 4 |
| February | 2 |
| March | 1 |
| April | 1 |
| May | 0 |
If you plan to visit the Smoky Mountains National Park from Gatlinburg, you can see how much snow has fallen there by checking out the webcams available in the park:
Where can you see snow in Gatlinburg?
You'll want to find a hill or get to the city's highest elevations for the best chance of snow in Gatlinburg. For a location that guarantees snow, plan a visit to Ober Gatlinburg. This amusement park and ski area create their own snow to ensure you can enjoy the various activities they have to offer.
Since it doesn't snow as much in the lower elevations of the city, there are plenty of spots offering spectacular views of the mountain snow. Examples include:
Space Needle: provides a 360-degree view of the city and surrounding mountains at a height 400 feet above the downtown strip
Gatlinburg SkyLift: you can ride skylift chairs elevated at 1,800 feet above sea level
Gatlinburg SkyBridge: the longest pedestrian suspension bridge with views of snow in the Smoky Mountains
Newfound Gap Road: a scenic drive into the Smoky Mountains National Park where there is more likely to be snow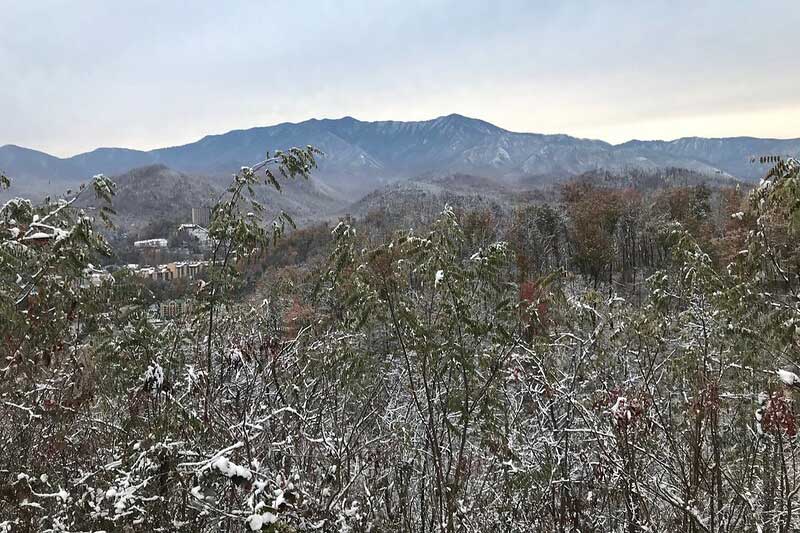 Are there closures in Gatlinburg when it snows?
Snow events in Gatlinburg typically don't last over a day. The snow can also melt quickly, especially if there is sunny weather following the storm. However, there can be closures to some local attractions such as the Space Needle or Ripley's Aquarium during big snowstorms. Newfound Gap Road is plowed during the winter, so if it is closed due to snow, it's unlikely it will be closed for long.
The Great Smoky Mountains National Park does have seasonal roads that close during the winter due to snow or icy conditions. You can find information about road and facility closures in the park during the winter months online here. However, if you want to go on a hike without driving your vehicle, you can start at trails near Gatlinburg that are within walking distance to the park gates.
Things to do in Gatlinburg when it snows
One of the best things to do in Gatlinburg when it snows is to enjoy the beautiful winter landscapes, especially snow-covered mountain views. You can also easily access hiking trails into the Great Smoky Mountains National Park from Gatlinburg. For example, here are three trails nearby Gatlinburg that takes you into the park:
Chestnut Top Trail
The Gatlinburg Trail
Little Bottoms Trail
A visit to the Ober Gatlinburg ski area and amusement park lets you go skiing, snowboarding, and snow tubing. They also have indoor ice-skating areas, shopping, dining, and other outdoor activities. Snowy or cold days can also be great times for indoor attractions, especially since they are less crowded in January and February. Examples of Gatlinburg indoor attractions include:
Wild Bears Falls indoor waterpark
Ripley's Aquarium of the Smokies
Gatlin's Indoor Mini Golf and Laser tag
Ole Smoky Distillery samples
---
Conclusion
The two best months to see snow in Gatlinburg are January and February where the average snowfall ranges between 2 to 4 inches. However, this can vary depending on how much precipitation there is and how cold it is that year. There are also places like Ober Gatlinburg that generate their own snow to ensure you can experience winter activities regardless of what the natural snow forecast is.