Fun vacations don't have to break the bank! If you are looking for free and cheap things to do in Gatlinburg and Pigeon Forge, then you've landed at the right place. These two towns in Tennessee are located next to each other with a road linking the two, so you can make the most of the attractions in both locations. With this list of 20 affordable things to do in Gatlinburg and Pigeon Forge, you're sure to have days filled with fun!
20 cheap things to do in Gatlinburg and Pigeon Forge
1. Visit the Great Smoky Mountains National Park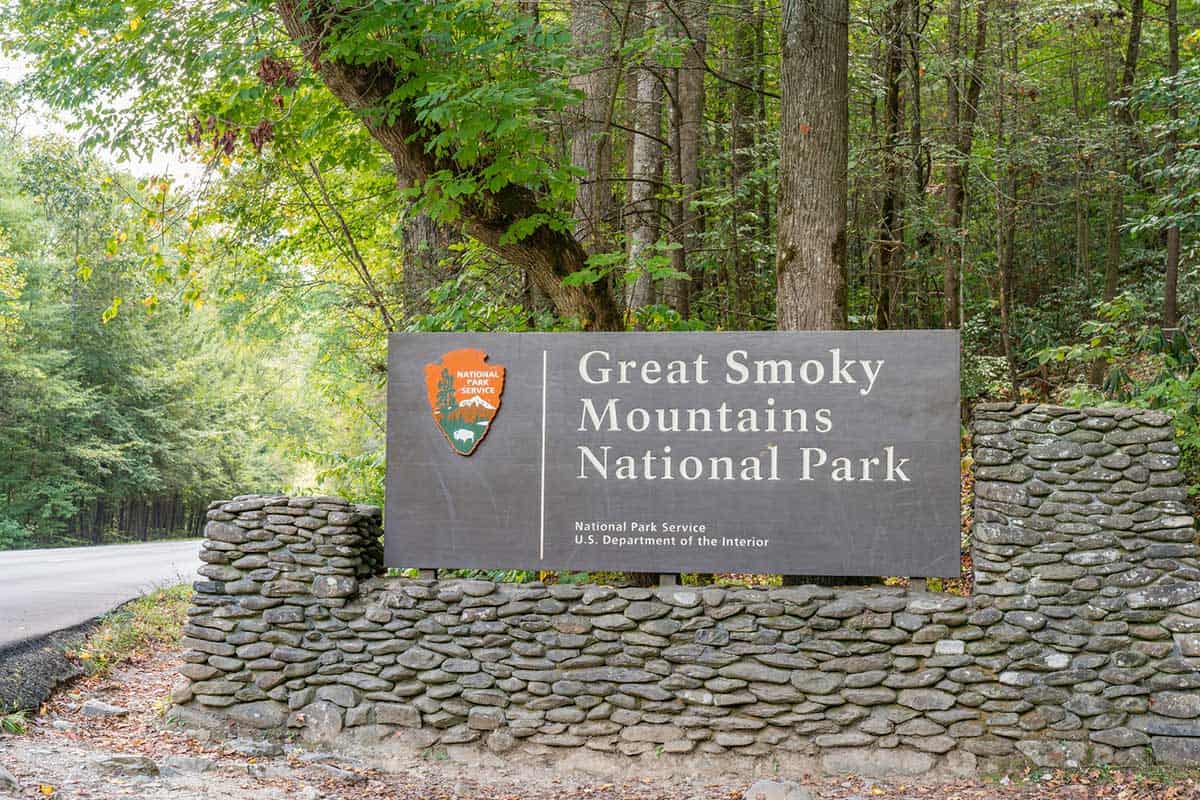 A trip to Gatlinburg or Pigeon Forge isn't complete without stopping at the Great Smoky Mountains National Park. The park is a 20-minute drive from Pigeon Forge and around the corner from downtown Gatlinburg. There are hiking trails of various difficulty levels, lakes for water-sports, and of course, a chance to witness the famous blue "smokey" fog. Even better? Entrance to the park is free!
2. Go sightseeing around Smoky Mountains
Another free cant-miss experience with the Smoky Mountains as the backdrop is a drive to the various sightseeing locations. Get your camera ready and visit:
Clingman's Dome: the highest point in the Smoky Mountains National Park
Campbell Overlook: offers a spectacular view of Mt. LeConte
Cades Cove Loop: for a drive featuring various historical buildings in the park
3. Visit the salt and pepper shaker museum
The world's only salt and pepper shaker museum in Gatlinburg is home to over 20,000 sets of salt and pepper shakers. Children 12 and under can enter for free and adults pay $3 that goes towards purchasing any salt and pepper shaker in the gift shop.
4. Admire the Friendly Falls scenery
Located off Wears Valley Road is the beautiful Friendly Falls waterfall. It's free to admire the falls. However, they also have shops, food, and the Magic Gem Mine, where kids can mine for gems and stones with a $20 bucket.
5. Visit the Old Mill Square
The Old Mill is beside the Little Pigeon River and has plenty of budget-friendly activities to do. You can feed geese and ducks with a bag of $1 bird food, try a free moonshine tasting at the Distillery, taste samples at the Candy Kitchen, or take a tour of the Old Mill for $3.
6. Try samples at the Ole Smoky Moonshine Holler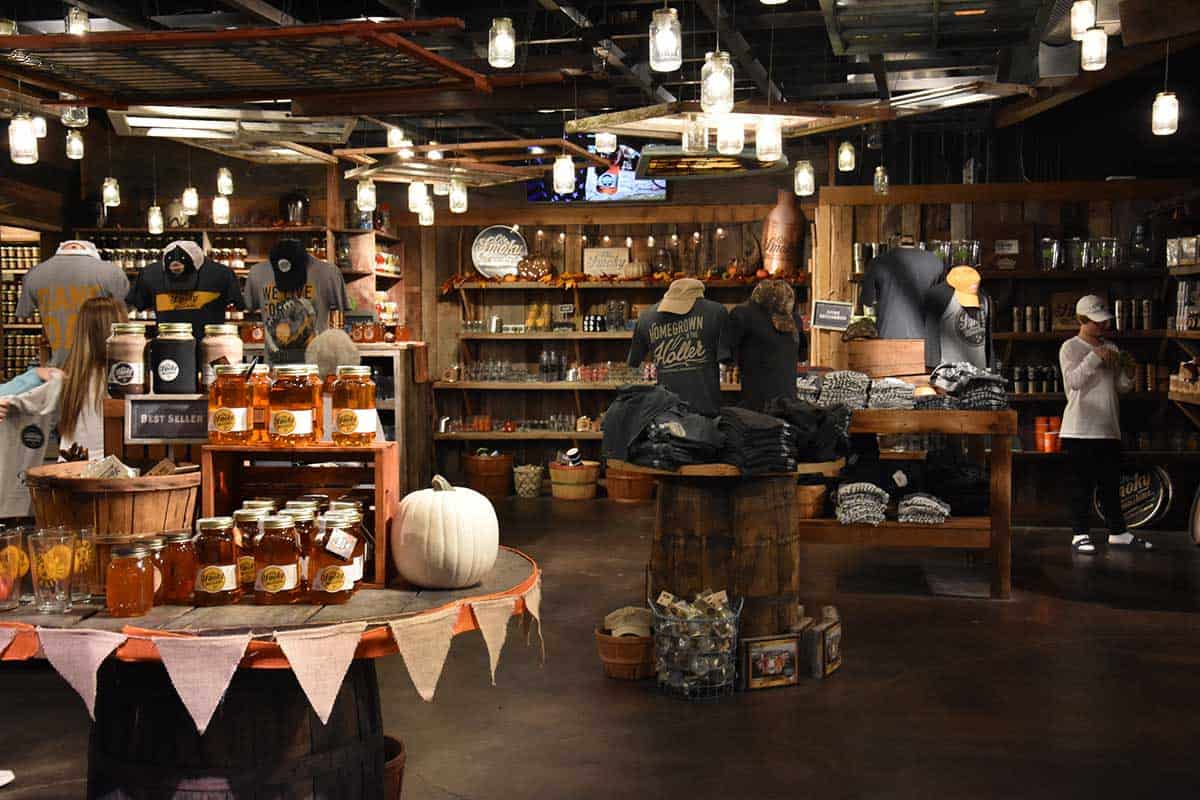 For more moonshine sampling and a chance to see authentic moonshine stills, you have to visit the Gatlinburg Ole Smoky Moonshine Holler. Here you can try their famous moonshine flavors, such as Apple Pie and White Lightnin' for $5. This $5 also goes towards purchasing anything in their store.
7. Climb a 25-feet wall at NOC
The Nantahala Outdoor Center (NOC) in Gatlinburg is not only a shopping center for outdoor clothing and gear. For around $5 you can also climb their 25-feet climbing wall, which has routes for every skill level.
8. Visit Gatlin's Fun Center
Children will love the Gatlin Fun Center and the various activities they offer. For $20 you can experience four of the following attractions:
Outdoor or indoor mini-golf
Laser tag
Blacklight golf
Bumper cars
Laser maze
Atomic rush games
9. Play arcade games at Fannie Farkle's
Another fun place for games is Fannie Farkle's arcade, where you get to choose how much you spend on various games and win points to trade for prizes. They also have food here in case you get hungry between playing claw machine, jackpot, or racing games.
10. Drive the arts and crafts community loop
Gatlinburg started as an artisan neighborhood and the Arts and Crafts Community just south of downtown has plenty of studios and workshops with resident crafters and artists. Drive the 8-mile loop for free to absorb the creative local culture or stop to purchase a unique souvenir!
11. Go tubing on the Little Pigeon River
When you purchase tickets in advance through River Rat, you can float down the Little Pigeon River on a tube with a $20 day pass for adults and less for children. They even offer day passes for your dog!
12. Watch dancing water at The Island
The Show Fountain at The Island is a spectacular display of light and water dancing to 14 pieces of music. There are plenty of rocking chairs you can hang out in to watch this free show that lasts around 30 minutes.
The Island also has plenty of other fun attractions you can enjoy for an unlimited ride pass of $35.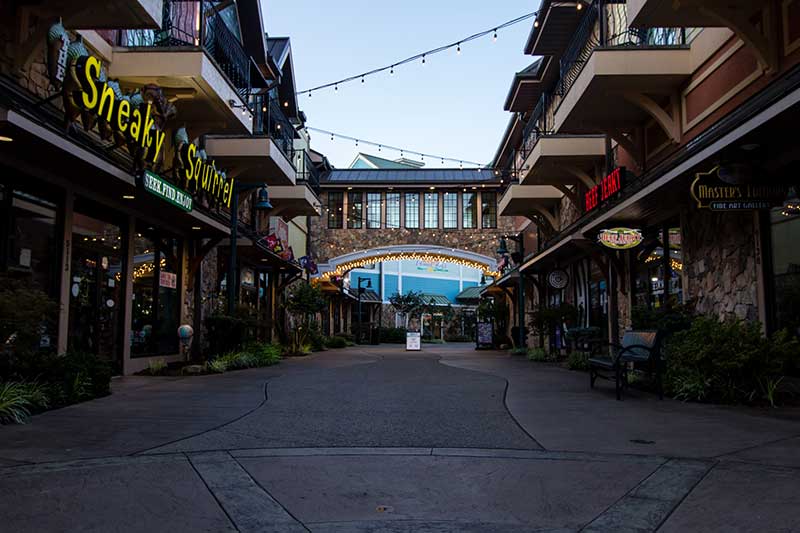 13. Visit the Thomas Kinkade Gallery & Gifts
If you are a Thomas Kinkade fan, you have to visit the Thomas Kinkade Gallery & Gifts in Pigeon Forge to see collections of his artwork in person. Even if you are new to his work, visiting the gallery itself to see the building's architectural beauty is worth it.
14. Ride go-karts at the SpeedZone Fun Park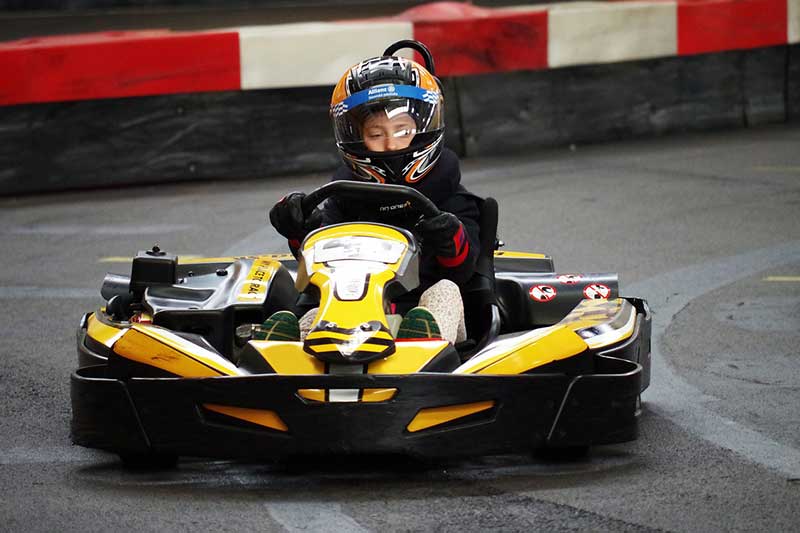 The SpeedZone Fun Park in Pigeon Forge has 4 unique go-kart tracks for any age or skill level. It's $10 to play one track and $20 for three tracks. You can also snag a deal with group rates if you call ahead.
15. Visit the Incredible Christmas Place
If you wish Christmas could exist every day of the year, you'll want to make a stop at the Incredible Christmas Place in Pigeon Forge. They have collectibles, Christmas ornaments, Christmas tree displays, and more! Browsing through the store is free as long as you're not tempted to purchase anything.
16. Have a picnic in Patriot Park
Patriot Park in Pigeon Forge honors those who have served with veteran memorials, walking trails, state flags, a gazebo, and a pavilion. It is located along the river and a beautiful place to spend a peaceful afternoon walking or picnicking.
17. Visit a black bear habitat
The Three Bears General Store is more than a popular shopping destination for fudge or funnel cakes in Pigeon Forge. For $3.25 you can visit their black bear habitat that is open between 10 AM to dusk.
18. Play in snow year-round
Even if you visit in the summer, you can experience snow year-round at the Pigeon Forge Snow. They have a hillside for snow tubing and a large snow play area. 30 minutes of snow play is $9.99 and one hour of tubing is $29.99, or you can get a package deal of both experiences for $36.99.
18. Take a stroll on the Riverwalk Trail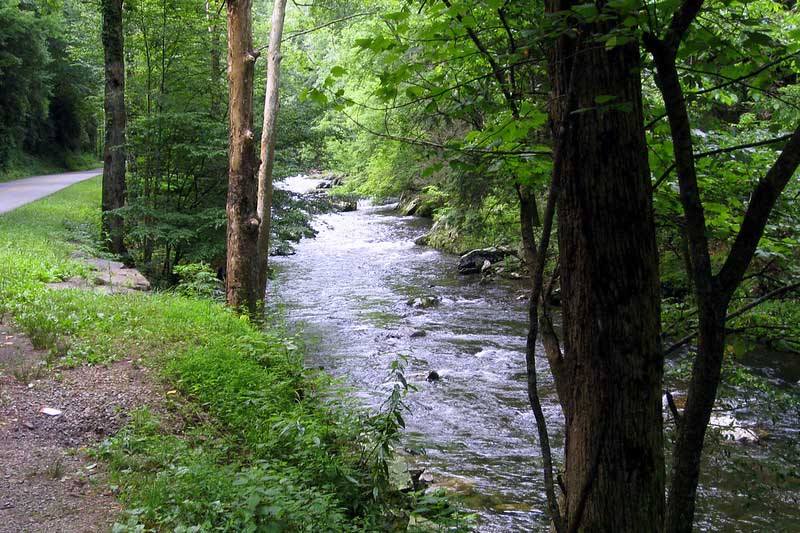 A scenic walkway parallel to the Little Pigeon River, the Riverwalk Trail lets you take a stroll down a tree-lined pathway. The trail is pet-friendly and also great for biking. You can find entrances to the trail at Butler Street, Jake Thomas Road, and Patriot Park.
20. Play, eat, and relax at Anakeesta
For a theme park with chondola rides, a treetop skywalk, challenge course, treehouse village adventure, scenic dining spots, and more, Anakeesta is an affordable family-fun location. All-day passes are $32.99 for adults. And if you purchase an hour before closing, you get access to the park the following day for free!