Established in Montana in the 1900s, the Glacier National Park is a spectacular destination to enjoy nature and outdoor activities. It's home to diverse wildlife, glaciers, lakes, waterfalls, and mountains. Learn more about this amazing "Crown of the Continent" with 18 interesting facts about Glacier National Park.
18 facts about glacier national park
1. It's the 12th largest national park in the U.S
Glacier national park is in northwestern Montana by the U.S.-Canada border and covers 1,583 square miles. Although it's small in comparison to Glacier Bay in Alaska or Yellowstone National Park, there are still over 50 other U.S. national parks that rank smaller in size.
2. It was almost discovered in 1805
In 1805, Lewis and Clark came within 50 miles of discovering the park. However, it wasn't until 45 years later that expeditions ventured to the area. Glacier national park was officially established in 1885 after the transcontinental railway's completion.
3. The water flows in three directions
If you're looking for a rare natural phenomenon, the Triple Divide Peak is where you'll want to visit. Any water falling on the summit here flows in one of three directions: the Hudson Bay, Atlantic ocean, or Pacific ocean.
4. The number of glaciers is declining
Back in 1850, there used to be around 80 named glaciers in the park area. However, it currently has only 26 glaciers larger than 100,000 square meters. The Blackfoot Glacier and Harrison Glacier are two of the largest existing glaciers, with the latter at 1.6 million square meters. It is sadly expected that the number of glaciers will continue to decline because of climate change reducing their size.
5. There are 762 lakes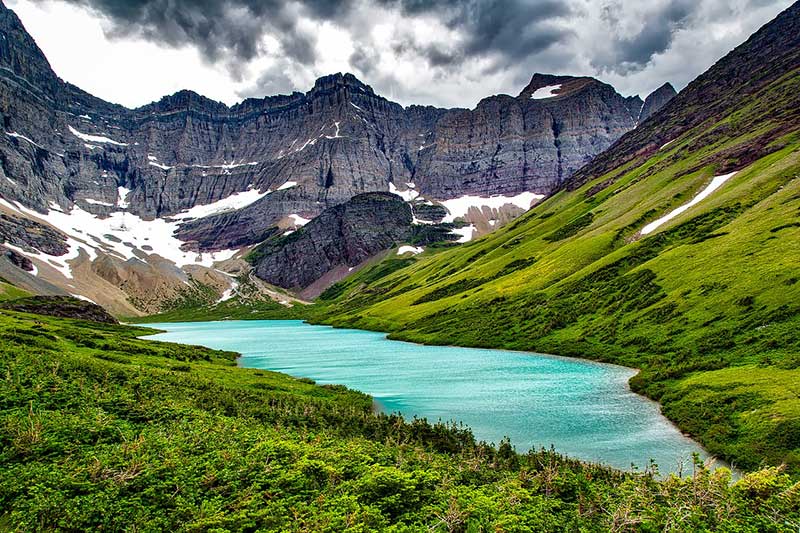 Besides glaciers, the park also has 762 alpine lakes with vibrant blue waters. One of the most beautiful lakes is Cracker Lake, which has turquoise water and majestic mountain scenery surrounding it. The largest lake is Lake McDonald that covers 6,823 acres.
6. It has a breathtaking cliff-hugging road
The Going-to-the-Sun Road is as fascinating as the name sounds. This cliff-hugging and winding 50-mile road offer breathtaking views of the park. You'll also pass the shores of two of the largest lakes during your drive.
7. Glacier National Park is a hikers paradise
The park has over 700 miles of hiking trails. This includes 33 easier tails for beginner hikers, such as the Grinnell Lake trail, where you pass 3 glacier lakes. If you want something more challenging, try the 11.4-mile Highline Trail that takes you from the Logan Pass to the Loop. You can also get permits for backcountry trips.
8. There are 71 mammal species in Glacier
The 71 different wildlife species document at the park has barely changed over the years due to preservation efforts. Examples of mammals you can find include bighorn sheep, mountain goats, moose, and wolverines. Some threatened species also call Glacier National Park home including grizzly bears and the Canada lynx.
9. The mountain goat is the park's official symbol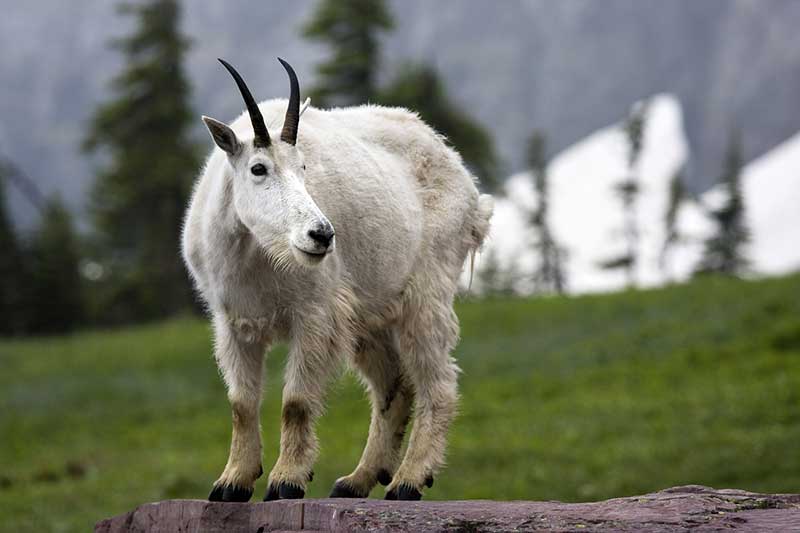 Because of their perseverance and abundance in the park, the mountain goat has earned a title as the park's official symbol. You can commonly find them in Logan Pass and they are known to visit hiking trails while observing visitors from a safe distance. Their special hooves let them easily climb both ice and rocks.
10. There are hundreds of bird species in Glacier
The wildlife at the park also has over 260 bird species and is a designated Bird Area for species sensitive to climate change. Examples of birds you can see there include hawks, eagles, nightjars, shorebirds, vultures, and hummingbirds.
11. You'll find a diverse range of plants in Glacier National Park
The diversity of the plants at the park is also impressive, with over 1,100 species. Around 33% of the park is coniferous forest, 8% dry meadow and prairie, 5% wet meadow or fen, and 6% deciduous forest. There are also 30 plant species native to the northern Rocky Mountains, including wildflowers, ferns, Douglas-firs, and lodgepole pines.
12. Glacier National Park has been featured on the big screen
The park had multiple debuts in movies over the years. It was the backdrop in "Forrest Gump" when Tom Hanks ran through it on his trip across America. Jack Nicolson also drove up Going-to-the-Sun Road in the opening scenes of "The Shining," a Stephen King thriller.
13. Glacier is the first international peace park
The park is the first international peace park on earth. Established to celebrate peace and friendship between the U.S. and Canada. In combination with the Canadian Waterton Lakes National Park, in 1932, it was named the Waterton-Glacier International Peace Park. Today, the two parks collaborate with fire management, reservation, and research efforts.
14. It snows a lot in Glacier
Snow season at the park is from mid-October to mid-June and you can expect an average depth of 20-inches of snow in late January to mid-March. The average annual snowfall is around 137 inches and sometimes snow can pack up to 16-feet, making plowing quite difficult.
15. Boat tours have been offered in the park since the 1920s
Several of the original wooden boats from the 1920 tours are still available for cruising today. For example, the 45-foot vessel Sinopah is one of the oldest and takes visitors around Two Medicine Lake. On Saint Mary Lake, the historical Little Chief also carries up to 49 passengers.
16. Glacier has plenty of outdoor adventure opportunities
If you aren't into boat tours and prefer a more adventurous way to explore the lakes, you can rent canoes, kayaks, paddle boards, and rowboats. You can also find zip-lining, mountain biking, and horseback riding activities in the area.
17. Indigenous people lived in what is now Glacier thousands of years ago
Since the retreat of the glaciers during the Ice Age, people have lived in the park's areas. Archaeological evidence revealed signs of human life from 12,000 years ago. The mountains are also still significant spiritually for local Blackfeet, Kootenai, and Salish tribes.
18. Millions of people visit Glacier National Park each year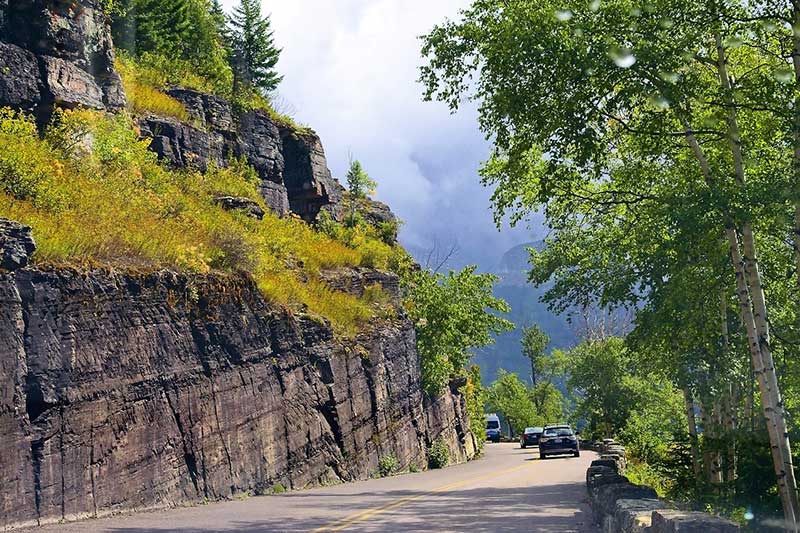 With all its amazing features, there's little surprise the park has plenty of visitors. In June 2015, they celebrated their 100 millionth visitor. In 2018 they had over 2.9 million visitors and even during the height of the pandemic, they had nearly 1.7 million visitors in 2020. That's a huge increase from the 4,000 visitors recorded in 1911.