So we decided to ring in the new year in Gatlinburg and Great Smoky Mountains National Park. We also wanted to try and get in a quick hike while there. Rain was in the forecast for New Year's Eve so a hike was probably out for that day, but I had hope that the 30th would have good weather. I knew about cataract falls but it hadn't really occurred to me as an option yet, there are so many hiking options in Gatlinburg.
We were only in town for 2 nights and as I said the forecast wasn't looking friendly so we were thrilled to wake up on December 30th and discover it was going to be sunny and almost 70 degrees! So the weather was going to be perfect.
Then there was the issue of the park being closed due to the government shutdown going on. I made the decision to just ride down to the Sugarlands Visitors Center and scope things out, and the parking lot was packed. To my surprise the visitor's center was open and park employees were at work!
We went in and looked around at some of the exhibits and were discussing what would be a good trail to hike. I was pretty much looking for a good hiking trail that was:
right around the visitor's center so we didn't have to drive anywhere
easy and peaceful, wasn't looking for anything strenuous that day
going to have a waterfall at the end of the trail
not terribly long as time was a factor
Cataract falls fit the bill here. I hadn't hiked this trail in a really long time so it was basically all new to me which I loved. It turned out to be the absolute perfect hike for us that day. It was a little bit crowded with families and large groups of people but we were still able to soak in nature and scratch my hiking itch.
The hike to cataract falls
Length: 1 mile round trip to the falls Trail: paved and gravel Features: 25 ft waterfall Difficulty: easy
About the hike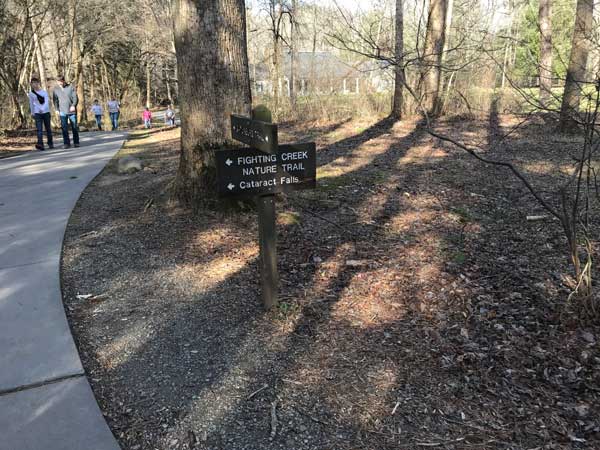 You start out just behind the Sugarlands visitors center on a concrete path. You walk down just a little ways and there will be signs pointing you to cataract falls. It's not paved the whole way but is a pretty smooth trail with a few roots and rocks but not really any hills or inclines.
Along the way you will cross a few wooden bridges and walk alongside the creek. You will also come to a cool tunnel where you might have to duck your head a little to walk under it. You are more or less just going under a concrete bridge but it's very tunnel like when you are going under it.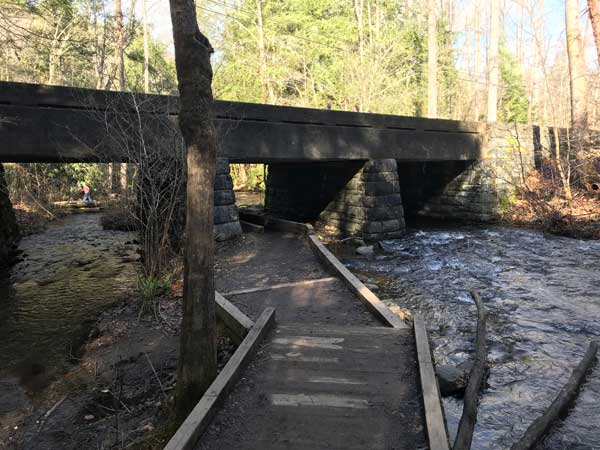 Even though it's a very short hike, you should still be sure to take some water with you. Especially if it's hot out. There are vending machines right at the visitors center where you can buy some.
Picture opportunities
There are tons of opportunities for pictures with your friends, family, or significant other. If you have kids they should have fun running around and exploring nature a little bit on a nice day. There are logs and trees to climb on if you have the energy. There was also one tree with a hollow center big enough for small kids to get in, cool little natural photo booth.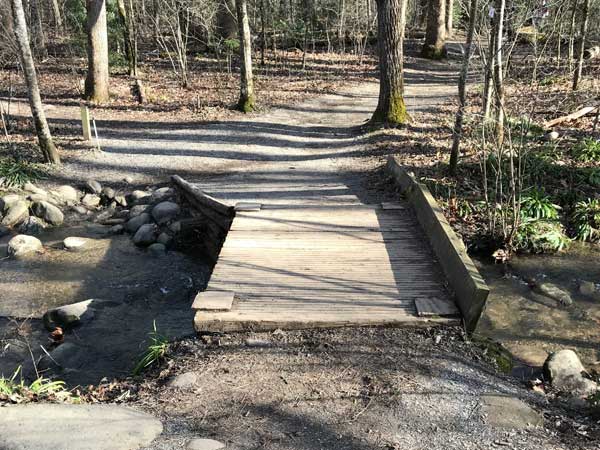 After going across the wooden bridges and through the tunnel you will soon come to the steps (see picture below) that lead you up to the falls. Once you pass this point the falls are not far.
The falls themselves are not huge at 25 feet high but still make for a fun little waterfall hike. There's a little area at the base where you will have plenty of room to stand and get selfies and videos. Once you have snapped a few pics of the falls and enjoyed the sights, just turn around and head back the way you came. If you want to do more hiking you can continue on the fighting creek nature trail and extend your hike a bit. We chose not to do that this trip.
How long is the hike to Cataract Falls?
It's an easy, short hike of around a mile to the falls and back. You can choose to walk the nature trail if you wish though. It took us less than an hour round trip and we really took our time taking pictures and just going slow. If you want to go fast you can probably do it in 20-30 minutes.
How to get to the trailhead
Directions: Located at the Sugarlands Visitors Center. Look for a concrete path to the left of the visitor center, this will lead you to Fighting Creek Nature Trail that takes you to Cataract Falls.
The trail begins right at the sugarlands visitors center which is just inside the park if coming from the strip in Gatlinburg. So you just come on through town on Hwy 441 past all of the T-shirt shops, restaurants and old timey photo places and continue on into the National Park. If you keep going straight you will come right to the visitors center on your right. Just pull in and find a place to park.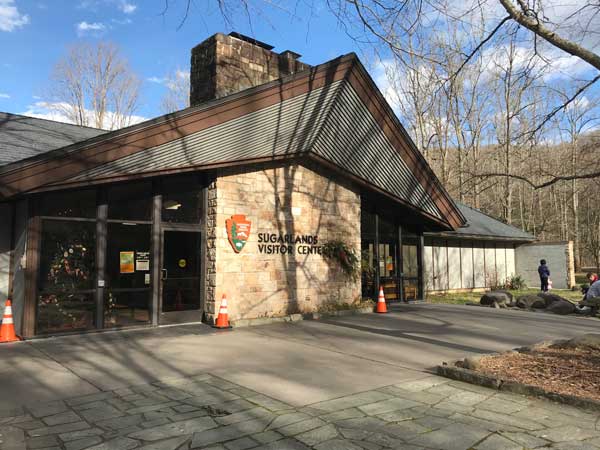 Once at the visitors center, you will see the bathrooms and vending machines to the left of the main entrance. Go through here past the bathrooms and there is a paved walkway leading you to the Fighting Creek Nature Trail and the trail to Cataract Falls. Very easy to find.
Who can do this hike?
In my opinion this is a great hike for anyone. Perfect for families with small kids as we saw many very small children running around. The trail is pretty flat and is definitely great for strollers and even wheelchairs up to a certain point.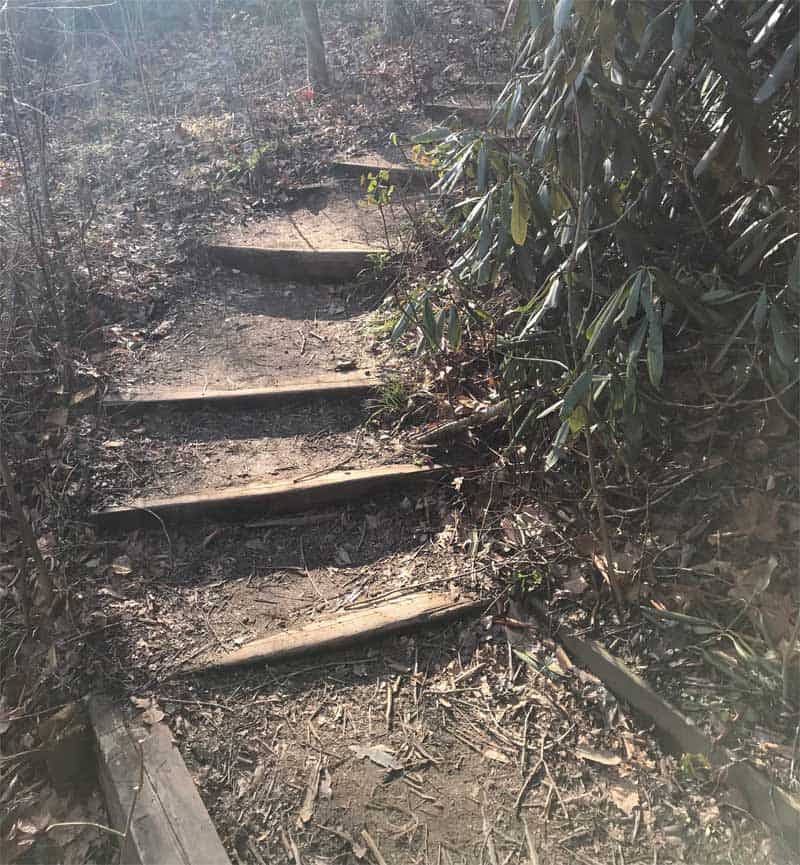 While I did see a few of the basic umbrella type strollers on the trail to the falls, I would definitely recommend having a good off road or jogging stroller due to the roots, rocks, and bumpy terrain. There was nothing I came across that would have made it terribly difficult for a stroller, until you get to the stairs. From here if you choose to go on you'll need to carry the stroller up the gradual stairs.
As you can see, the stairs aren't terribly intimidating. Your call whether you want to proceed with a stroller.
Cataract Falls
As you can see from the picture below, cataract falls are small. It is one of the best hikes in Gatlinburg if you are looking for a quick, easy waterfall hike suitable for people of all ages and fitness levels.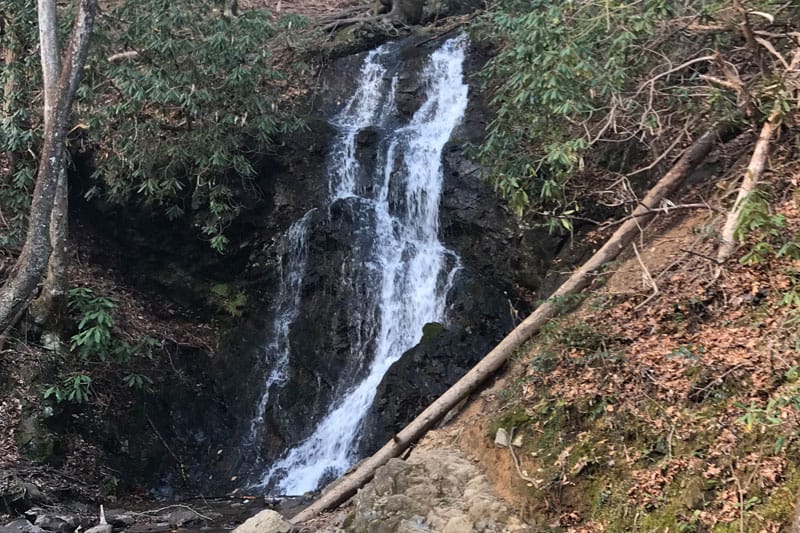 ---
If you are interested in other hikes in Gatlinburg check out my other posts: