Two of the most breathtaking views in the Smoky Mountains can be found at Newfound Gap and Clingmans Dome. While you can drive between the two for a leisurely experience, you can also be more adventurous and hike! The hike from Clingmans Dome to Newfound Gap is long and strenuous, but surely travels through some of the most beautiful forest found in Great Smoky Mountain National Park.
Clingmans Dome to Newfound Gap
Hike Length: 16 Miles Roundtrip
Elevation Gain: 2,060 Feet
Terrain: Dirt, Overgrown Roots/Sticks, Rocky
Features: Spruce-Fir Forest Views
Difficulty: Strenuous
At 6,643 feet, Clingmans Dome is the third highest peak east of the Mississippi River and features an overlook tower where park tourists gather to see some of the most spectacular sunrises and sunsets the Great Smoky Mountain National Park (GSMNP) has to offer.
Clingmans Dome straddles the Tennessee and North Carolina state line, making it feel like you're in both places at once. There are a variety of hiking trails in the Clingmans Dome area, like Andrews Bald, the Forney Ridge Trail, and a section of the iconic Appalachian Trail (A.T.).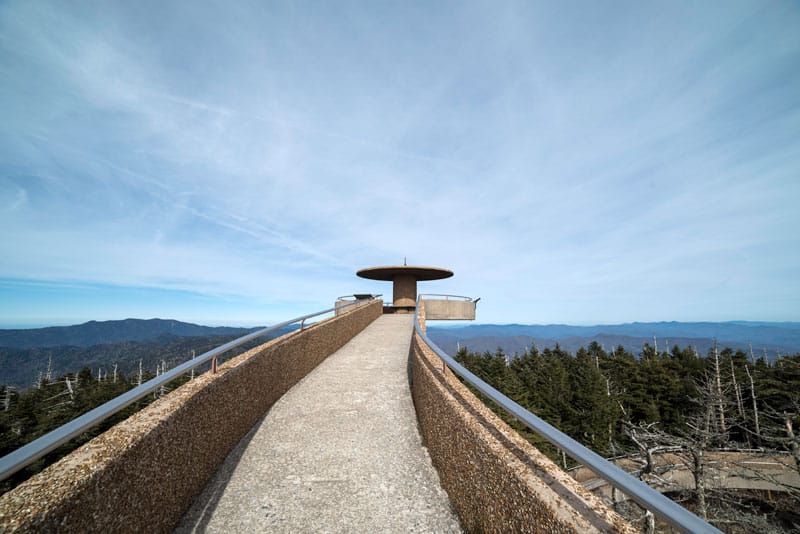 The Appalachian Trail runs for more than 71 miles throughout the Great Smoky Mountain National Park, with the highest point on the entire trail being 6,625 feet at Clingmans Dome. While attempting to hike the full 2,180 miles of the A.T. isn't for everyone, day hikers travel from near and far to hike the approximately 8 mile trail from Clingmans Dome to Newfound Gap.
Trail Details
This strenuous trail starts at the highest elevation point in the GSMNP and actually declines in elevation as your travel to Newfound Gap. Hikers can expect steep ascents and descents on rocky terrain and exposed roots throughout the duration of this trail. While there are no vistas or many mountain views in-between the starting and ending points, with the exception of what you can see through dense forest trees, this hike offers unique scenery that you won't find at lower elevations.
The woods in the area between Clingmans Dome and Newfound Gap are boreal forest, or the Spruce-fir Forest. Fraser fir and red spruce are the dominant trees in boreal forests, and the climate is similar to that of Maine or Quebec, Canada. These trees primarily grow at higher elevations and this type of forest is sometimes referred to as a "snow forest."
There aren't any waterfalls or creeks that run through this trail, but there are a few bridges that have been put in place to make crossing small trenches easier. When I hiked this trail, the park had just experienced some rain, and at higher elevations, snow and ice, so there was a bit of water in these areas.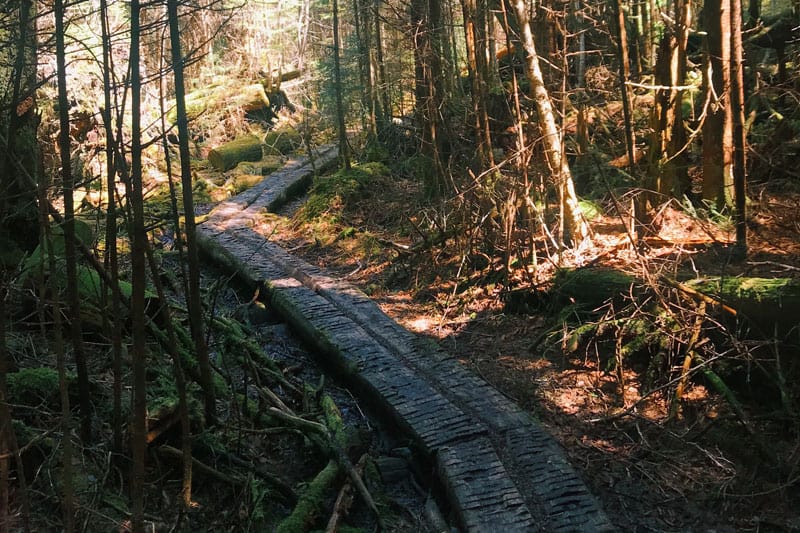 Due to the uneven terrain on this trail, it is not wheelchair or stroller accessible. While hiking, I saw multiple families with younger children, but I would not say it's great for children who would need to be carried during any portion of the hike, as there are many areas where boulders and tree roots could cause one to trip or stumble.
Directions to the Trailhead
To get to Clingmans Dome, take U.S. Highway 441, Newfound Gap Road, which runs through the national park from Gatlinburg, TN, to Cherokee, NC. The Clingmans Dome Road starts 0.1 mile south of Newfound Gap. Follow Clingmans Dome Road for 7 miles until it dead ends into the Clingmans Dome parking area. It is about 25 miles to Clingmans Dome from Gatlinburg or Cherokee.
Hikers should be aware that Clingmans Dome Road is closed in the winter from December 1st until March 31st. It's also worth noting that the National Park Service (NPS) often closes Clingmans Dome Road for inclimate weather. The NPS Road Info Twitter account is a great resource for staying up to date on road closures.
To access the trailhead, hikers can park in the Clingmans Dome parking lot. While the lot is fairly large, it is recommended that you arrive early to ensure you find a parking spot. From there, you will walk the 0.5-mile steep incline to the trailhead.
You will see two signs for the Appalachian Trail on the way to the overlook tower. Skip the first one and continue along the paved hill until you see a second sign near the entryway to the Clingmans Dome overlook tower.
What to Bring
Your gear list may vary, depending on the time of year you are hiking. I went in mid April, and there was still ice on some parts of the trail. Microspikes weren't necessary during my hike, but they may be other times.
I brought all of the essentials along with me:
Hydration System – I use a 3L reservoir
Snacks – granola, fruit leather, protein bars, and trail mix
First Aid Kit
Map
Rain Jacket
Headlamp – as we got a late start
If you have trekking poles, bring them along too. The exposed tree roots and boulders on this trail made the ascents and descents more difficult, and by the end of the hike, my knees were aching for relief.
At higher elevations, weather can change in an instant. For this reason, I also brought my rain pants, wool sweater, and a rain cover for my pack. Hikers should also note that their bodies may react differently to the change in elevation. Make sure you bring plenty of water and nutrient dense snacks to help fuel your body for this grueling hike.
In addition to bringing along all of the essentials, make sure you wear sweat wicking materials on this hike. You will get very sweaty, and the last thing you want is to stay sweaty for the duration of this hike. Also, proper footwear is a must for this trail. I prefer hiking in trail runners, but there were so many moments when I wished I'd had more ankle support and had opted for traditional hiking boots. Whatever footwear you choose, make sure it has great traction to prevent you from slipping on moss covered rocks and logs.
Trail Tips
Clingmans Dome has four single bathrooms available in the parking lot. There's also a small souvenir store where you can purchase light packaged snacks or beverages and a variety of knicknacks.
As mentioned above there is plenty of parking. If you do get a late start, don't fret. Most tourists don't spend too much time admiring the view here, and a spot typically opens up within a few minutes of driving around the lot.
When we arrived at the trailhead, there was a park ranger on duty answering questions, which is useful if you need directions or have questions about the hike before getting started.
If you don't have a map with you, make sure you pay attention to the signs and trail markers. Once you start on the trail, you'll see a fork. Keep right towards the Mt. Collins Shelter at this fork and continue until the next fork, where you'll see signs for Newfound Gap.
Keep an eye out for the white blazes on trees while hiking this trail. White blazes are the official mark of the Appalachian Trail, and they basically look like someone painted a single stroke of white paint on a tree with a wide paintbrush. They will be on both sides of the same tree, so you can spot them no matter which way you're going.
For the first couple of miles from Clingmans Dome, you're walking down steep terrain. There are many boulders wedged into the path, almost like stairs, so make sure to take your time to maintain your balance during this portion of the trail.
The trail itself runs parallel to Clingmans Dome road, but there are very few moments when you can hear cars. If you're wanting to feel more isolated don't fret. Once you're past those few sections, you forget it's even there.
What I Liked About This Hike
While this hike was definitely one of the most challenging trails I've hiked in the GSMNP, I would definitely hike it again and recommend it to anyone looking to test their abilities.
There were many moments when it felt like I wasn't actually in the Smoky Mountains because of the terrain and dense forest. I typically prefer hikes with vista views, but this Pacific Northwest vibe made the experience that much more unique.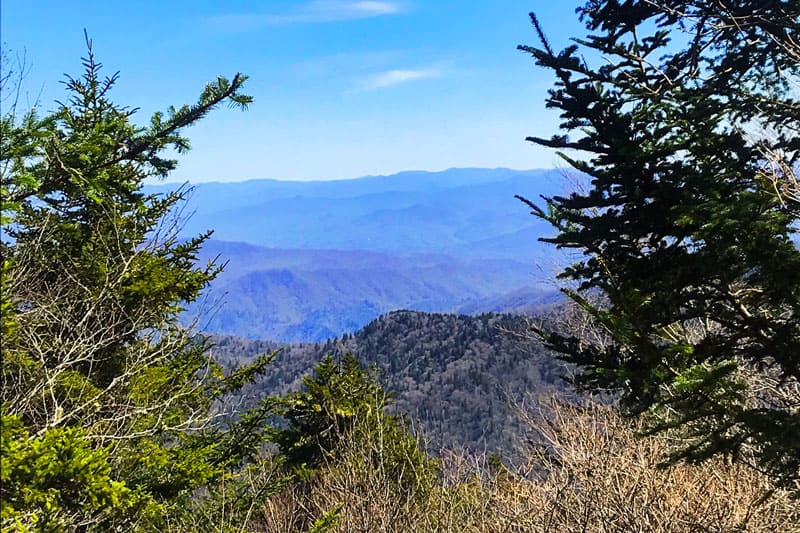 One of the coolest parts of this trail, however, was seeing all of the thru hikers and backpackers of all ages. Everyone I encountered was extremely polite and courteous. On the flip side, if you're looking to hike on a low traffic trail, this definitely isn't it. There were very few moments when we weren't near another hiker or group of hikers.
Who Is This Hike For?
This hike is for anyone capable of hiking on uneven terrain and steep inclines and declines for the majority of this trail. This hike is great for couples, groups, or even solo hikers, as you are never really alone on this high traffic trail. It is not great for dogs, since dogs are not allowed in the GSMNP. Although, there are actually 2 trails that allow dogs in the park.
This hike is not for small children who cannot walk on their own for the full duration. Anyone who isn't in great shape may find this trail particularly challenging, but if you pace yourself, take breaks, and use trekking poles, it is doable.
Looking for another challenging hike? Check out our post about the hike to Mt. LeConte.