When traveling to Gatlinburg, most tourists hope to visit as many attractions in the Great Smoky Mountains National Park as possible during their short time at one of the most valuable places in the world to travel. However, a lot of out-of-town visitors have neither the time nor experience to tackle some of the more challenging trails the Smokies have to offer. Hiking to Laurel Falls is a great way for visitors and hiking beginners to get a taste of what the Smoky Mountains are all about. 
Hiking to Laurel Falls
Let's take a look at what makes Laurel Falls special, discuss how to get to the trailhead and what you can expect on your hike, and what to bring with you. 
History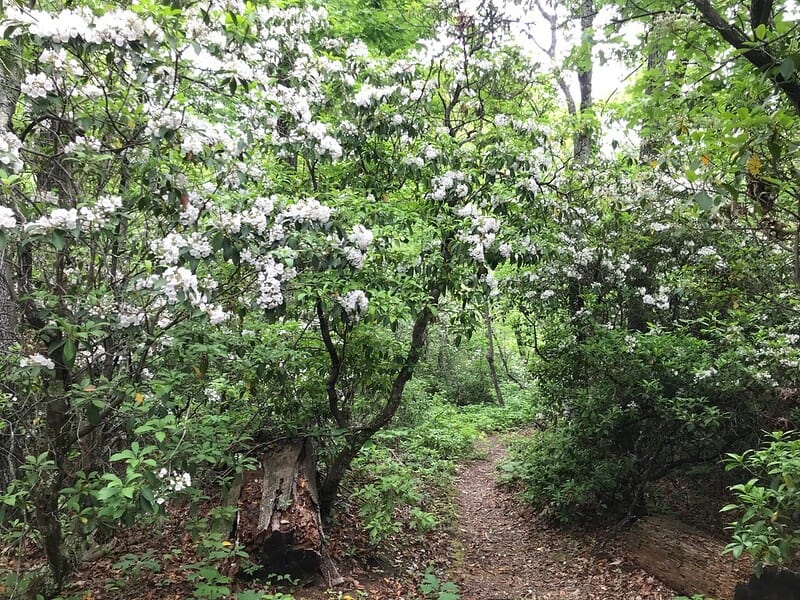 Laurel Falls is named after the Mountain Laurel, an American native shrub with evergreen leaves and vibrant pink and white flowers. Park visitors can expect to see the beautiful blooms on the Mountain Laurel from May-June.
Built in 1932, the Laurel Falls trail's intended purpose was to provide fire crews access to Cove Mountain, in case a forest fire occurred in the area. By 1935, the Cove Mountain Fire Tower was built, and these days, the fire tower is used as an air quality monitoring site.
The Laurel Falls trail began experiencing a high volume of foot traffic, and in the 1960s, high levels of erosion began to develop. In 1963, the Department of Interior, upon receiving a grant as part of the Accelerated Works Project, began paving the trail.
Laurel Falls Trail Details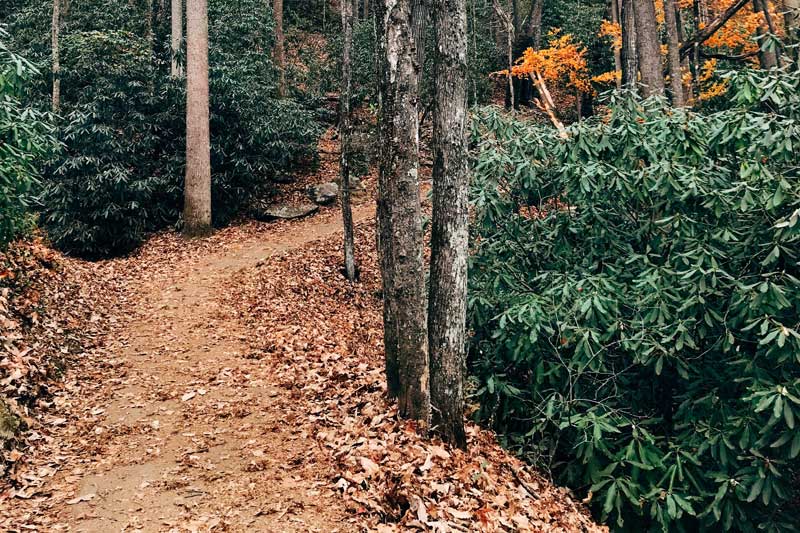 Length: 2.6 Miles Roundtrip
Trail: Paved
Features: Waterfalls
Difficulty: Easy/Moderate
Highest Elevation: 2,677 Feet
While the National Park Service official website categorizes this trail as moderately difficult, I would say that it is an easy trail and can be completed in less than two hours, depending on your physical condition and how much time you want to spend taking photographs. Laurel Falls is an excellent trail for beginners, and it is also great for families, particularly those with children who do not require a stroller.
While the trail is paved, the pavement is broken in many places, and, for this reason, the trail is not ideal for strollers or wheelchairs. Although many visitors still attempt to tackle the trail with a hiking stroller or wheelchair, it has been noted that they do not recommend it to others. If you are looking for wheelchair or stroller accessible hiking trails near Gatlinburg or in the Great Smoky Mountains National Park, you can find a list here.
Bikes are prohibited on this trail, but those hoping to cycle in the Smokies can bike the loop at Cades Cove during select hours from early May until Late September.
Pets are also prohibited on this trail. Since the park was first established in the 1930s, pets have not been allowed on trails. However, dogs are allowed in campgrounds, picnic areas, and along the road, but they must be kept on a leash at all times. More information, including pet friendly areas, can be found on the National Parks Service website.
Hikers, especially those traveling with children, should note that there are quite a few steep drop-offs, as you approach the last stretch before you reach the falls. There are many signs posted to warn visitors of these drop-offs.
The waterfall has an upper and lower section that is separated by a walkway that passes over the Laurel Branch stream. While the rocks near the waterfall might look like the perfect place to perch for a photo, they are very slick and climbing them could result in serious injury.
Despite the heavy traffic, black bears are still active in the area, and there have been encounters between bears and visitors. It is important to remember that bears want to be left alone by us just as much as we want to be left alone by them. If you happen to spot a bear, the National Park Service recommends that you:
Do not feed the wildlife. Not only is it illegal, but it is also harmful to the bear.
Do not approach within 50 yards or any distance that disturbs a bear.
Do not allow bears to approach you.
If you see another visitor breaking these rules, or encounter a bear on a trail, please call (865) 436-1230 or stop at a Visitor Center to report it.
For more information on bear safety, click here.
Directions to the Trailhead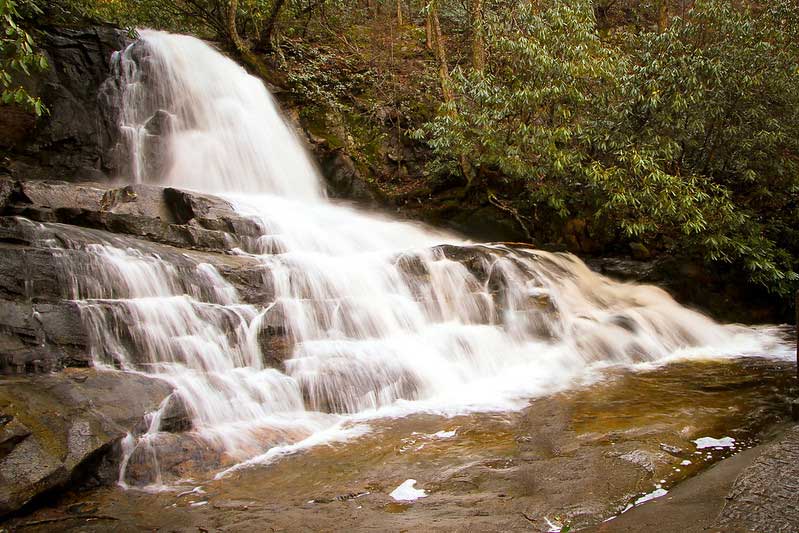 From downtown Gatlinburg, drive towards the National Park. Visitors can expect to see the iconic Great Smoky Mountains National Park sign on the right side of the road, and there is a small shoulder where you can park and take a photo. Continue on Highway 441 until you see the Sugarlands Visitor Center. 
The visitor center is a great place to take a restroom break, grab a map, a snack from the vending machines and fill up your water bottle before hitting the trail, as it is the only place to do so on your way to the Laurel Falls trailhead.
The Sugarland Visitors Center also has a few exhibits where guests can learn about the wildlife and vegetation in the Smokies. Give yourself some time to check them out while you are there. There is also a quick hike behind the building to Cataract Falls. 
From the Sugarlands Visitor Center, head towards Cades Cove on Little River Road and drive approximately 3.5 miles to the Laurel Falls trail. Parking can be found on both sides of the road, and it is recommended that you arrive before 9 a.m., especially on weekends, to avoid crowds and parking on the narrow shoulders on either side of the road.
What to Expect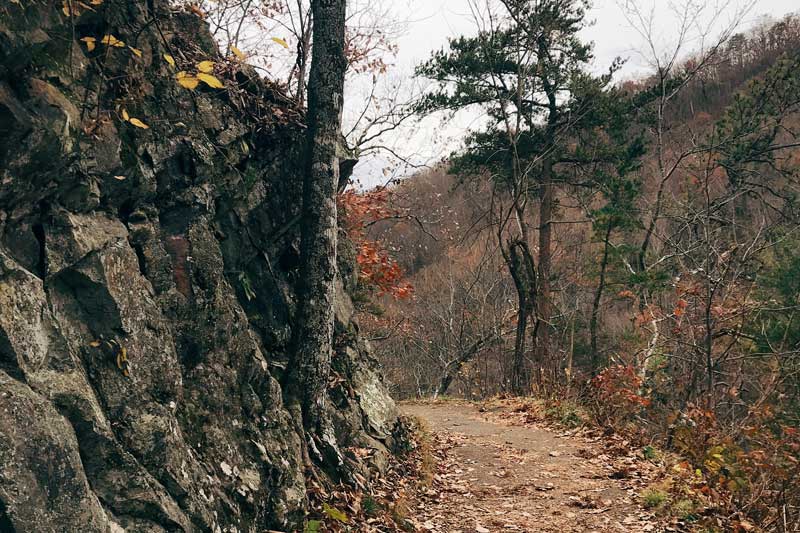 Hikers can plan on seeing vast greenery, including the Mountain Laurel and Rhododendron, algae and moss covered rocks, and some mountain views as you approach the falls.
As mentioned above, there are a few short, steep inclines, and in icy or rainy conditions, these could be slippery or more difficult to climb. Proper footwear is recommended. Depending on one's physical condition, this trail may not be the best option for those hoping to hike with elderly family members or groups.
Due to the popularity and ease of Laurel Falls, hikers can expect to see visitors from start to finish. There are virtually no moments of solitude on the Laurel Falls trail, and it is important to keep this in mind, if you are hoping to escape and enjoy the mountains "alone." On the other hand, this is a great hike for a first time solo day hiker.
What to Bring
It always makes me nervous to see hikers pass by without a daypack or water bottle because a day trip can quickly take a turn for the worst, especially if you are not prepared. It is always best to plan for any circumstance when hiking. You never know when you, or a stranger, will need a flashlight, snack, or a bandaid.
There is a comprehensive list of items beginners should carry in their daypack available here, but I will list any items I think Laurel Falls hikers should specifically have on hand.
Weather in the Great Smoky Mountains National Park is incredibly unpredictable. However, you can almost always count on experiencing a light drizzle or full on thunderstorm in the Smokies, so you should pack a light rain jacket. Also, keep in mind the mantra that "cotton kills," as it retains over 27 times its weight in water. Avoid wearing anything made of cotton on the trail and opt for sweat wicking materials or wool, depending on the time of year you plan to hike the Laurel Falls trail.
Water and a light snack are also items every hiker should have on hand, and remember to leave no trace and take all trash with you, when you leave. I always like to take a sandwich, an apple, a protein bar, and some type of granola or multi-grain crackers. Whatever you prefer, make sure the snacks you bring are high energy foods to help fuel your body. You can feast on burgers and brews post-hike, and there is truly nothing better after a long day in the mountains than the post-hike feast.
Even though the Great Smoky Mountains National Park is basically a green tunnel, you still run the risk of getting a sunburn. Sunscreen is an absolute must and should be reapplied evenly throughout the day.
Conclusion
The Laurel Falls hiking trail is a beautiful, short trail suitable for most hikers and has all of the features one could hope to encounter when visiting the Smokies. With over two miles of vegetation, mountain views, the opportunity to see wildlife, and an 80 foot waterfall as the cherry on top of this easy hike, it is truly worth adding to your list of trails to hike near Gatlinburg.
If you have already hiked Laurel Falls, check out our list of 15 of the Best Hikes in Gatlinburg and the Smoky Mountains.