With millions of visitors every year, the popular Great Smoky Mountains National Park can get pretty crowded. In fact, it's ranked as the most visited national park in the U.S., with over 13 million visitors in 2021. The last thing you want on a trip to enjoy nature and wildlife is traffic delays and too many people ruining the serenity of the space. Luckily, here are some tips on how to avoid crowds in the Smoky Mountains so you can make the most of your visit!
How to avoid crowds in the smoky mountains
Avoid full parking lots and packed trails with these 8 tips on enjoying the Smoky Mountains crowd-free.
1. Visit during the early mornings or evenings
Timing when you visit the park can help you avoid daytime crowds. Most people visit the park between 10 AM and 6 PM. So if you visit during the early mornings or evenings you'll beat the crowds and give yourself the best opportunity to see wildlife out and about. Even arriving at Clingman's Dome at 9:30 AM can ensure there's plenty of parking space available.
You can also enjoy the beautiful sunrise or sunset overlooking the mountains during these times. An early morning hike ensures the trails aren't packed with visitors. However, if you are planning a hike in the evening, make sure you time it right so you're not on the trails once it's dark.
2. Stay in a Smoky Mountain Cabin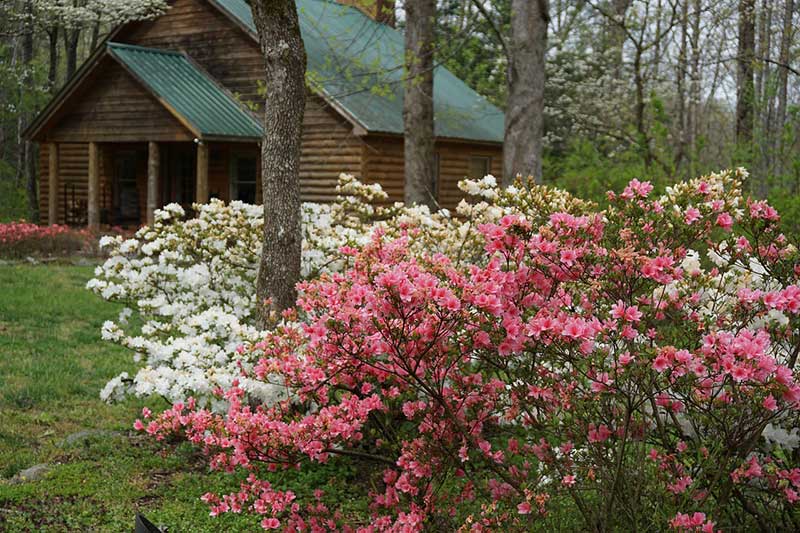 One way to ensure you can visit the park first thing in the morning and avoid the crowds is to stay in a Smoky Mountain cabin. These cabins are located minutes away from the park and let you prepare breakfast in the full kitchen before venturing to the park. You'll beat the crowds grabbing breakfast in town first and won't have a long night drive back when you explore the park in the evenings.
3. Visit during slower months
The Smoky Mountains offer a great experience any time of the year, however, there are certain months that are busier than others. The two peak seasons are mid-summer from June 15th to August 15th and during the entire month of October. To avoid the crowds, plan your visit between January and early March before spring break. While winter months are also not as busy, some roads are closed due to the icy or snowy conditions.
4. Avoid popular areas or trails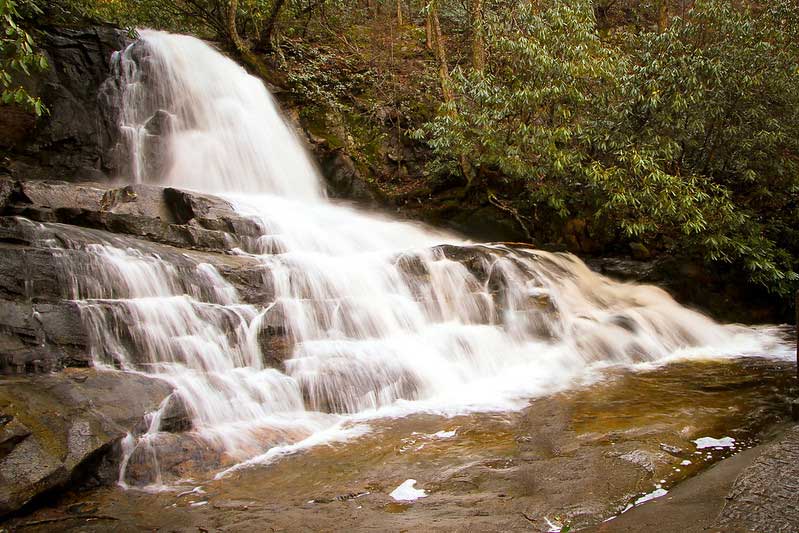 Yes, popular areas are fun to visit. However, that's also where most of the crowds will be. For example, you might want to use the Wears Valley entrance instead of the more popular Gatlinburg entrance. Other popular and crowded areas of the park to avoid include:
Laurel Falls
Cades Cove
Cades Cove Loop Road
Newfound Gap Road
Grotto Falls Trail
Alum Cave Trail
Cataract Falls
Oconaluftee village
5. Visit during the weekdays
Friday and Saturday are two of the busiest days at the park. You'll have a better chance of avoiding the crowds on a Monday, Tuesday, or Wednesday. If you want to visit the popular attractions, stick to the early mornings and weekdays to avoid crowds. For example, hike a popular trail in the morning and explore the lesser-known areas during the day.
6. Hike lesser-known trails
The Smoky Mountains have over 800 miles of trails so you can easily find less populated trails to hike. For example, the Noah "Bud" Ogle trail is a less than a mile-long loop with wooded and rocky paths. There are also historic farm buildings at the trailhead. If you want to visit a waterfall, try the Spruce Flats Falls Trail.
Other lesser-known but fun trails include:
Grapeyard Ridge Trail
Smokemont Loop Trail
Rich Mountain Loop
Lumber Ridge Trail
Baskins Creek Trail to Baskins Creek Falls
Old Sugarlands Trail to Sugarlands Cemetery
7. Drive along less popular roads
Scenic drives are a key experience when visiting the Smoky Mountains National Park. However, taking the popular roads, such as Newfound Gap Road can mean lots of congestion and traffic. Luckily, there are less crowded roads, especially on the park's south side. Driving can also limit your interaction with other visitors, since you're in your car, and lets you see wildlife from a safe distance.
Examples of less congested scenic drives to try out include:
Heintooga Ridge Road
Upper Tremont Road
The Road to Nowhere
East and west Foothills Parkway
8. Explore the park's hidden gems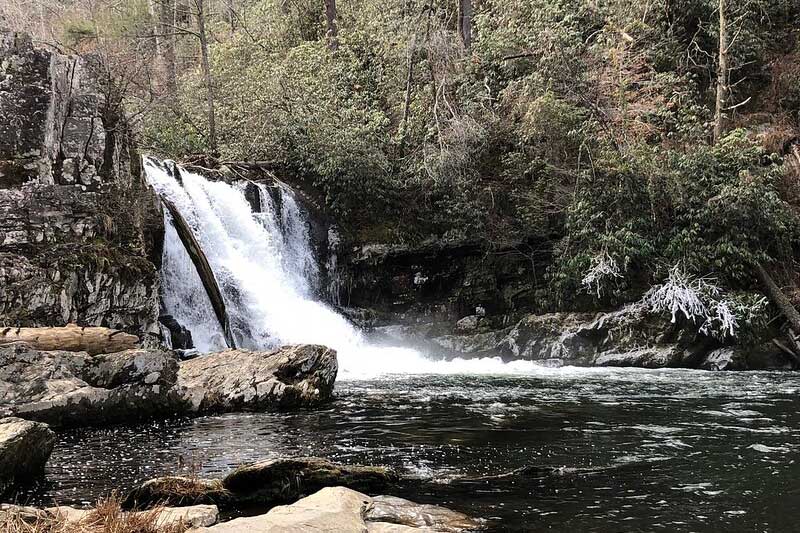 Besides lesser-known trails and roads, Smoky Mountains also has plenty of hidden gems that are less popular but still beautiful places to visit. For example, the Deep Creek area has a waterfall loop trail to Tom Branch Falls, a campground, and optimal areas for fishing. For a historical experience, try Cataloochee Valley which offers historic structures and opportunities to view wildlife.
Other hidden gems and areas to check out include:
Porters Creek
Abrams Creek
Greenbrier Cove
The Forbidden Caves
Fontana Lake
Balsam Mountain
Walker Sisters Cabin off the Little Brier Gap Trail
House of the Fairies in Twin Creeks