Nestled in the Smoky Mountains, Gatlinburg is a popular tourist destination that combines the natural beauty of those mountains with fun and exciting tourist attractions. For those who have visited the area and seen just how much traffic it gets, you may be wondering if Gatlinburg is a good place to buy a rental property.
The short answer is yes, buying a rental property in Gatlinburg can be a wise investment. However, there are a few things to consider before taking the leap into rental property territory.
Buying a rental property in Gatlinburg
Many different publications have listed Gatlinburg as one of the best places to invest in short-term rental income. This is because of the sheer popularity that Gatlinburg has.
The Smoky Mountain area draws in about 11 million visitors every year, which can equal out to a lot of revenue for those with rental properties in the Gatlinburg area.
When you factor in that the popularity of Gatlinburg is on the rise, you could stand to make a pretty penny renting out your property if you have the capital to invest. Just remember, there are tons of other people doing the same thing in this area right now. If there's one thing that Gatlinburg has plenty of, it's cabins to rent.
The benefits of investing in a Gatlinburg rental property
While the potential of making money is properly the most common benefit, it is not the only one you will experience when investing in a Gatlinburg rental property.
1. Usually less expensive
It's no surprise to anyone who has looked at the real estate market lately that purchasing property in the country/mountains area is usually less expensive than purchasing property in the city. This lets you stretch your dollar even more while maximizing your investment.
2. Limited regulations
Unlike other areas that have increased their rental regulations, Gatlinburg has limited Airbnb regulations. In fact, Airbnb states that the Gatlinburg real estate market is in the top ten list for home sharing areas in Tennessee.
That's not to say they don't have any regulations when it comes to short-term rentals, but the rules they do have in place are nowhere near as extensive as other areas.
The Gatlinburg short term rental regulations require that all owners have a business license, collect the required taxes and fees, and comply with all zoning codes.
3. Year Round Rentals
Unlike the beach, where people usually visit only in the warmer months, Gatlinburg is visited throughout the entire year. Some people specifically wait and visit the Smoky Mountains during the colder months to experience these stunning mountains in the winter.
This means you have the potential of year-round rentals on your property. Year-round rentals mean you have a constant flow of income, while also decreasing the amount of time your property sits empty.
4. Possible Tax Breaks
Some properties in the mountainous terrain qualify for tax breaks and tax discounts, which can reduce the total amount of taxes you owe at the end of the year.
Keep in mind, however, that these tax breaks can vary from one property to the next and is not a guarantee that the property you purchase will include those tax breaks.
Downsides
Everything has a downside or drawback that should be considered before making your decision, and investing in a Gatlinburg rental property is no exception.
As with any other investment, you are taking a risk when you lay down your money to purchase a rental property. While Gatlinburg has been on an uptick in recent years, the market could change and the appeal of Gatlinburg may fizzle out at some point.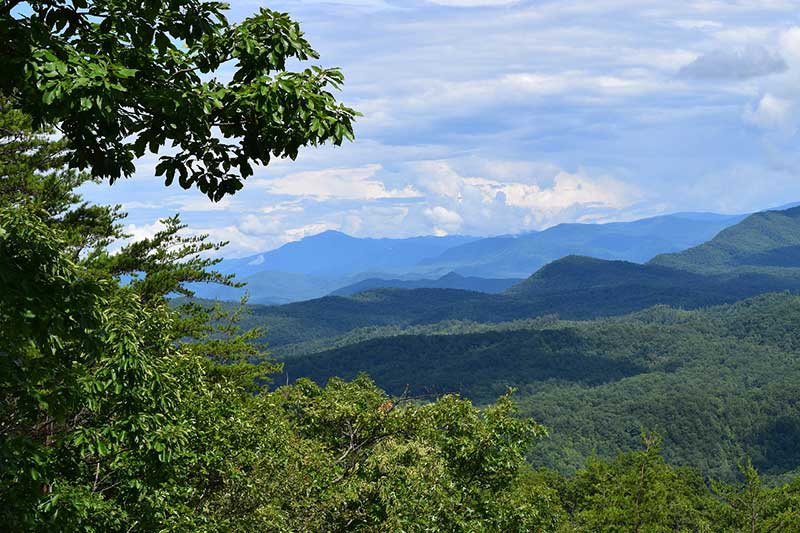 In addition to the amazing mountain views your rental cabin might have, you will probably be competing with many other rental property owners trying to lure in the same tourists. So just keep in mind that owning a rental property in Gatlinburg or Pigeon Forge is not an untapped resource.
Rental management companies
While it can seem counterproductive to have a rental property when you don't want to deal with renters, there are many property owners who feel that way. After all, it can be more than a headache dealing with all the issues that can arise with a rental property and the renters.
There are rental management companies that you can hire that will take care of the day-to-day requirements for rental properties. These companies deal with not only the renter, but also work to keep your property rented throughout the entire year. This can save you a lot of time and headaches, and allow you to sit back and enjoy the benefits of having a rental property.
How to find a Gatlinburg rental property to buy
Searching for a rental property can be a daunting task, especially if you don't live in the area. This is where a real estate company that specializes in rental properties can come in handy. Simply provide the real estate company with the requirements of what you're looking for, and they will take over.
The real estate agent will scour the proprieties in the area looking for ones that match, or come close to matching, your requirements and then send you their findings. If any of the proprieties spark your interest, the real estate agent can set up a date and time for you to view the property, and even help navigate you through the purchase process.
Sure, you should absolutely scour Zillow and other real estate apps. Do your own research and due diligence. However, an experienced local real estate agent will know the area better than you and help close the deal on a property that checks all your boxes.