Anyone who likes to vacation in the southern states, especially Tennessee, has likely heard of Gatlinburg. This popular tourist destination is one of the most well-known spots to visit in the United States. It's a great place for families, offering scenic mountain views that anyone can enjoy. On top of natural beauty, Gatlinburg offers a variety of unique shops, attractions, and restaurants.
Is Gatlinburg always crowded?
Due to the charm and popularity, Gatlinburg, and the surrounding Sevier County, is often crowded with visitors from all over. Around 12 million tourists visit the county each year with just 71,000 residents, making the Smoky Mountains the most visited national park in the country.
Despite this, there are times that are less crowded than others. Anyone who wants to visit Gatlinburg during a slow period should make sure to do research and plan ahead. There will be a crowd of some size in Gatlinburg at all times of the year, you just have to learn about the peak seasons in Gatlinburg so you can plan around when those crowds are the most dense.
---
What are the peak seasons in Gatlinburg?
Gatlinburg is crowded for several months out of the year, but like every tourist destination, it has its peak seasons. These times are known for being more crowded but are generally considered the best times to visit. The first peak season in Gatlinburg lasts from June to August, while the second is in October.
The summer season tends to be more crowded due to how many kids are on summer break from school. Gatlinburg is a family destination, so it's not surprising crowds increase in June and July. The high elevations make for more mild summer weather, so the heat isn't usually overwhelming.
Gatlinburg's fall foliage is what attracts tourists during October. Upper elevations will start to see leaves changing colors in late September, and the vibrant oranges and reds are one of the most beautiful scenic views in Gatlinburg.
Other Crowded Times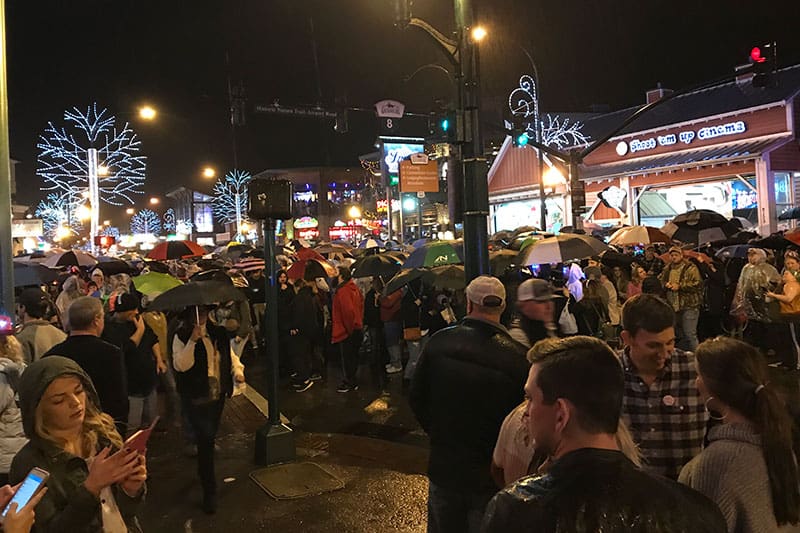 While peak seasons are going to come with the most crowds, there are other times that Gatlinburg can get just as busy. During the holiday season, several attractions draw in thousands of visitors a day. It starts with the annual Chili cook-off and includes the Fantasy of Lights Christmas Parade and a New Year's Eve Ball Drop.
Early spring is another popular time for tourists to visit Gatlinburg, who like to see the wildflowers that have just started blooming. The height of the wildflower season is in April. Tourists can enjoy Violets, White Trillium, Yellow Mandarin, Wild Geranium, and Dutchman's Breeches.
The off-seasons
While Gatlinburg is crowded for much of the year, there are some off-seasons where you can experience minimal crowding. The summer and fall are the busiest times, but if you want to avoid crowds you should steer clear during any time there's a school break. January, February, and March are considered the offseason, but you are still likely to see large crowds at some point. Valentine's week in February can get quite busy in Gatlinburg.
Even during busier times, weekends always draw bigger crowds than weekdays. This is especially true during peak and holiday seasons.
---
5 Tips For Avoiding Crowds
Despite how crowded Gatlinburg typically is, there are some steps you can take to try and avoid them. This can allow you to enjoy the popular destination without getting overwhelmed by all of the people. Keep in mind, Gatlinburg is popular year-round, so some crowding will be inevitable.
1. Plan Wisely
The best way to avoid Gatlinburg crowds is by planning your trip wisely. This includes planning for an off-season visit or choosing to stay during the week instead of on a weekend. You can also plan to avoid more popular attractions, and stay somewhere outside the city. Since there is so much to do in Gatlinburg, it's best to plan your trip out well in advance so you are making the best use of your time, despite the crowds.
2. Get Scenic
Gatlinburg is full of beautiful scenic spots and hiking trails in the mountains, but a lot of the crowds tend to be gathered in downtown shops and attractions. If you plan your trip around spending time in the great outdoors then you're likely to avoid most of the crowding in the city. Of course, some outdoor spots are more popular than others, such as Cades Cove and Laurel Falls.
With so many trails to explore in the smoky mountains, there are countless places where you can escape the crowds of Gatlinburg.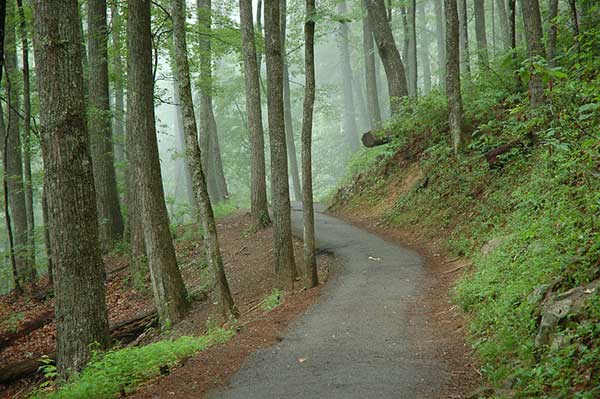 3. Arrive Early or Late
One of the best ways to avoid crowds in Gatlinburg is by getting up early. Even if you are visiting during peak season, getting an early start each day will help you avoid some of the busiest times. This strategy can help with visiting hiking trails, restaurants, and shops. Another great time to get out in Gatlinburg is later in the evening when many people have turned in for the night. However, it is recommended to avoid hiking trails once it gets dark, as they can become dangerous.
4. Find Hidden Gems
Gatlinburg is full of popular tourist attractions, but there are also some less well known hidden gems that are worth exploring. If you're hoping to explore the Smoky Mountain National Park, you can find a few hidden gems right off some of the hiking trails. These include the Walker Sisters Cabin and the House of the Fairies. Since not many people know about these gems, you can plan to enjoy some peace and quiet.
5. Stay In A Cabin
Another option for avoiding some of the crowds in Gatlinburg is to stay in a cabin. While this won't do much about exploring the city and visiting attractions, it will give you a quiet escape at the end of the day. Many downtown hotels are near popular tourist spots, so you have to deal with noise through most of the night. Choosing a cabin gives you at least a few miles of space between yourself and the crowds of Gatlinburg.
---
Make A Plan For Your Next Trip
The number one way to properly prepare for the crowds of Gatlinburg is by making a plan for your next trip. By doing this, you'll know exactly what to expect, and what kind of crowds you will likely run into. Even though it stays busy pretty much all year, it's worth it for all of the scenic mountain trails, unique shops, and southern style pancake houses.