Is Gatlinburg a dry county? Moonshine and moonshine tasting is well known in Gatlinburg, Pigeon Forge and Sevierville. There's also wineries and samples inside as well. Drinking while you're out and about is a breeze, from The Island to the downtown strip. It might be a little more difficult to find a bottle of your favorite liquor to take to the cabin. Don't fret, there are plenty of restaurants around that serve!
Is Gatlinburg a dry county?
Gatlinburg is not in a dry county! There are a handful of package stores in Gatlinburg where you can find a wide selection of bottles for relaxing at your temporary home. This isn't without a few catches. If you're staying in Pigeon Forge or Sevierville, you'll have to make a trip into Gatlinburg or on the edge of Sevierville for common spirits.
Pigeon Forge and Sevierville do not have liquor package stores, but liquor by the drink at restaurants is legal. This means there are bars in Pigeon Forge and you can order alcohol at any restaurant that chooses to serve it.
So while you do have access to liquor by the drink as well as package stores in Gatlinburg, you can't walk around with an open container.
When can I buy alcohol?
Beer and wine sales are permitted Monday through Saturday 6am to midnight, against "moral turpitude" as stated by law. Packaged liquor is sold from 8am to 11pm Monday through Saturday. Sunday is dry, even in restaurants, according to this source.
If you'll be visiting on these holidays alcohol isn't permitted for sale, you might want to bring your booze with you!
New Year's Day
Labor Day
The Fourth of July
Thanksgiving
Christmas
When you're around any other time of year, Sevierville has The H.U.T with karaoke and live music! Along with burgers, beer, and cocktails right on the parkway!
A few places that serve alcohol in Gatlinburg and Pigeon Forge
The Casual Pint of Sevierville or the Smoky Mountain Brewery
Live music as well as an amazing selections of beers. Smoky Mountain Brewery is highly recommended with their amazing food and homemade beer.
Tennessee Mountain View Winery
Located on Wears Valley Road, it has a large selection of wines from their family grape farm. The family owned beauty offers a sweeter variety, a front porch and friendly, knowledgeable staff.
Puckers or Ol' Red
In Gatlinburg, you'll have a much easier time finding restaurants within walking distance of each other. Puckers is right downtown and always buzzing with people. Ol Red, a taste of Nashville brought to the Smokies by Blake Shelton.
Smith & Son Corner Kitchen
It's near Anakeesta with some southern style food, not shorting on the drinks either. Smith & Son Corner Kitchen is almost smack in the middle of downtown, between the busy street and calming trails.
They offer an American style menu with something for everyone to enjoy. Smith & Son's signature drinks are as delicious as they are interestingly named. From Miss Kennedy to White Trash, your palate and humor will be piqued.
Smith Creek Moonshine
Smith Creek Moonshine Pigeon Forge is another drop of Nashville in the Smokies. Featuring a tasting room, gift shop, and sauces to compliment their handmade shine.
The Island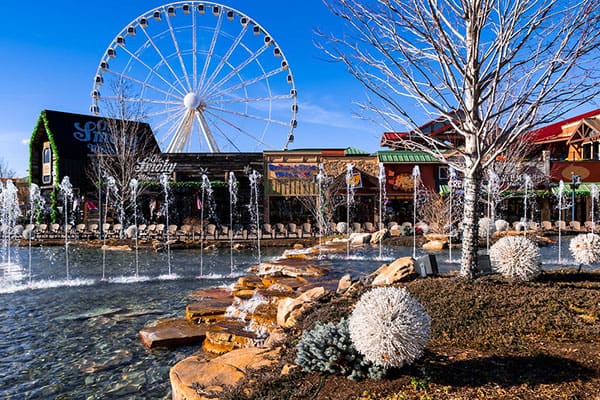 The Island is a great stop for drinks and fun. Ole Smoky Barn has Smoky Mountain Moonshine tasting, and their bartenders will keep you entertained and shot glass full.
Another stop in The Island, if you're not the moonshining type, Bootleggers Winery has a wide selection and tasting option as well. They are made in Gatlinburg, and even have a second location downtown too. Their fruity wine and cider options will keep you browsing.
---
What's allowed in the national park?
You can bring what you buy into the Great Smoky Mountains National Park, if you're 21. Though it's technically only allowed in picnic areas and campgrounds.
Something else to note, if you're planning on bringing a dog along they're generally not welcome on park trails for a number of reasons. They could carry diseases or disrupt wildlife.
If you plan on bringing your furry friend along, be sure to keep them on a leash of no more than 6 feet long. Though there are two pup friendly walking trails, the Gatlinburg Trail and Oconaluftee River Trail.
The Gatlinburg Trail is at the top of the downtown strip close to Ski Mountain Road. A one way trip is 1.9 miles, and relatively flat. Little Pigeon River runs right alongside the trail. You can hear the peaceful running water on most of your hike and even dip your toes in the water in some areas. Some foundations, chimneys, and fireplaces of small past communities can be seen and explored from the path.
Oconaluftee River Trail is a bit shorter, hitting about 3 miles round trip. It's also mostly flat and a calming walk. This trail is actually in Cherokee, North Carolina but if you and your pup are up for the drive, it's just under an hour away from Gatlinburg. Not to mention the panels of Cherokee folklore along the way. Some of the brochures and the trailhead showcase some Cherokee Syllabary.
---
Conclusion
Gatlinburg is not dry, nor is Sevier County. There's plenty of drink options, thanks to loopholes and tourism. From distilleries, wineries, moonshine venues and a few packaging stores.
Though your best bet is Gatlinburg, Sevierville is a good option if you don't want to bear the traffic. Break out the moonshine, pop a bottle, or grab a drink in one of the Smokies famous restaurants, and enjoy the view.