As the third-largest state in the U.S., California's natural diversity offers a little of something for everyone. There are deserts, coastal forests, forested mountains, and Mediterranean regions. In this state, mountain and beachfront scenery are common combinations along the coast. Similarly, California national parks offer unique environments for natural and cultural experiences.
There are a total of 63 national parks in the United States and California has the most of any state with 9 parks. Let's learn more about them and the 28 total national park sites in the state of California!
9 National Parks in California
The 9 national parks found in California are Yosemite National Park, Sequoia National Park, Kings Canyon National Park, Lassen Volcanic National Park, Redwood National Park, Channel Islands National Park, Joshua Tree National Park, Death Valley National Park, and Pinnacles National Park. Other national park sites found in California include Lava Beds National Monument, John Muir National Historic Site, and Golden Gate National Recreation Area. Read more for a complete list.
1. Yosemite National Park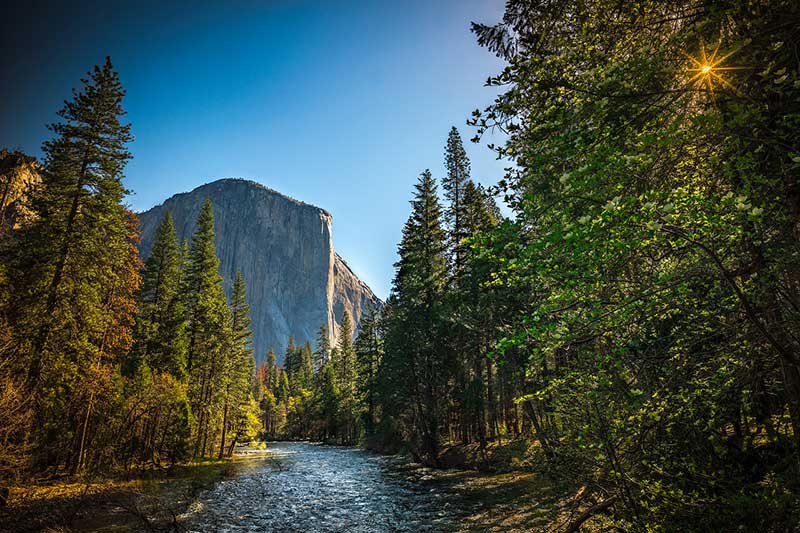 Designation: National Park
Year established: 1890
Acreage: 761,747.50
Yearly visitors: 2,268,313
Park entrance address: 6107 Big Oak Flat Rd, Groveland, CA 95321
Millions of visitors are drawn to the waterfalls in Yosemite National Park. However, the park offers grand meadows, deep valleys, ancient giant sequoias, and much more. Another popular activity in the park is viewing or hiking to the top of Half Dome in Yosemite Valley.
Yosemite is the third-largest National Park in California and there are 5 different entrances. If you're driving in from the Bay Area, the Big Oak Flat entrance offers the most direct route to the park and is only 30 to 40 minutes to Yosemite Valley. However, the South entrance is closest if you're traveling from Los Angeles or San Diego.
Since most of the roads close due to snow, May and September are the best two months to visit Yosemite when it's accessible but not too crowded. Although you can see most of the park in 2 days, at least 3 days there lets you enjoy more tours, ranger-led activities, hikes, and evening programs.
2. Sequoia National Park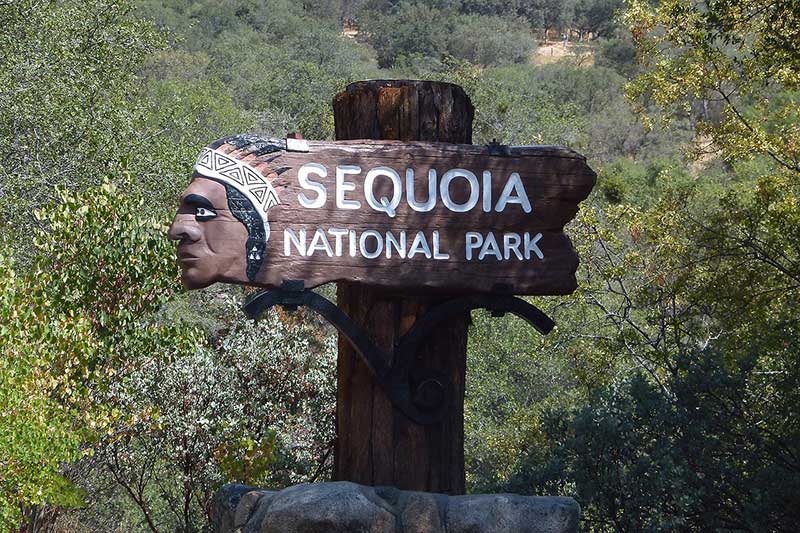 Designation: National Park
Year established: 1890
Acreage: 404,062.63
Yearly visitors: 796,086
Park entrance address: Ash Mountain Entrance Station, Generals Hwy, Three Rivers, CA 93271
Sequoia National Park was established in 1890 to protect the giant sequoia trees from logging. It was the first park created to protect a living organism and preserved to resemble the southern Sierra Nevada that existed before Euro-American settlements. A must-see sequoia in the park is the General Sherman Tree, the largest tree by volume on Earth.
The best time to visit is June through August, when the weather is most stable and all park roads are open. You'll need 1 to 2 days to see all the highlights in the park, including driving Generals Highway, exploring the best hikes in Giant Forest, and seeing Moro Rock and General Sherman.
3. Kings Canyon National Park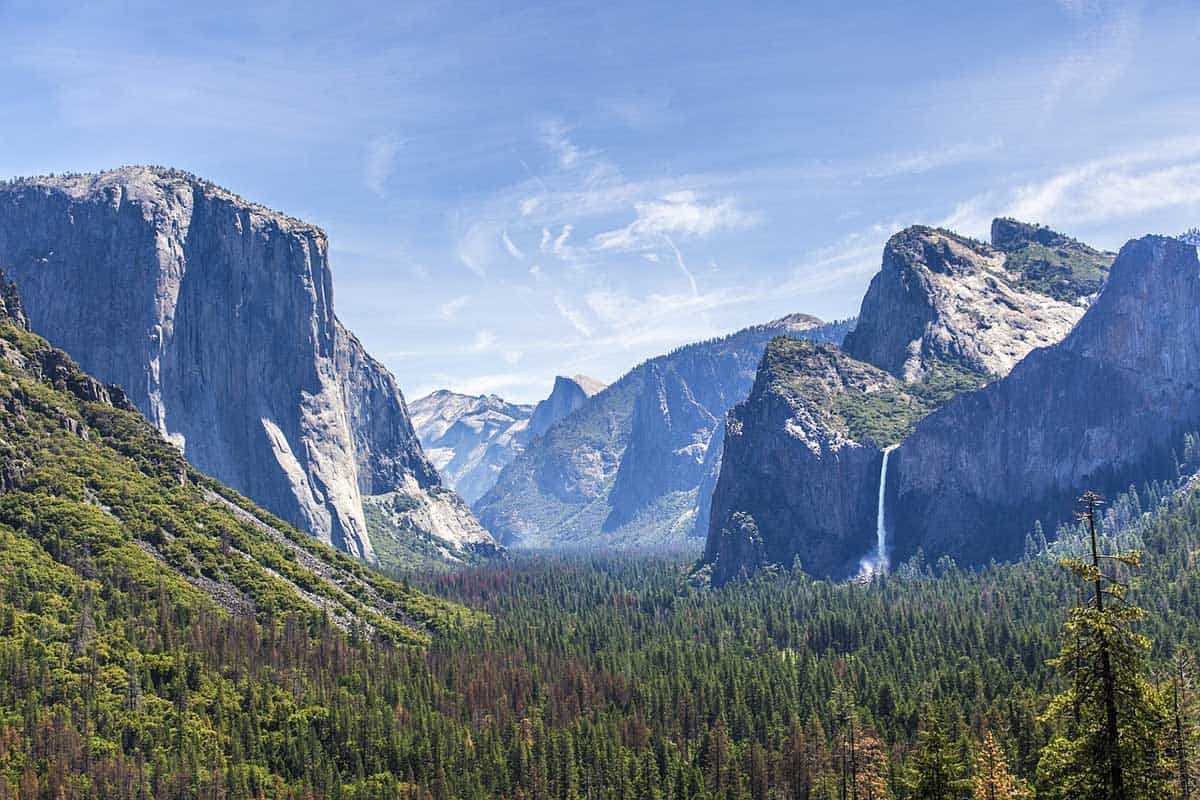 Designation: National Park
Year established: 1940
Acreage: 461,901.20
Yearly visitors: 415,077
Park entrance address: Big Stump Entrance, Miramonte, CA 93641
Kings Canyon Park is known as the place John Muir called a "rival to Yosemite." The park has similar terrain to Yosemite Valley and is named after Kings Canyon, a glacier-caved valley over a mile deep. Located north of Sequoia National Park, the park also features the largest existing grove of sequoia trees worldwide and is jointly administered as the Sequoia and Kings Canyon National Parks.
The best times to visit are June through August. However, mid-September and October offer fewer crowds. The park has two main sections that you can visit in a day: General Grant Grove with General Grant, the second largest tree worldwide, and Cedar Grove and Zumwalt Meadows in the valley of Kings Canyon. However, if you want to explore the backcountry and do a couple of hikes, you'll want at least an extra day.
4. Lassen Volcanic National Park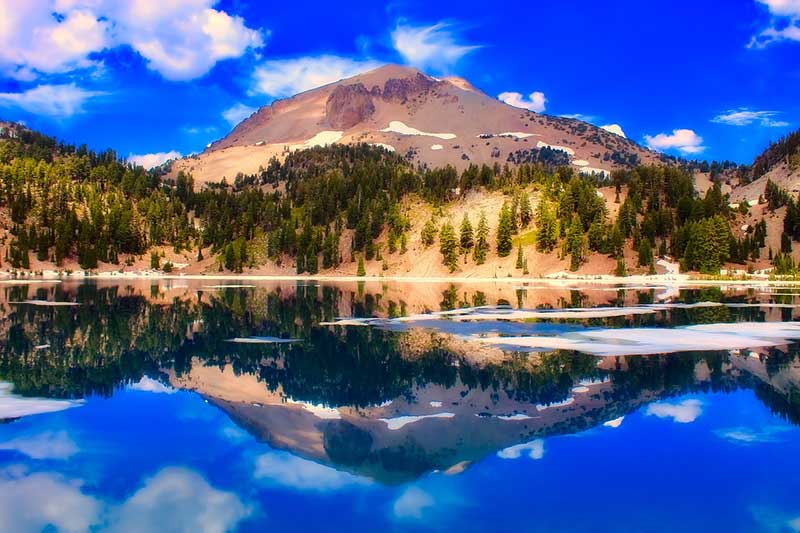 Designation: National Park
Year established: 1916
Acreage: 106,589.02
Yearly visitors: 542,274
Park entrance address: 21800 Lassen Peak Hwy, Mineral, CA 96063
As its name suggests, there are numerous volcanoes in Lassen Volcanic National Park. It has sites, such as Bumpass Hell with bubbling mud pots and Devastated Area with lava rocks from the last eruption of Lassen Peak Volcano. The park is also visited for the clear mountain lakes and meadows filled with wildflowers.
July through September are the best times to visit when you can experience most of the activities available in the park. The wildflowers are also in bloom in July and August, giving a spring-like appearance. Most people enter through the south entrance and drive through the park to exit at the north entrance.
You can take one-day tours that let you see most of the park highlights. However, if you want to also enjoy the lakes, stargaze at night, and hike the popular trails, such as Cinder Cone or Lassen Peak, you'll want to visit for 2 or 3 days.
5. Redwood National Park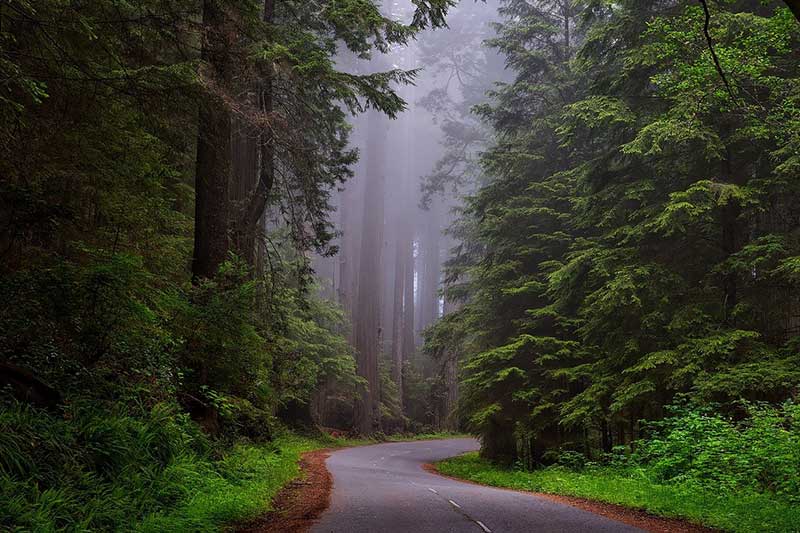 Designation: National Park
Year established: 1968
Acreage: 138,999.37
Yearly visitors: 265,177
Park entrance address: 1111 Second Street Crescent City, CA 95531
Redwood National Park protects the world's tallest trees, which grow over 370 feet high – that's 5 stories taller than the Statue of Liberty! This park is also an International Biosphere Reserve and World Heritage Site. You can enjoy scenic drives, camp, bike, walk, or ride horses along the various trails.
Although the mild coastal temperatures offer decent weather throughout the year, it can be rainy during winter. May through September are the best times to hike amongst the redwoods. The best itineraries to the park cover 2 days, so you can hike to Fern Canyon, take scenic drives, enjoy Gold Bluffs Beach, and go on a horseback riding tour.
Since it's free to enter the park, there are no official park entrance stations. There are 5 visitor centers, and most people start their visit at the park Crescent City Information Center and park headquarters for information.
6. Channel Islands National Park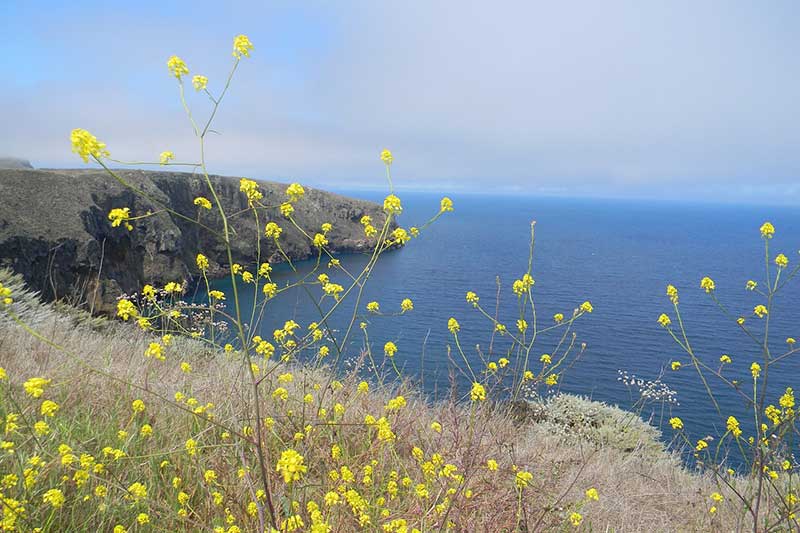 Designation: National Park
Year established: 1980
Acreage: 249,561
Yearly visitors: 167,290
Park entrance address: 1691 Spinnaker Dr, Ventura, CA 93001
Channel Islands National Park preserves an ocean environment's natural and cultural resources. It consists of 5 amazing islands with various hiking trails and unique plant, animal, and archeological resources.
Peak visiting season is from June to August since you can fully enjoy the water-based activities of diving, kayaking, snorkeling, and swimming. It's also the time when the most chances of whale and dolphin sightings occur. A 2-day weekend getaway is the best amount of time to relax and enjoy the various activities as well as visit the different islands.
The park is only accessible by boat or plane and there is no transportation on the islands. You can take a private boat or public boat through Island Packers, with trips leaving from Ventura or Oxnard harbors. So, make sure to plan your visit in advance!
7. Joshua Tree National Park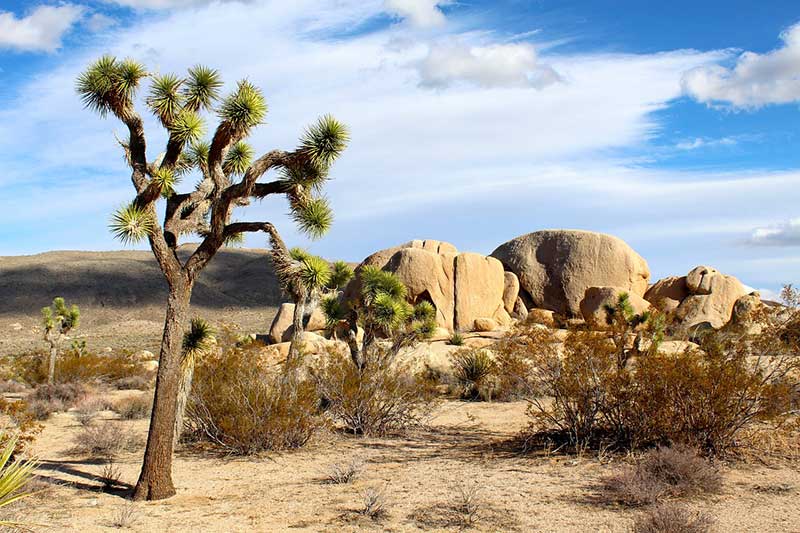 Designation: National Park
Year established: 1994
Acreage: 795,155.85
Yearly visitors: 2,399,542
Park entrance address: 6554 Park Boulevard, Joshua Tree, CA 92252
Joshua Tree is the second-largest National Park in California and is famed for the Joshua trees scattered throughout the desert landscape. These trees provide a habitat for various mammals, birds, lizards, and insects. The park also features scenic hiking trails and unique rock formations, such as Penguin Rock and Skull Rock.
The best times to visit are March to May and October to November, where the temperature is milder. You can also see wildflowers blooming during the spring. One day is plenty to see all the highlights in the park. However, an extra day lets you do multiple hikes, explore off-road drives, stargaze, and catch beautiful sunsets and sunrises.
There are three entrances but the most popular one is the west entrance located in the town of Joshua Tree. Start your visit at the Joshua Tree Visitor Center, which is an 8-minute drive before reaching the west entrance station.
8. Death Valley National Park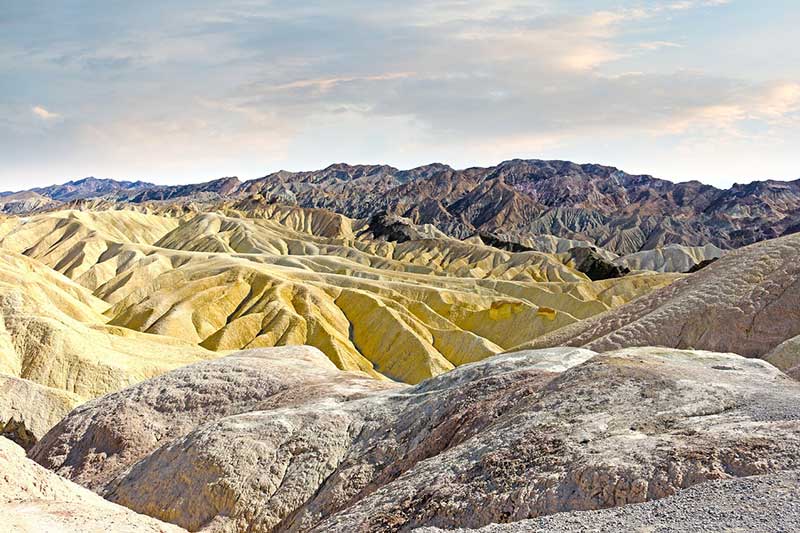 Designation: National Park
Year established: 1994
Acreage: 3,408,406.73
Yearly visitors: 820,023
Park entrance address: 99FQ+4W Darwin, California
Death Valley National Park is the largest park in California and the 5th largest in the U.S. It also features the lowest point in the U.S – Badwater Basin that's 282 feet below sea level. Located on the California and Nevada border, this park is one of the hottest and driest spots in North America.
It's best to visit from mid-October to mid-May to avoid the extreme heat. Spring also brings the possibility of seeing beautiful wildflowers. With one day in the park, you can visit the main highlights, including Badwater, Furnace Creek, the scenic Artist Drive, Dante's View, Zabriskie Point, and spend time seeing exhibits at the visitor center.
However, with an extra day you can add in tours of Scotty's Castle, see Ubehebe Crater, and seek out Star Wars filming locations. There are two entrances to the park, with the Panamint Springs west entrance in California.
9. Pinnacles National Park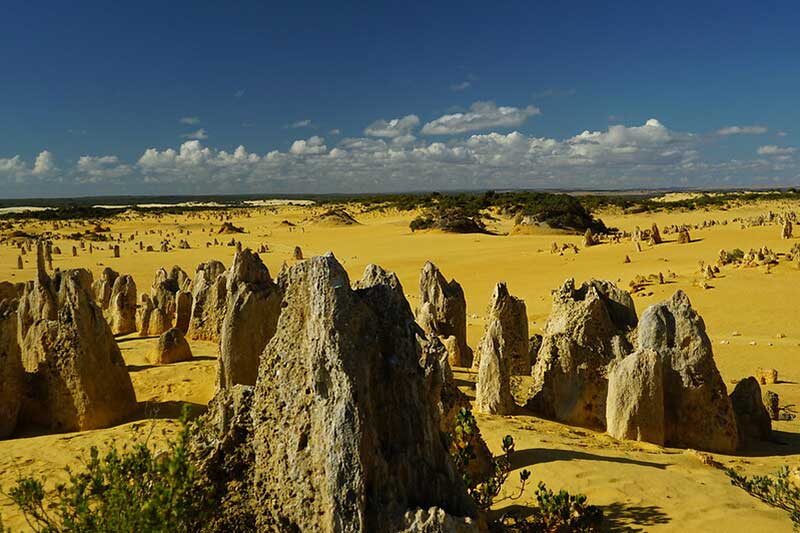 Designation: National Park
Year established: 2013
Acreage: 26,685.73
Yearly visitors: 165,740
Park entrance address: 5000 CA-146, Paicines, CA 95043
Most recently upgraded to National Park designation, Pinnacles National Park is the smallest park in California. It's popular for the protruding volcanic rocks formed millions of years ago, called pinnacles and the managed release of captive-bred condors into the wild.
Spring is the best time to visit when the weather is cooler and various wildflowers can be seen along hiking trails. It's possible to see most of the park in one day. However, you'll need at least an extra half-day to see the caves. There are two entrances to the park, the western and eastern entrances. However, the eastern entrance is less remote and has a campground and main visitor center nearby.
---
Other National Park Sites in California
The following is information on the 19 other national park sites in California managed by the National Park Service (NPS). The state also has 4 National Historic Trails and 10 National Monuments managed by the Bureau of Land Management (BLM) that are not considered official units of the national park system.
10. Cabrillo National Monument
Cabrillo National Monument marks the spot of the first European explorers to set foot on the U.S. West Coat in 1542. You can watch a film about the arrival of Juan Rodriguez Cabrillo at the visitor center or view the skyline of San Diego from the park.
11. Castle Mountains National Monument
A protected landscape in the Mojave Desert, this National Monument includes the Castle Mountains and the open-pit gold mine called Castle Mountain Mine Area. You can also experience rare desert grasslands and Joshua tree forests at the site. This area is a critical habitat for wildlife such as the desert bighorn, mountain lion, and golden eagle.
12. César E. Chávez National Monument
César E. Chávez was one of the most important Latino leaders in the U.S. during the 20th century, including establishing the first permanent agricultural union. This monument is a 116-acre property that used to be the United Farm Workers headquarters and is home to Chávez's grave.
13. Devils Postpile National Monument
This National Monument preserves the Devils Postpile, a series of unusual rock formations and basalt columns. The 60-feet high columns are a rare sight and one of the world's best examples of columnar basalt. The surrounding wilderness area also has campgrounds, mountain scenery, and the 101-foot tall Rainbow Falls as a major attraction.
14. Lava Beds National Monument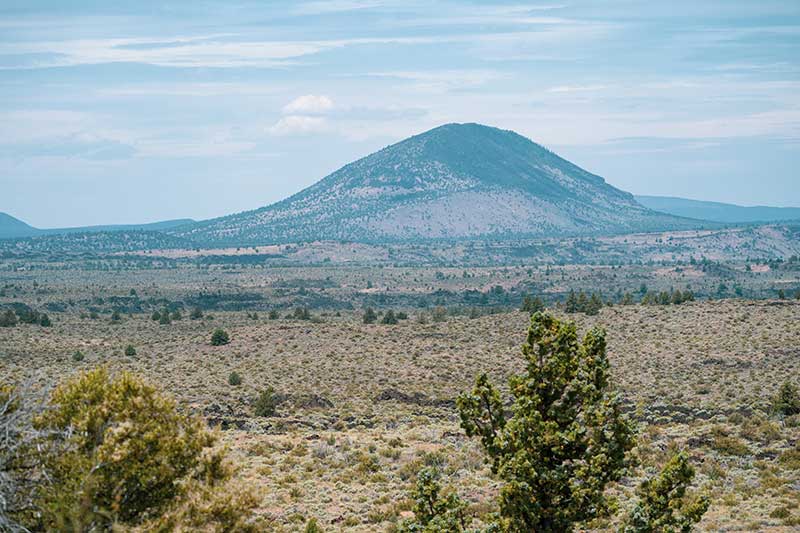 Over the past half-million years, volcanic eruptions led to various volcanic features in the Lava Beds National Monument. The site has volcanic fields, lava tube caves, and desert landscapes to marvel at. You can also visit historic battlefields, Native American rock art sites, and go camping at various campsites.
15. Muir Woods National Monument
Muir Woods is one of the closest redwood groves to the Bay Area and has been protected since 1908 as a National Monument. It is also famous for being the signing location of the 1945 United Nations Charter. The site's popularity requires visitors to park at distant parking lots and take a shuttle bus to the area.
16. Tule Lake National Monument
Tule Lake National Monument preserves the story of internment camps. Although originally created as a camp for the Civilian Conservation Corps, it housed incarcerated Japanese Americans during World War II as Camp Tule. Then the site became a place for prisoners of war. There are guided tours explaining this history.
17. Eugene O'Neil National Historic Site
Eugene O'Neill was America's only playwright to win the Nobel Prize. This site preserves his former home, Tao House, that he built with his prize money. It's where he lived during the height of his career and wrote his most memorable and final plays, including A Moon for the Misbegotten and The Iceman Cometh.
18. Fort Point National Historic Site
Fort Point was built following California's Gold Rush and before the American Civil war to defend the Bay Area from warships. It overlooks the Golden Gate Bridge and features the art of 3rd system brick masonry. This site is also managed under the Golden Gate National Recreational Area.
19. John Muir National Historic Site
Naturalist and writer John Muir was one of the first advocates of the national park system. His writing convinced the government to protect Grand Canyon, Yosemite, Sequoia, and Mount Rainier as National Parks. This Historic Site preserves Muir's Italianate Victorian mansion originally built in the 19th century. You can take a tour around the house and watch a biographical film about him.
20. Manzanar National Historic Site
The Manzanar National Historic site features the best-preserved Japanese American incarceration campsites from World War II. There are 10 military-style camps showcasing the Japanese American legacy so future generations can remember this historical incident. Besides learning about the history in the museum and on guided tours, the area is also known for biking trips.
21. Rosie the Riveter WWII Home Front National Historical Park
This Historical Park honors the legacy, sacrifices, and efforts of American civilians on the World War II homefront. Explore the site to learn stories about how they worked, lived, and got along. The park is also the former location of the Kaiser Richmond shipyards and features facilities devoted to shipbuilding from World War II.
22. San Francisco Maritime National Historical Park
Telling the story of the Pacific Coast maritime history, the San Francisco Maritime National Historical Park is located in the Fisherman's Wharf neighborhood. The site includes a Maritime Museum, Maritime Research Center, a fleet of historic ships, and the Aquatic Park Historic District.
23. Port Chicago Naval Magazine National Memorial
This national memorial site is dedicated to the Port Chicago disaster during World War II that killed 320 naval workers due to an explosion at the Concord Naval Weapons Station. Almost all the casualties were African American. The event led to the largest mutiny in U.S. military history and led to the U.S. Navy's post-war desegregation.
24. Golden Gate National Recreation Area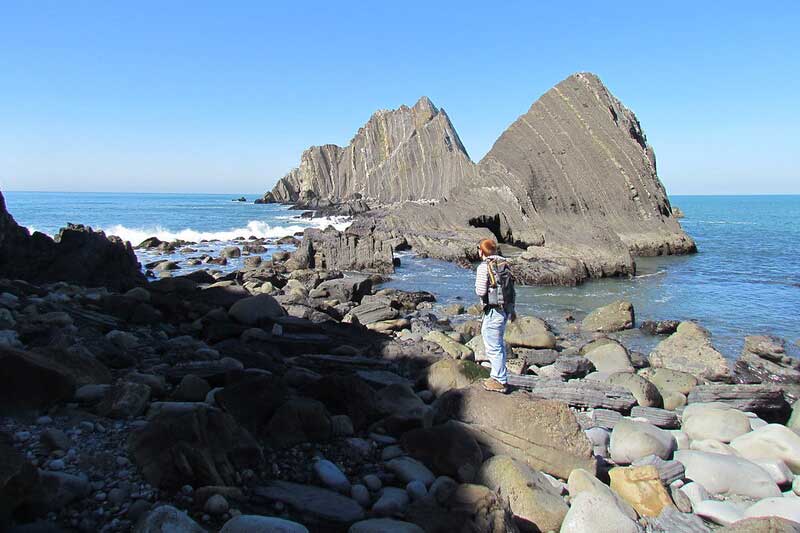 One of the most visited units in the national park system, the Golden Gate National Recreation Area gets around 15 million visitors annually. The property covers over 80,000 acres of natural and historically significant landscapes in San Francisco. Major attractions and national park units considered part of this site include the Presidio of San Francisco and Alcatraz Island.
25. Santa Monica Mountains National Recreation Area
Covering the Santa Monica Mountains and surrounding areas, this recreation area includes individual parks and open space preserves. You can explore over 500 miles of trails, Native American centers, and old movie ranches. It is also known as a mountain range with one of the densest sources of archaeological resources.
26. Whiskeytown National Recreation Area
Whiskeytown National Recreation Area is 42,000 acres of recreational and cultural opportunities. You can explore California Gold Rush history, visit waterfalls, view wildlife, and hike rugged mountains. Water-based activities on the lakes, such as swimming and boating, are also popular.
27. Mojave National Preserve
The third-largest site in the national park system, the Mojave National Preserve consists of the almost 1.6 million hectares that is the Mojave Desert. You can see various natural features, such as the Cima Dome, Kelso Dunes, Marl Mountains, and volcanic formations. It also includes the state-managed Providence Mountains State Recreation Area and Mitchell Caverns Natural Preserve.
28. Point Reyes National Seashore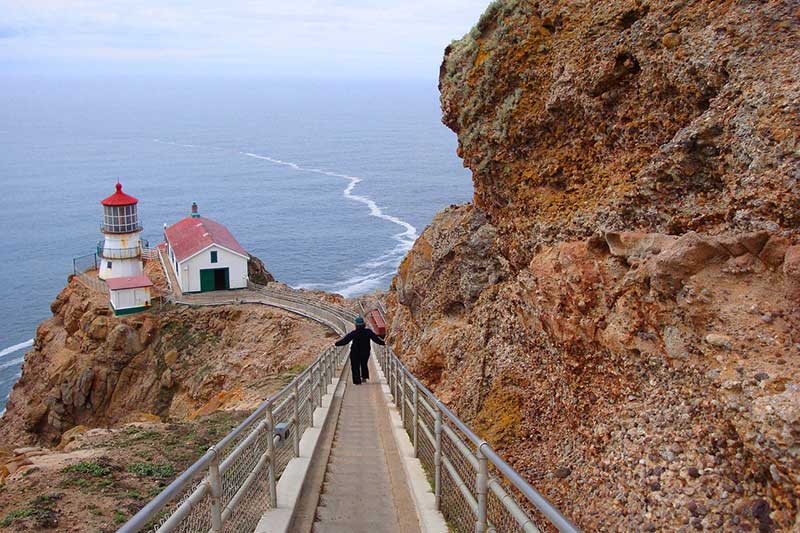 The only National Seashore site in California, the park is within the Point Reyes Peninsula. The beaches in the peninsula were declared as some of the cleanest in California in 2010. Besides the sandy beaches, you can find forested ridges and over 1,500 species of animals and plants. This site also preserves the stories of the different cultures living there over the past thousand years.