Florida's landscape is well known for the large wetland area referred to as the Everglades. However, there are also mangrove forests, seagrass meadows, salt marshes, prairies, and more. The national parks in Florida represent the state's cultural and natural heritage, including seashores that are part of the best beaches the world has to offer. Out of the 63 parks in the United States, there is a total of 11 national park sites in Florida, including 3 National Parks. Read on to learn more about these significant locations you'll want to visit on your next trip to Florida!
3 national parks in Florida
The 3 national parks found in Florida are Everglades National Park, Biscayne National Park, and Dry Tortugas National Park. Other national park sites found in Florida include De Soto National Memorial, Fort Matanzas National Monument, and Gulf Islands National Seashore. Read more for a complete list.
1. Everglades National Park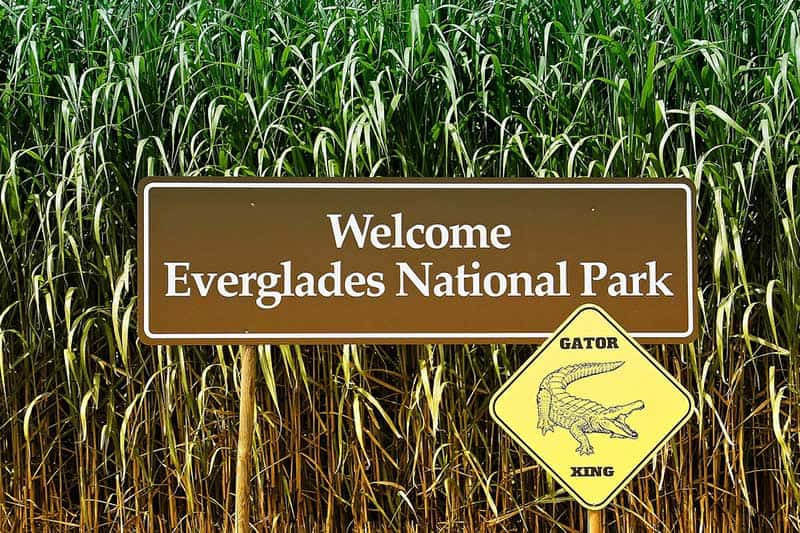 Designation: National Park
Year established: 1947
Acreage: 1,508,938.57
Yearly visitors: 702,319
Park entrance address: 40001 State Road 9336, Homestead, FL 33034
Everglades National Park is the 10th largest National Park in the U.S., protecting 1.5 million acres of subtropical wilderness. It is also home to North America's largest continuous stand of sawgrass prairie. This landscape provides important habitats for endangered and rare wildlife species, including the Florida panther, American crocodile, and manatee.
The best time to visit is from December to March if you want to avoid hurricanes, high temperatures, and swarms of mosquitoes. While there are multiple park entrances and visitor centers, the Ernest F. Coe Visitor Center on State Road is the largest and most popular.
You'll want to spend at least one day visiting the Shark Valley and Flamingo areas of the Everglades that offer great animal viewing spots. However, if you want to hike the various trails, take a boat tour to the Ten Thousand Islands, go biking, and/or fishing, plan for up to 3 days here.
2. Biscayne National Park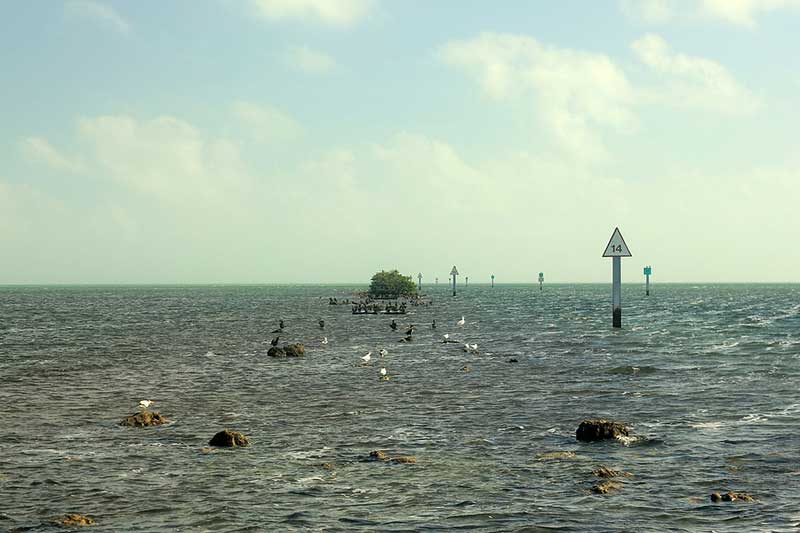 Designation: National Park
Year established: 1980
Acreage: 172,971.11
Yearly visitors: 402,770
Park entrance address: 9700 SW 328th Street, Sir Lancelot Jones Way, Homestead, FL 33033
Biscayne National Park is home to the third-largest offshore reef worldwide and features four different ecosystems. It protects mangrove forests, coral reefs, Biscayne Bay, the Florida Keys, and 10,000 years of human history. Consisting of 95% water, the park is also popular for water-based activities, including boating, canoeing, kayaking, snorkeling, and scuba diving.
With no entrance fee, the park is open 24 hours a day, every day of the year. However, the best times to visit are from November to May when it rains less and you can avoid hurricane season. While exploring all 4 ecosystems in 1 day can seem challenging, it is possible, especially when you take a half-day guided boat trip of the island. You can book tours and water sporting rentals at the Dante Fascell Visitor Center.
3. Dry Tortugas National Park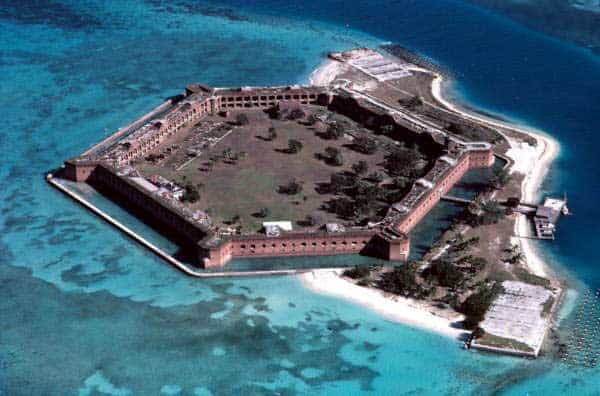 Designation: National Park
Year established: 1992
Acreage: 64,701.22
Yearly visitors: 48,543
Park entrance address: Dry Tortugas Ferry, 100 Grinnell St, Key West, FL 33040
Dry Tortugas National Park is famous for its exotic wildlife and stunning natural beauty. The park features unique tropical fish, nesting sea turtles, and vibrant coral reefs. The clear waters also make it a great location for paddleboarding, diving, and snorkeling enthusiasts.
The park is an island only accessible by seaplane or boat. The most popular transportation method is with the Yankee Freedom ferry running from Key West. Ferry rides are around 2 hours 15 minutes and tickets include the park entrance fee.
While a day trip is possible, giving around 3 hours to tour the island and Fort Jefferson, an overnight trip is best if you want to do other water activities or stargaze. Make sure to reserve your spot in advance because camping locations are limited. It's best to visit from November to April when the seas aren't as rough and the winds are not as strong.
---
8 other national park sites in Florida
Here are 8 additional national park sites found in the state of Florida. These include national preserves, national monuments, and other designations. This makes a total of 11 national park sites in Florida.
4. Big Cypress National Preserve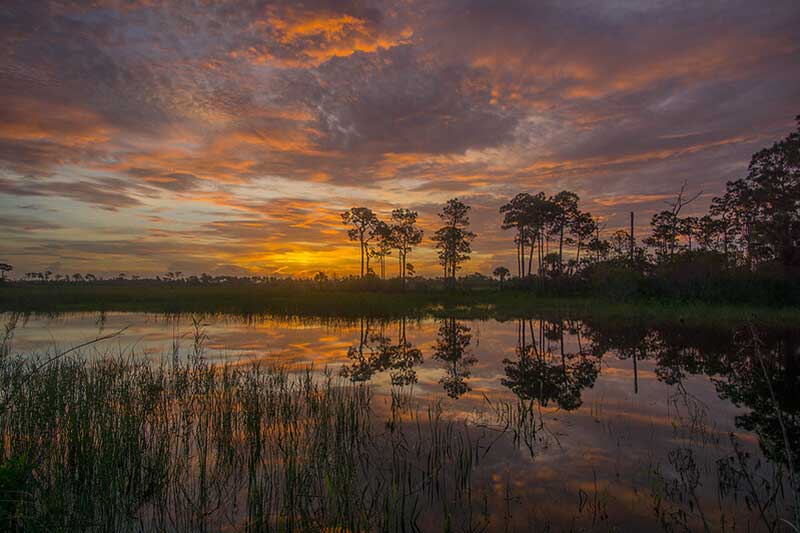 Located in Ochopee, the Big Cypress National Preserve is a swamp covering over 729,000 acres. You can go hiking, camping, wildlife viewing, canoeing, kayaking, and trips on swamp buggies. It is also home to the famed Clyde Butcher Gallery, where you can take a guided swamp walk to see the locations Mr. Butcher took his photos.
5. Timucuan Ecological and Historic Preserve
The Timucuan Ecological and Historic Preserve is one of the Atlantic Coast's last unspoiled coastal wetlands with beautiful coastal dunes and salt marshes. The site includes the Theodore Roosevelt area, which is 600 acres of hardwood forest, scrub vegetation, and wetlands. It also represents 6,000 years of human history, including the Kingsley Plantation portraying the story of enslavement and freedom.
6. Fort Caroline National Memorial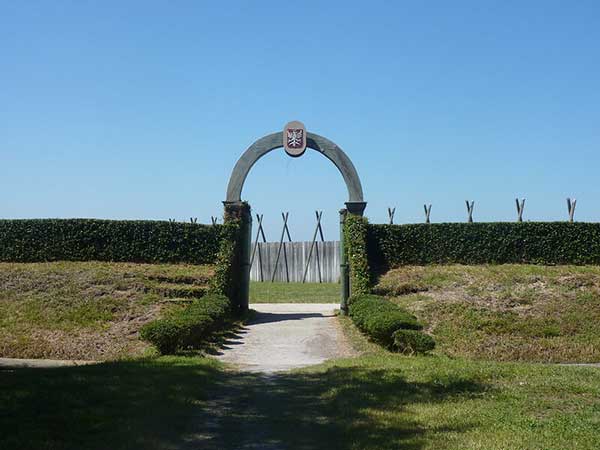 Although managed under the Timucuan Ecological and Historic Preserve, Fort Caroline National Memorial is a distinct unit in the national parks system. It's a culturally significant location for Black Americans as a safe vacation destination for Black families to visit when the south was segregated. You can enjoy historical reenactments of the French presence during the 16th century and hiking paths here.
7. De Soto National Memorial
Free to enter and explore, the De Soto National Memorial preserves the history of the De Soto expedition that started in May 1539. You can experience first-hand accounts of the expedition survivors describing the native cultures and riches of the land. There are ranger-led hikes and kayak tours, educational films, and a historical reenactment program. The site is also pet-friendly!
8. Castillo de San Marcos National Monument
Built by the Spanish to defend Atlantic and Florida trade routes, this national monument preserves the U.S's oldest masonry fort. You can download an app for a self-guided tour of the fort, attend ranger programs, and, on specific days, see live weapons demonstrations. The history of the place is preserved, especially in the period clothes the rangers and volunteers dress in.
9. Fort Matanzas National Monument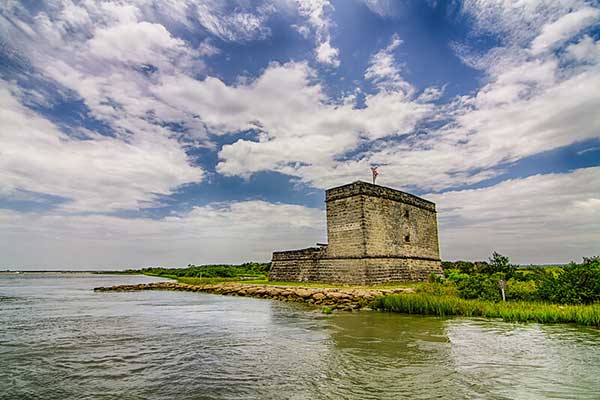 A preserved coquina watchtower dating back to the 1700s, Fort Matanzas defended the Spanish military settlement of St. Augustine. Besides exploring the fort or watching a weapons demonstration, you can also go kayaking, fishing, enjoy the beaches, or hike nature trails, including a sandy trail along the water. This site protects around 300 acres of coastal environment, including marshes and endangered species of flora and fauna.
10. Canaveral National Seashore
The Canaveral National Seashore is on a barrier island on Florida's east coast that features 24 miles of beach. Besides relaxing on the beach, you can also hike nature trails, go boating, camp out, and view wildlife, including the manatee observation area. You can even see the NASA launch pads from the Palaylinda Beach park.
11. Gulf Islands National Seashore
If you want to experience some of Florida's most pristine beaches, such as Perdido, you'll want to visit the Gulf Islands National Seashore. This national park site provides opportunities for camping, hiking, fishing, wildlife viewing, and snorkeling. Besides enjoying nature, it also features historical sites, such as Fort Pickens, to explore.