Texas is the second-largest state in the U.S. and home to various ecosystems, ranging from wetlands to forests and deserts. For example, the "Lone Star State" has around 60 million acres of forest, making it second behind Alaska in forest acreage in the U.S. You can find most of Texas's cultural and natural hidden gems in one of its 16 national park sites. Read on to learn more about visiting the 2 National Parks in Texas and the 14 park sites.
2 National Parks in Texas
The 2 national parks in Texas are Big Bend National Park and Guadalupe Mountains National Park, both in West Texas. Other notable national park sites found in the State include Amistad National Recreation Area, Padre Island National Seashore, and Waco Mammoth National Monument.
Read more for a complete list of the 16 national park sites in Texas, starting with the 2 national parks.
1. Big Bend National Park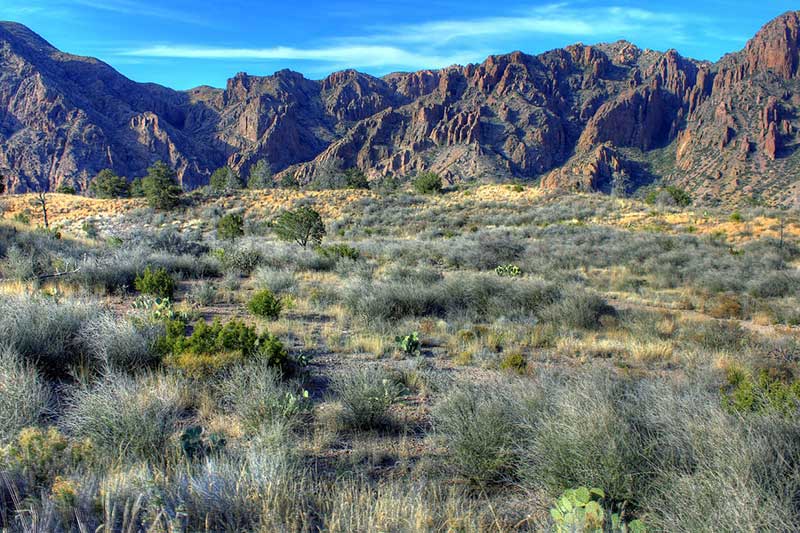 Designation: National Park
Year established: 1944
Acreage: 801,163.21
Yearly visitors: 393,907
Park entrance address: 1 Panther Junction, Big Bend National Park, TX 79834
Although the least visited park in the U.S. due to its remote location, Big Bend National park is known as Texas' Gift to the Nation. The park has archeological sites almost 10,000 years old and is popular for driving along parts of the Comanche Trail, water activities, hiking, soaking in hot springs, and visiting the Fossil Discovery Exhibit.
The best times of the year to visit are the fall and spring when temperatures are milder during the day and cool at night. However, avoid spring break weeks when it's most crowded. It's best to plan 3 days in Big Bend National Park, where you can spend one day each in the three main sections: Chisos Basin, Rio Grande Village, and Ross Maxwell Scenic Drive region.
The Panther Junction Visitor Center is the most popular place to begin your exploration of the park and pay entrance fees, including watching a park orientation movie. However, there are also other visitor center locations to start your visit.
2. Guadalupe Mountains National Park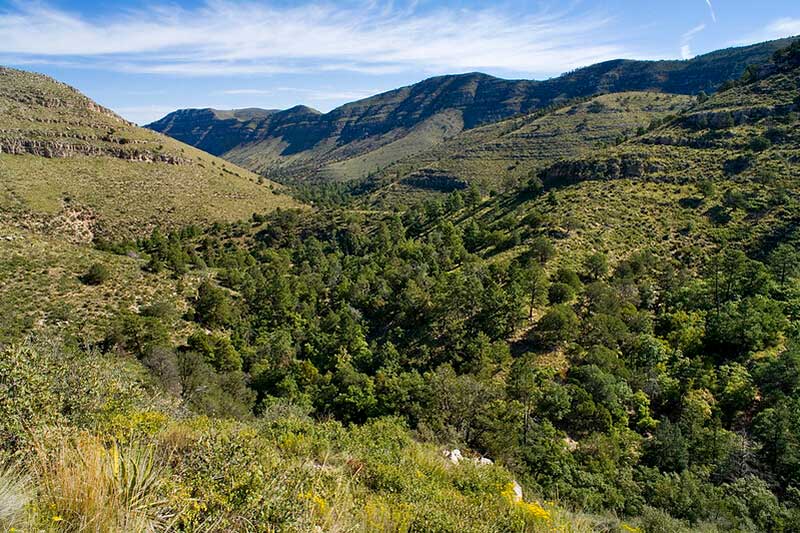 Designation: National Park
Year established: 1972
Acreage: 86,367.10
Yearly visitors: 151,256
Park entrance address: 400 Pine Canyon, Salt Flat, TX 79847
Guadalupe National Park offers amazing natural beauty, over 80 miles of hiking trails, and the popular bright-white Salt Basin Dunes. It is also known for having the most extensive Permian fossil reef worldwide and features the highest point in Texas at Guadalupe Peak.
Fall is one of the most popular times to visit the park, since you can experience the vibrant fall colors and cooler temperatures. Another busy time of the year is during the spring. To avoid the spring and summer crowds, wait until schools open in late August.
A 2 or 3 day visit to the park can give you a good feel of what it has to offer. You'll want to spend at least one day hiking McKittrick Canyon Head to Devil's Hall and another day exploring the Pine Springs section, historical attractions, and visitor center information. The Pines Springs Visitor Center is the main visitor center and headquarters where most people start their visit.
---
Other National Park Sites in Texas
3. San Antonio Missions National Historical Park
A visit to Alamo City in Texas isn't complete without checking out the San Antonio Missions. The Missions are an important part of American History, dating back to the time of the Spanish Conquest. It is also the only UNESCO World Heritage Site in Texas, with 4 missions located in the historical park and the Alamo upstream.
4. Palo Alto Battlefield National Historical Park
The U.S.-Mexican War had a great impact on the region and the Palo Alto Battlefield is where the troops clashed on May 8, 1846 – the first battle in the 20-year long war. This National Historical Park preserves the history of this site and provides education to understand the causes and consequences of the war.
5. Lyndon B. Johnson National Historical Park
Lyndon B. Johnson National Historical Park represents the circle of life for the 36th president of the U.S. You can go on a self-guided tour of the LBJ ranch, exploring his birthplace, where he went to school, and the cemetery he is buried. The Texas White House he worked in as president and his small "Air Force One and a Half" jet are also visitor favorites.
6. Alibates Flint Quarries National Monument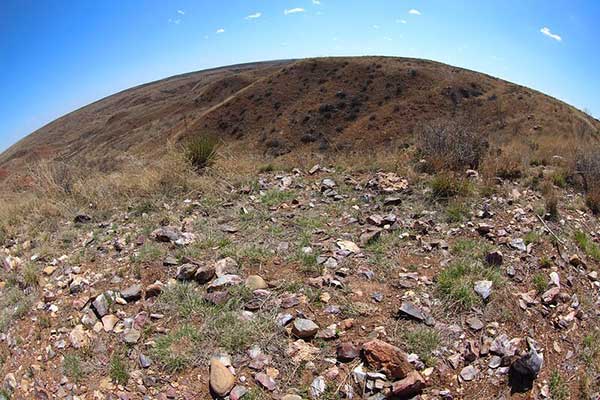 Around 13,000 years ago, the Alibates Flint area was a popular site for mammoth hunters searching for a stone called flint they used to create hunting tools. These flint quarries are the first National Monument preserved in Texas and the visitor center offers great educational resources about its history. You can also go on ranger-led hikes in the area.
7. Waco Mammoth National Monument
During the Ice Age, Columbian mammoths weighing 20,000 pounds and standing 14 feet tall roamed Texas. In 1978 their fossils were discovered in Waco and are preserved for public viewing and continued scientific research. You can also hike trails to learn about foliage and other wildlife that existed during the Ice Age.
8. Fort Davis National Historic Site
Fort Davis National Historic Site is a famous historical spot in the history of Texas' military. It is the best surviving example of an Indian Wars' frontier military post and was strategically located to protect mail coaches, emigrants, and freight wagons. There are hiking trails, multimedia presentations, and pets are allowed!
9. Amistad National Recreation Area
Another oasis among the desert terrain of the town of Del Rio, is a coastline that makes up the Amistad National Recreation Area. This area is well known for hiking, camping, rock art viewing, and water-based recreation opportunities, such as fishing, boating, and swimming. It's also mid-route for Monarch butterflies migrating south for a spectacular view of their flight!
10. Lake Meredith National Recreation Area
Although the Texas Panhandle is known to be dry grasslands, Lake Meredith is a hidden oasis for wildlife and visitors. You can explore 200-foot canyons, hidden coves, and hike on several trails. There are also plenty of places to set up tents for camping or sites for RVs and the site lets you stay for up to 14 consecutive days.
11. Padre Island National Seashore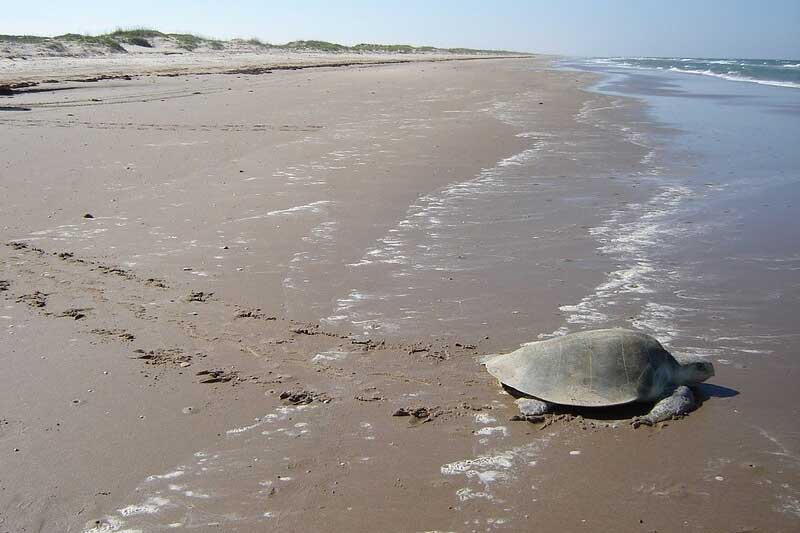 Located off the South Texas coast, Padre Island National Seashore is 70 miles long and features 65.5 miles of Gulf beach. The north side is one of the longest undeveloped barrier islands worldwide. You can go swimming, fishing, kayaking, canoeing, or windsurfing in the area. There are also public releases of sea turtle hatchlings from mid-June to August.
12. El Camino Real de los Tejas National Historic Trail
This trail translates from Spanish to mean the Royal Road of the Tejas. It has been around for over 150 years and represents the Spanish struggle with missionizing the American Indians to the growth of cattle ranching before Texas statehood. There are plenty of great viewing spots along the trail, including the San Pedro Springs and Drexel Rio Grande Overlook.
13. El Camino Real de Tierra Adentro National Historic Trail
This trail translates from Spanish to mean the Royal Road of the Interior Land and is over 300 years old. It is recognized as a timeless route for cultural exchange and trade among various cultures in the region over the years. The trail also features various historical highlights, such as the Missions and the San Elizario Historic District.
14. Chamizal National Memorial
The Chamizal National Memorial located in El Paso commemorates the resolution of a land dispute between the U.S. and Mexico that lasted 100 years. This urban national park represents the beauty of the continued friendship between the two countries. You can learn about the conflict and the resolution at the cultural center on-site.
15. Big Thicket National Preserve
When multiple habitats converge, you get a spectacular diversity of life that can be found in the Big Thicket National Preserve. This biosphere reserve is protected by UNESCO for education and research about sustainability and biodiversity. It's a unique place to go camping, hiking, and paddling.
16. Rio Grande River National Wild and Scenic River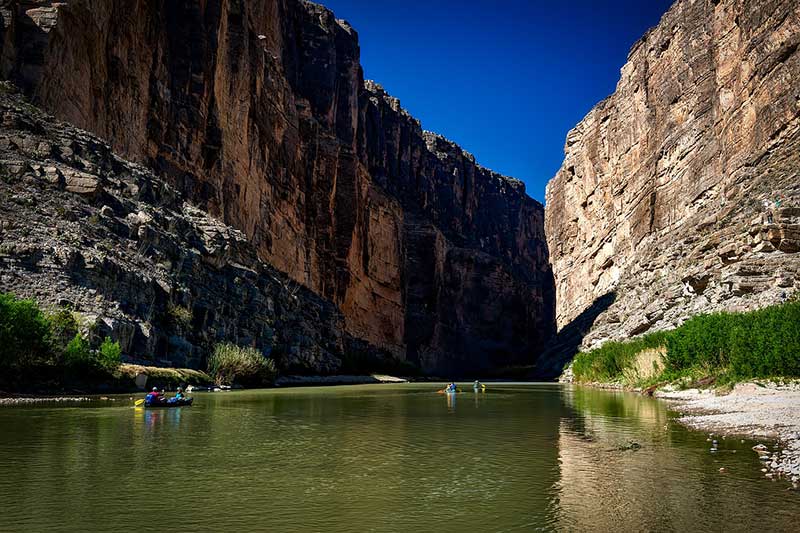 The Rio Grande is a National Wild and Scenic River that's a well-known natural border of the U.S. and Mexico. Kayaking along the 196 miles of free-flowing water takes you through stunning canyons, cliffs, and desert expanses. It's a great way to explore a remote corner of Texas and offers a different view with every visit.