Utah's natural landscapes are filled with magnificent beauties, including unique rock formations, canyons, and rivers. There are four major habitat types you can find in the state: forests, wetlands, alpine, and deserts. The natural diversity lends to beautiful national parks in Utah and some of the best outdoor recreation experiences. You can visit 13 national park system sites, including 5 National Parks, making it the 3rd state with the most National Parks in the U.S. Let's learn more about these natural wonders!
How many national parks are there in Utah?
There are 5 national parks found in Utah and they are Zion National Park, Bryce Canyon National Park, Canyonlands National Park, Arches National Park, and Capitol Reef National Park.
Other national park sites found in State include Dinosaur National Monument, Rainbow Bridge National Monument, and Golden Spike National Historic Site.
Read more for a complete list of all 13 national park sites in Utah, starting with the ones actually designated as national parks.
National Parks in Utah
1.

Zion National Park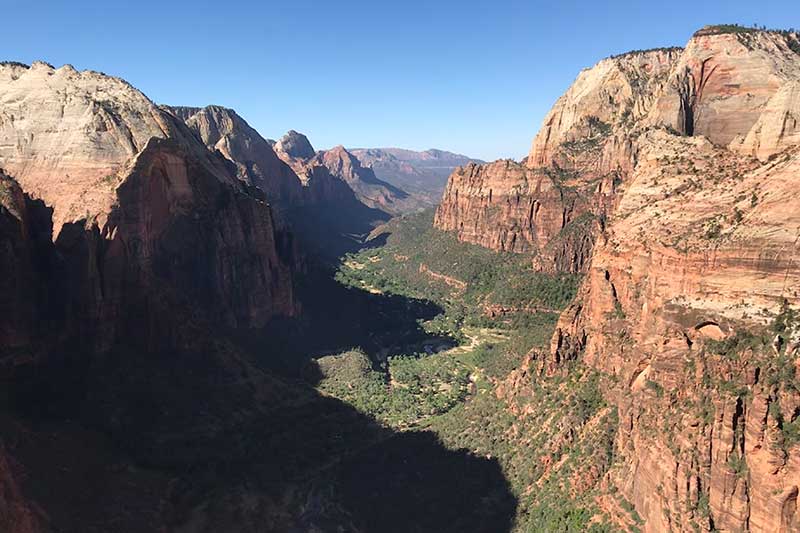 Designation: National Park
Year established: 1919
Acreage: 147,242.66
Yearly visitors: 3,591,254
Park entrance address: 153-161 Zion – Mount Carmel Hwy, Springdale, UT 84767
Zion National Park is ideal for scenic drives and outdoor adventures. One of the park highlights is the Zion Canyons, which averages 2,000 feet deep and offers multiple hiking and canyoneering opportunities.
How many days you spend in the park depends on the experience you want. Scenic drives and short hikes can be accomplished in 2 days. However, you'll need at least 3 full days to hit all the famous hikes and popular spots, such as the 2-day backpacking trip on the Zion Narrows.
Late spring to early fall is the best time to visit Zion National Park, especially since most facilities are open during this time. However, if you want to avoid the crowds and don't mind chilly weather, visit during the late fall and winter. While there are 3 entrances to the park, the south entrance is the most popular and near the main Zion Visitor Center.
2.

Bryce Canyon National Park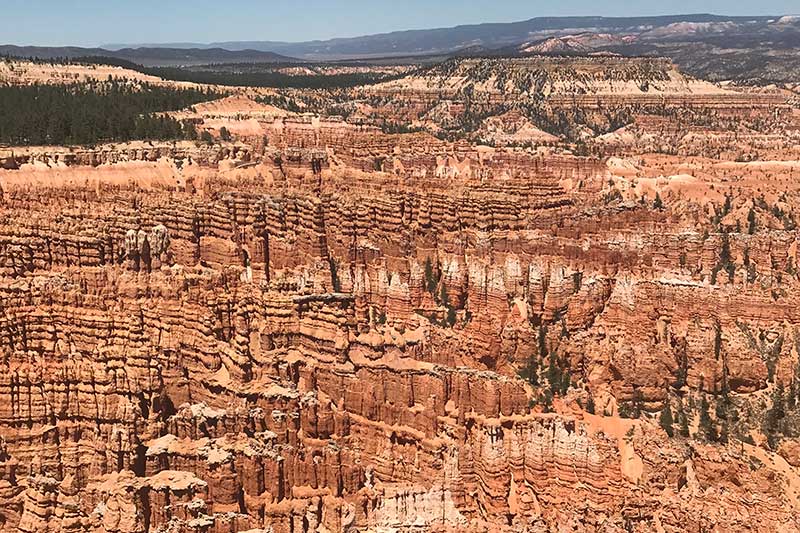 Designation: National Park
Year established: 1928
Acreage: 35,835.08
Yearly visitors: 1,464,655
Park entrance address: UT-63, Bryce Canyon City, UT 84764
Bryce Canyon National Park is famous for having the largest collection of hoodoos on earth. These distinctive rock formations are tall, thin spires of rocks that look like nature's chimneys. You can see most of Bryce Canyon's highlights in one day by taking the scenic drive and making stops at the various viewpoints.
However, if you want to explore the various hiking trails, you want 1.5 to 2 days. Overnights also let you experience the ranger-led full moon hike program taking you among the hoodoos.
The park has elevations up to 9,100 feet, providing heavy snowfall during the winter. Plenty of people visit during the winter to ski or go on ranger-led snowshoe hikes. However, most people visit between May and September since the weather is warmer and it doesn't get too hot during the summer.
3.

Canyonlands National Park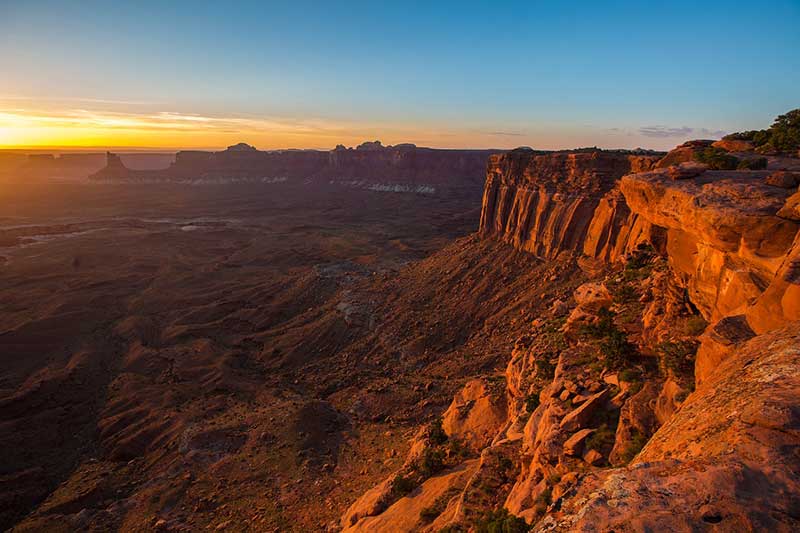 Designation: National Park
Year established: 1964
Acreage: 337,597.83
Yearly visitors: 493,914
Park entrance address: Island in the Sky Rd, Moab, UT 84532
Although it's only the 23rd largest National Park in the U.S., Canyonlands is the largest out of the 5 national parks in Utah. The park is centered around the Colorado and Green rivers and is mainly a roadless region with canyons, arches, spires, hoodoos, and mesas. The best time of the year to visit is when the weather is milder in the spring and fall. However, early fall can have some thunderstorms.
The park has four main districts: The Maze, Island in the Sky, The Needles, and Horseshoe Canyon. There are two main entrances and some districts are only accessible on non-paved roads.
If you plan to visit every district, hike, and go on a boat tour, you'll want at least 2 days to explore. However, most people visit for just a day, focusing on the popular Island in the Sky district, since it has the most things to do, including easier hikes.
4.

Arches National Park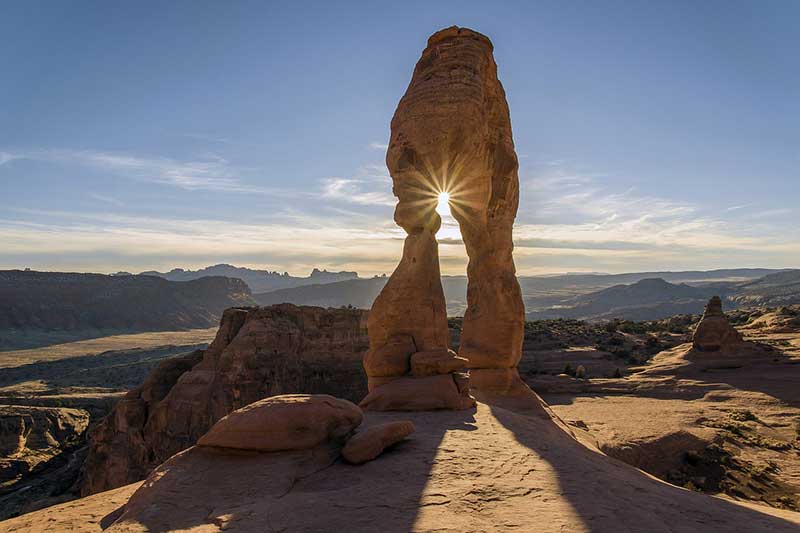 Designation: National Park
Year established: 1971
Acreage: 76,678.98
Yearly visitors: 1,238,083
Park entrance address: Arches Entrance Rd, Moab, UT 84532
Known as a red-rock wonderland, Arches National Park is popular for its rock formations, especially the natural arch features formed from the erosion of the soft red Entrada sandstone. The park has over 1,000 arches, with Landscape Arch the largest and spanning 290 feet. The most photographed site is Delicate Arch, which has a 1.5-mile trail leading to it.
The park is busiest from March through October, however, the spring and fall temperatures are the most comfortable. So, the best time to visit is April, May, September, and October. You could complete a short hike and get a feel for the park in one day.
However, it's best to spend at least 2 days here. This way, you can spend one day exploring the Arches and multiple trails and spend another hiking the Devil's Garden Trail and exploring the viewpoints along the 40-mile scenic drive.
5.

Capitol Reef National Park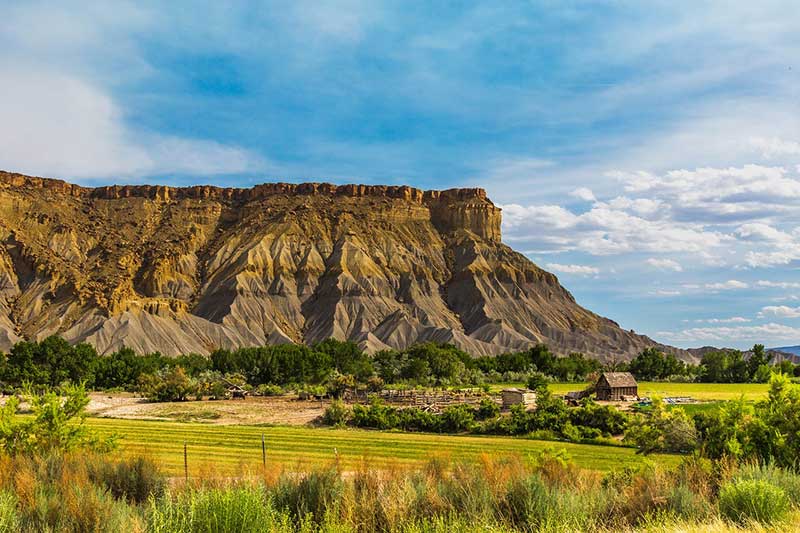 Designation: National Park
Year established: 1971
Acreage: 241,904.50
Yearly visitors: 981,038
Park entrance address: 52 Scenic Drive Torry, UT 84775
Capital Reef National Park is in the heart of red rock country and filled with canyons, domes, cliffs, and a geologic monocline of almost 100 miles. You can go hiking, rock climbing, horseback riding, or camping. Pets on leashes are also allowed in the developed areas of the park.
Since Capitol Reef is a compact park, you could see a lot in one day, including taking the scenic drive and a quick hike. However, you'll want 2 or 3 days to also experience the magnificent night skies, enjoy a ranger program, visit the Gifford Farmhouse, wander the orchards of the historic Fruita pioneer community, and do multiple hikes.
You pay the entrance fee into a self-serve tube at the beginning of the Scenic Drive that starts at the Capitol Reef National Park Visitor Center. The best times of year to visit are the spring and fall months when the weather is mild and lacks monsoons.
---
Other National Park Sites in Utah
The following is information on the 8 other national park sites in Utah managed by the National Park Service (NPS). The state also has 4 National Historic Trails and 3 National Monuments administered by the Bureau of Land Management (BLM) that are not officially part of the national park systems.
6.

Cedar Breaks National Monument

The Cedar Breaks National Monument is located on a steep, bowl-shaped cliff face over 10,000 feet. It looks down on a half-mile-deep natural amphitheater and has strange rock formations and multicolored limestone strata. There are trails, a campground, and a short scenic drive through the monument. However, they are only open from April to November because of the heavy snowfalls in winter.
7.

Dinosaur National Monument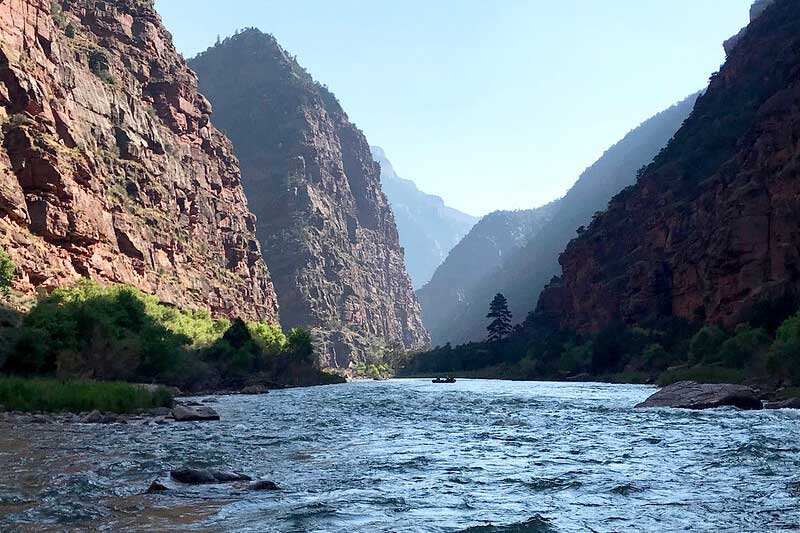 As its name suggests, this site is most famous for the large dinosaur fossils excavated from one location near Vernal, close to the Green River. The discovery site is enclosed and preserved for close-up inspection. Visiting the monument also lets you hike trails, drive two scenic paved roads, and experience sandstone canyons.
8.

Hovenweep National Monument

Hovenweep preserves what remains of 6 prehistoric villages that were once home to over 2,500 people. A visit here lets you explore the various structures, including towers balanced on boulders and perched on canyon rims. The villages were built between 1200 and 1300 AD and offer a unique glimpse into history.
9.

Natural Bridges National Monument

Natural Bridges National Monument preserves 3 majestic natural sandstone bridges and Anasazi cliff dwellings. The bridges are named after the ancestral Puebloans who once lived here: Kachina, Sipapu, and Owachomo. You can view them from a distance at overlooks along the road or up-close by hitting the trails.
10.

Rainbow Bridge National Monument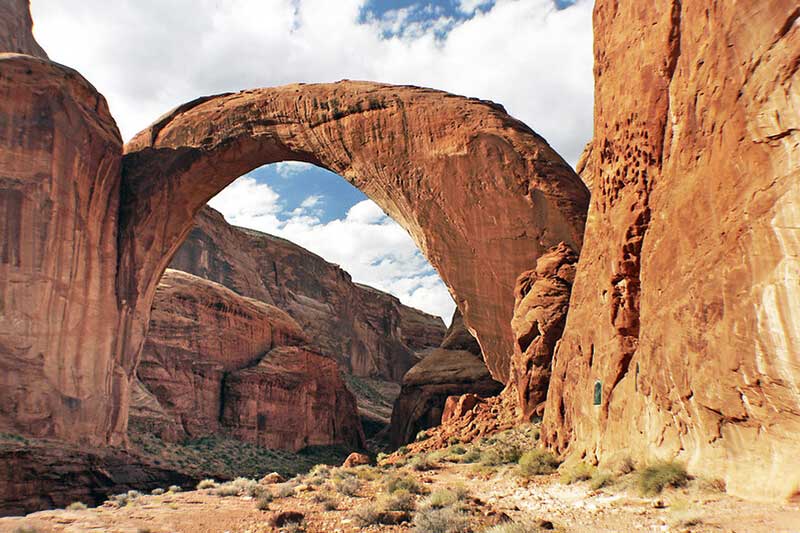 The largest known natural bridge worldwide is Rainbow Bridge. This National Monument spans a narrow canyon and is a sacred site for neighboring American Indian tribes. You can only reach it through a 13-mile hike across Navajo Indian Reservation land or taking a boat trip from Wahweap, Arizona.
11.

Timpanogos Cave National Monument

The Timpanogos Cave National Monument protects 3 interlinked limestone caverns. They are 1,060 feet above the canyon floor and occupy an area under 1 square mile. You can hike through this hidden underground world to see the various helictites. However, cave tours are closed during the winter.
12.

Glen Canyon National Recreation Area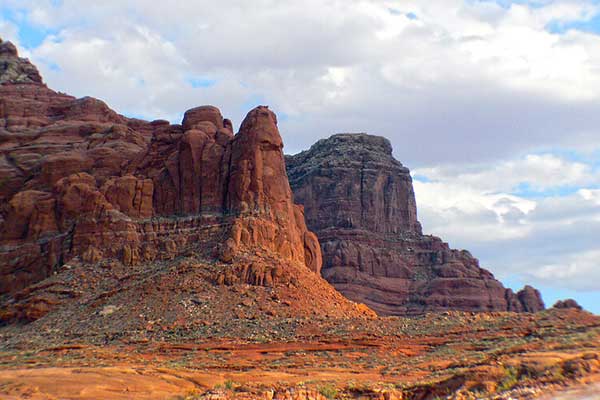 Glen Canyon National Recreation Area consists of over 1.25 million acres and offers plenty of opportunities for backcountry and water-based recreation. For example, Lake Powell is a popular visitor spot surrounded by narrow canyons and red rock wilderness. This recreation area stretches from the Orange Cliffs of southern Utah to Lees Ferry in Arizona.
13.

Golden Spike National Historic Site

This Historic Site commemorates the completion of the transcontinental railroad in 1869 and represents the union of the west and eat portions. Visiting the park headquarters, you can view replica steam trains, historical exhibits, and recreations of the Golden Spike ceremony. There are also driving tours along the former railroad and a 1.5-mile Big Fill Trail.