There are currently 63 national parks and 423 national park sites in the United States. The state of Utah boasts a total of 17 national park sites and 5 national parks of its own. In this article we'll be talking about 2 of those national parks in Utah, Zion and Bryce. More specifically we'll be answering the question, "should I spend more time in Zion or Bryce?" Keep reading to find out more about what makes these 2 parks so special, and how much time you should plan to spend at each one to get the full experience.
Let's have a look!
Should I spend more time in Zion or Bryce?
When planning a trip to see the iconic national parks Zion National Park and Bryce Canyon National Park, you should budget an extra day in Zion. You can spend 3-5 days total and get the most out of visiting both national parks in one trip!
Why spend an extra day in Zion?
There are three reasons to spend an extra day in Zion:
Bryce is a much smaller park overall and contains many viewpoints that can be driven to.
Zion has a shuttle system that runs through the park- you can't drive to most of the popular destinations. Budget extra time for any shuttle delays when the park is crowded.
Zion's two most popular attractions get crowded often, and are best experienced first thing in the morning, which means you'll need at least two days.
---
How many days do I need in Bryce Canyon?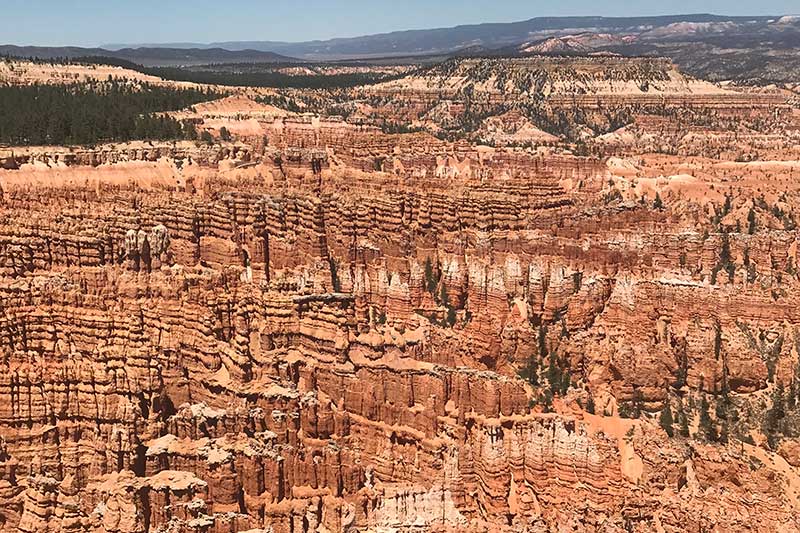 You really only need one day in Bryce to experience the awe of the canyon and the impressive hoodoos. Here are some must-see opportunities to get the most out of your time in the park:
Drive the rim of the park- 3 hours
The main road through the park follows along the rim of the canyon. There are frequent pull off spots to park your car, stretch your legs, and see the canyon and all its hoodoos. These pull off areas have full parking lots, and each offers a unique view into the canyon. The entire drive along the rim, including stops, should take around three hours.
Hike into the canyon- Navajo Loop and Queen's Garden Trail- 1.5 hours
The Navajo loop is the most popular hike in Bryce Canyon. You can hike down below the rim and explore the hoodoos firsthand during this hike of approximately 3 miles. Hiking times will vary based on walking speed and how often you stop to take pictures (because you will be tempted to do so often!), but this will take approximately an hour and a half.
If you want to extend your time on this hike, you can expand it to add on the Peekaboo Loop Trail. It connects right into the Navajo Loop and Queen's Garden Trail, tacking on an additional 3 miles and about another hour and a half. The Peekaboo loop is much less crowded, and provides more of the same breathtaking views of the hoodoos.
A bonus day in Bryce
Driving along the rim of the canyon and venturing below the rim to Navajo Loop and Queen's Garden Trail will give you the full feel of the park. However, there are a number of other trails to explore outside the main center of the park, where you will find more solitude and longer hikes. Here are some other hiking trails in Bryce Canyon.
---
How many days do I need in Zion?
You should plan on spending more time in Zion than Bryce. 2-3 days in Zion will give you a feel for the park and allow you to see the most popular attractions.
Iconic hikes- half a day each
Zion is a huge park, with amazing views everywhere you turn, and countless hiking trails to explore. Zion is also home to two of the most iconic, talked about hikes in the United States.
Each of these hikes takes about half of a day, but due to their popularity can be quite crowded. To avoid the crowds, you should spend at least two days in Zion, going to each of these hikes first thing in the morning.
Angel's Landing
Angel's Landing is a 4.4 mile hike that brings you up switchbacks to a giant ridgeline. Using chains installed into the rock for stability, you climb up along a narrow ridge that is at times quite steep, with drop offs on each side. The views are unparalleled! (see image at the top of the page)
Note: the National Park Service is going to turn Angel's Landing into a lottery system hike in 2022. This means that you will have to enter your name in the lottery ahead of time for the chance to do the hike on a specific day. Check the Zion website before you go, to see if the hike is still open to the public or if you will need to enter the lottery.
The Narrows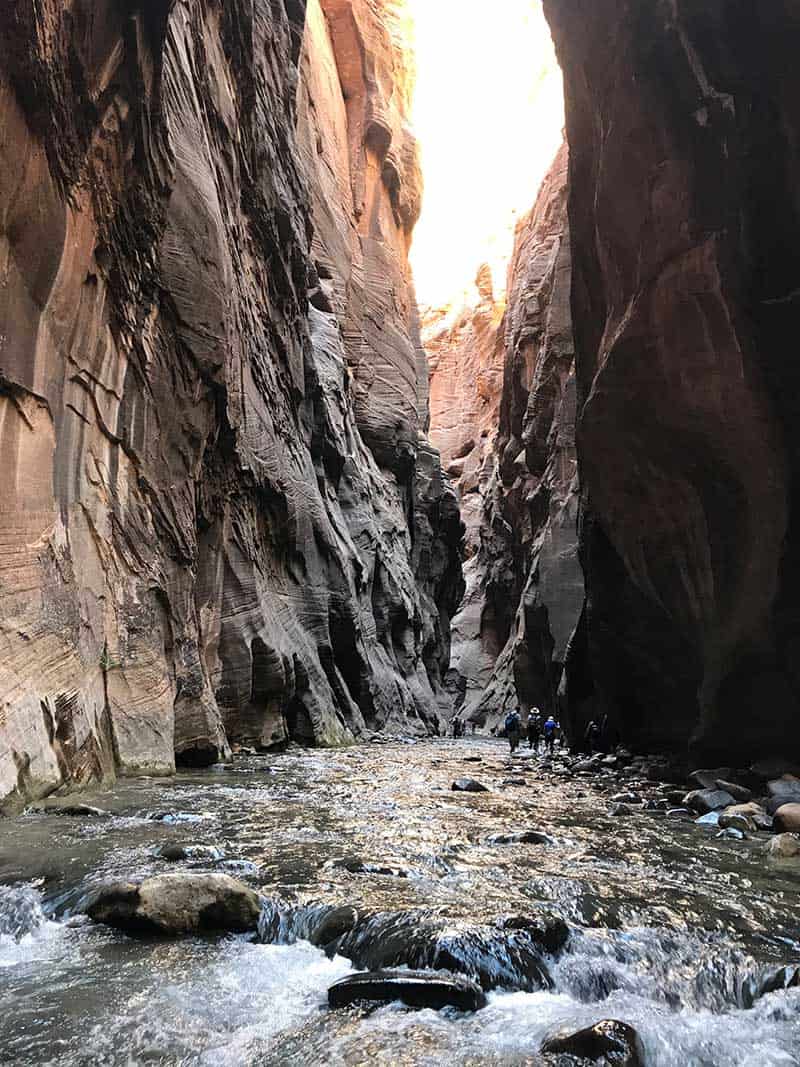 The Narrows is a hike unlike any other. Instead of climbing up a mountain, you are following a river at more or less the same elevation. What makes this hike so unique is that you are not following along the river, but in it! The river continues on for 15 miles in this hike, but you can turn around at any point and head back to dry land. There is also waterproof gear you can rent in town to help you stay dry as you trek through the river.
If you are able to spend an extra day in Zion, take advantage of the different activities they offer. In addition to hiking, there is a bike path and a river that runs through the park, providing adventures for everyone!
Restaurants and souvenirs
Traveling with family? Want to enjoy a nice meal with a backdrop of Zion's mountains? Zion has a lodge with a cafe and restaurant. So whether you want to recharge with a meal after hiking Angel's Landing, or grab a coffee after an early morning in The Narrows, don't miss the opportunity to take a break at the Lodge!
On your way to the western entrance of the park, you will pass through the town of Springdale. Springdale has everything the national parks visitor could want- mini golf, ice cream, mini grocery stores for a last minute trail snack, and loads of restaurants and souvenir shops. If you want to rent gear to hike The Narrows, there are plenty of shops in town that have the supplies.
The town is a great place to stock up on anything you need to gear up for a day in the park, or to wind down on your way out. And since Zion operates with a trolley system to get around the park, you can leave your car in town and hop on the complimentary trolley to pick you up and drop you off.
---
Conclusion
You should spend more time in Zion than in Bryce as Zion is a much bigger park with a lot more to do. You can make the most out of a visit to Zion in 2 days, and you really only need one day to see the most popular parts of Bryce Canyon.
To make the most out of the close proximity of the two parks, combine them into one trip of 3-5 days and experience it all! Or better yet, throw in a visit to the Grand Canyon and go for three!