Colorado is a beautiful state with a wide array of attractions and experiences for you to enjoy. Trying to fit everything into your trip, however, can be frustrating and stressful. This is especially true if you're looking for something more than your traditional tourist attractions. The good news is that we have compiled 10 hidden gems and things to visit in Colorado, maybe on your first trip.
10 things to visit in Colorado
Here are 10 ideas to consider when figuring out what to do on your trip to Colorado!
1. Rocky Mountain National Park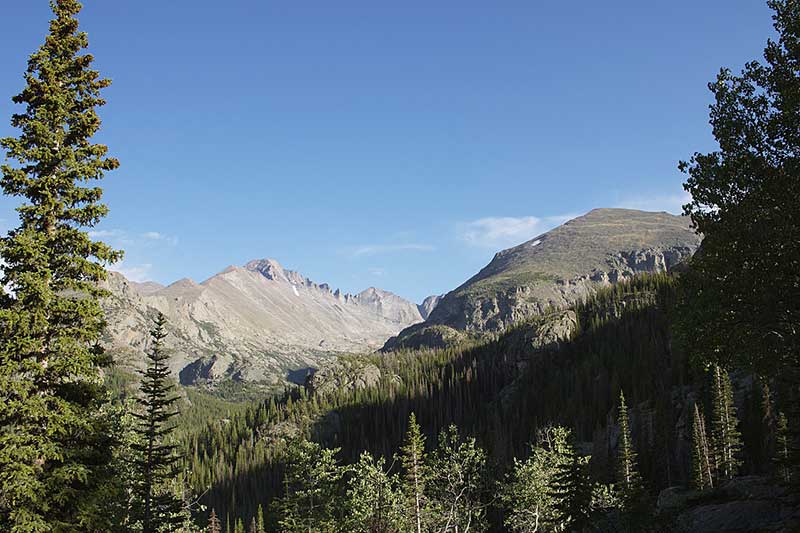 Location: Estes Park, CO
For those who love the outdoors, the Rocky Mountain National Park is a must see! This stunning national park features 415 square miles packed with sparkling lakes, mountain peaks, meadows, and over 300 miles of trails for hiking.
Rocky Mountain National Park was established in 1915, and is one of the highest national parks with elevations up to 14,256 feet. The Rocky Mountain National Park is one of the more traditional places to visit in Colorado, but it is often overlooked by first-time visitors to the state.
---
2. Indiana Jones' Home
Location: Antonito, CO
Fans of Indiana Jones or just movies in general will get a kick out of the Indiana Jones' home, which has been turned into an adventure-themed bed and breakfast.
The home is shown at the beginning of 'Indiana Jones and the Last Crusade' as a young Indy (played by River Phoenix) is running away from grave robbers and seeks safety in his childhood home. The house itself was only in the movie for a short amount of time but quickly became a pop culture icon. The bed and breakfast also features artifacts and videos from the movies.
---
3. Fifty-Two 80's
Location: Denver, CO
Walking into the Fifty-Two 80's is like stepping back in time. This collectibles store feels more like a museum than a shop, with walls packed full of vintage toys, clothing, and memorabilia from the 80's and 90's.
While the shop itself is a bit on the small side, they have over 4,000 items ranging from cassette tapes to Halloween masks, and even cardboard cutouts, board games, and video game cartridges!
---
4. Rainbow Falls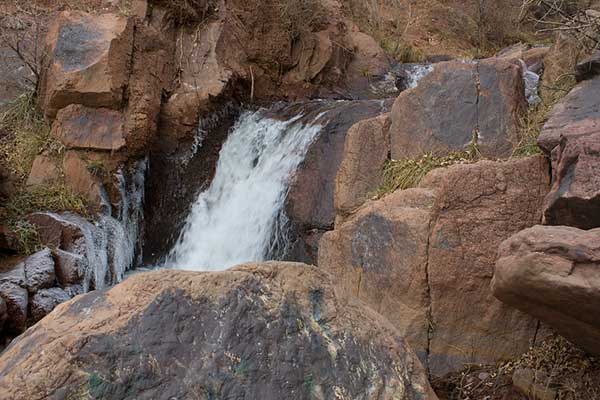 Location: Manitou Springs, CO
Rainbow Falls, also known as Graffiti Falls, is a unique waterfall that is surrounded by canyon walls covered in graffiti. This gives the falls an interesting and whimsical appearance, something not commonly seen around waterfalls.
The falls, which are located in Manitou Springs, also feature a 45 foot plunge. To get to the falls, you will have to walk a moderately trafficked trail that is about 0.5 miles long. Thankfully, the trail isn't a difficult one to navigate and hikers of all skill levels should have no problem walking the trail.
---
5. Breckenridge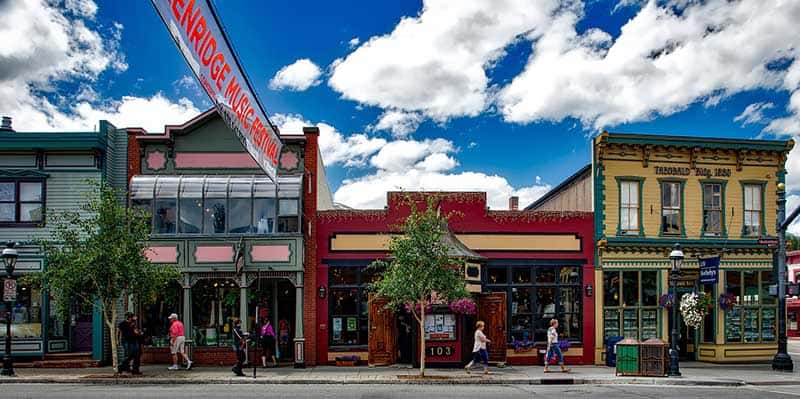 Location: Breckenridge, CO
If you're looking for something like Aspen but different, consider the ski town Breckenridge. This mountain town is close to Denver, CO and is actually higher than most of the other Colorado mountain towns.
It has an elevation of 9,600 feet, and is one of the main reasons why it gets over 300 inches of snow during the winter. Breckenridge features a wide array of activities throughout the entire year. In the winter, the town is transformed into a ski and snowboarder's dream.
When the weather warms, Breckenridge has various trails to explore on foot, bike, horseback, sled, or wheel. Breckenridge is the ideal location for adventure-lovers and offers ziplining, mountain climbing, whitewater rafting, stand-up paddle boarding, kayaking, and fishing.
---
6. Dunafon Castle
Location: Idledale, CO
Dunafon Castle is an event center in Bear Creek Canyon. It has stunning views, which makes it a popular wedding venue. It is surrounded by mountain forest and babbling water. The castle is situated on 17 acres filled with hiking, walking, and biking trails, as well as over 1,000 feet of private trout ponds.
These trails are part of the Jefferson County Open Space Complex. Tours of the castle are available by appointment only, but it is worth a visit, especially if you have a love for the renaissance period.
---
7. Jefferson County Open Space Complex
Location: Jefferson County, CO
The Jefferson County Open Space is an outdoor-fanatics ideal destination! It features 56,000 acres of preserved land, 251 miles of walking or hiking trails, and 27 different parks. The trails range in difficulty from novice to more extreme, so you are sure to find a few that suit your hiking level.
They also offer camping, hunting, bird watching, climbing, horseback riding, geocaching, fishing, recreational gold prospecting, kayaking, and so much more.
---
8. Crystal Mill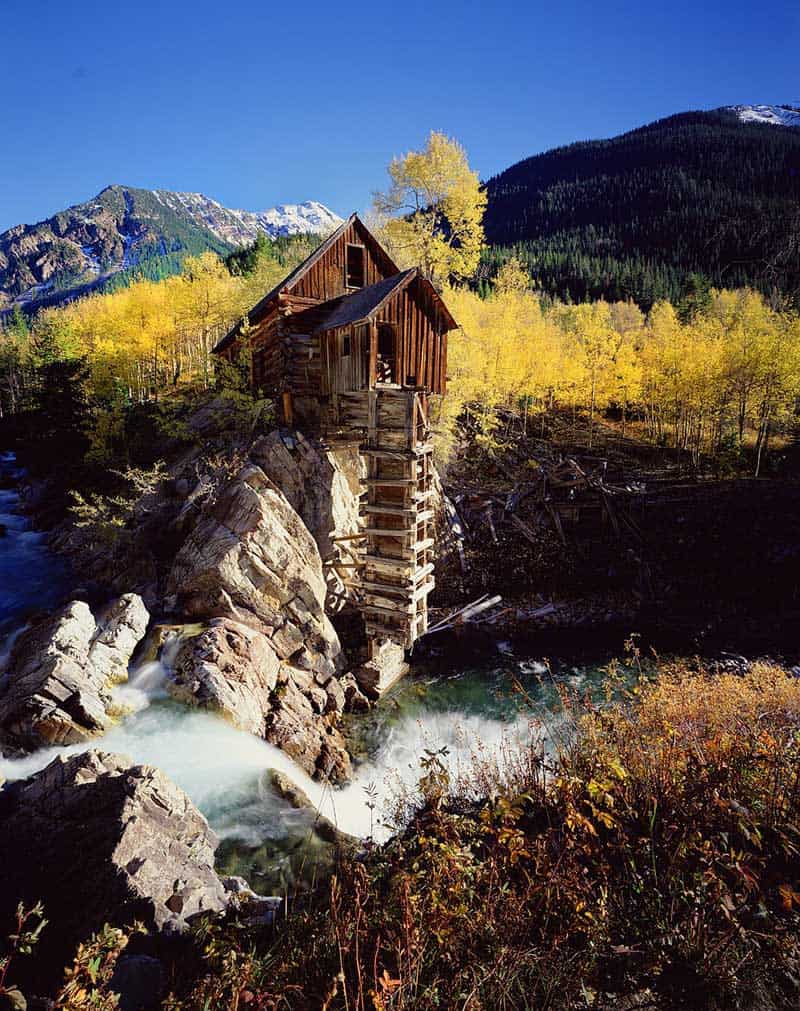 Location: Marble, CO
Crystal Mill is known as one of Colorado's most photographed sites. And when you visit the mill you will see why. The mill sits on a high perch with stunning mountain peaks in the background and rushing water falling from a deep drop in the front.
All of this makes for a stunning photo! The Crystal Mill is located on the outskirts of Marble, and was built in 1892. In 1917, the mine was closed and the mill abandoned. Colorado decided to landmark the mill in 1985 by adding it to the National Register of Historic Places.
---
9. St. Elmo Ghost Town
Location: St. Elmo, CO
St. Elmo is one of the best preserved ghost towns in the entire West!  It is also one of the easiest to gain access to. There are 43 different buildings found in the town, including a jail/courthouse, saloon, mercantile, and various private homes.
The ghost town is open year round, though their working general store is only open during the summer. The town was founded in 1880, and was originally named Forrest City, but the founders decided to change the name due to the various other towns using the same name.
One of the founding fathers of the town, Griffith Evans, came up with the name St. Elmo because he was reading the novel of the same name. The town itself once had a population of about 2,000 people and was filled with dance halls and saloons. Unfortunately, when the train service closed down in 1926, the town began to dwindle, and by the late 1950s, St. Elmo lost most of its residents and became a ghost town.
---
10. UFO Watchtower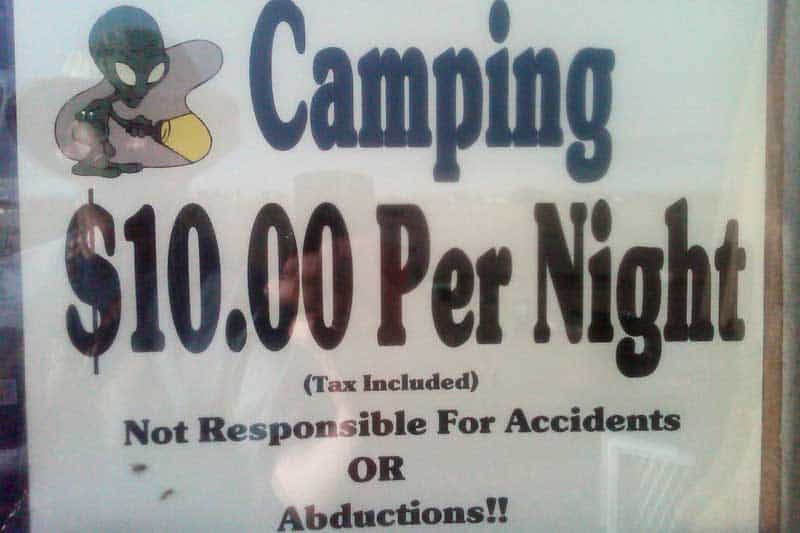 Location: Center, CO
Considered by some as one of Colorado's most unique roadside attractions, the UFO Watchtower is a must see for anyone with a love of the paranormal and all things extraterrestrial. Legend has it that the area is home to an abundance of UFO sightings. Don't worry if you're more of a skeptic when it comes to UFOs and ETs, the Watchtower features an unfiltered view of Colorado's sky, which makes stargazing, or UFO watching, much easier.
Furthermore, the Great Sand Dunes National Park is close by, and this park is one of the International Dark Sky Parks. What this title means is that it has been designated as a park that offers "exceptional or distinguished quality of starry nights".