When planning your trip, you will want to know what is the best time of day to go to Cades Cove? Knowing this information can help ensure you have time to see all the sights and experience all that this stunning area has to offer. The best time to visit Cades Cove is typically early in the morning, but this recommended time can change depending on what you plan to do at Cades Cove.
What is Cades Cove?
Cades Cove is located in the Smoky Mountains and is visited by millions of people every year. Hundreds of years ago, the Cades Cove area was a hunting ground for the Cherokee Indians. In the 1800s, however, the area began to expand with farmers and their families.
Over 100 settlers built cabins, grist mills, churches, and much more. During your visit, you can see wildlife, hike, and step back in time with the help of the many historical structures.
What is the best time of day to go to Cades Cove?
According to the official Cades Cove website, the answer to the question "what is the best time of day to go to Cades Cove" is either in the early mornings or late evenings. This lets you experience all that Cades Cove offers without the hassle and frustrations of large crowds.
As the day progresses, Cades Cove gets busier and busier, and getting a jump on the day by visiting earlier lets you avoid all the other guests. Furthermore, you are more likely to see the wildlife who call Cades Cove their home during the early morning hours.
However, if seeing wildlife isn't something you're concerned about and you don't mind crowds, then you can visit Cades Cove at anytime during the day.
What are Cades Cove's hours?
Cades Cove is open year round, as long as the weather permits, from 8 am to sunset. The Cades Cove Visitor Center, however, has different hours that vary depending on the month. They are open from 9 am to 5 pm in January, February, March, April, May, and June.
In July and August, the visitor center opens at 9 am and closes at 7 pm. These hours are reduced a bit in September and October, opening at 9 am and closing at 6:30 pm. In November, the hours are 9 am to 5:30 pm, and in December the hours are from 9 am to 4:30 pm.
What is the best time to see bears and other wildlife at Cades Cove?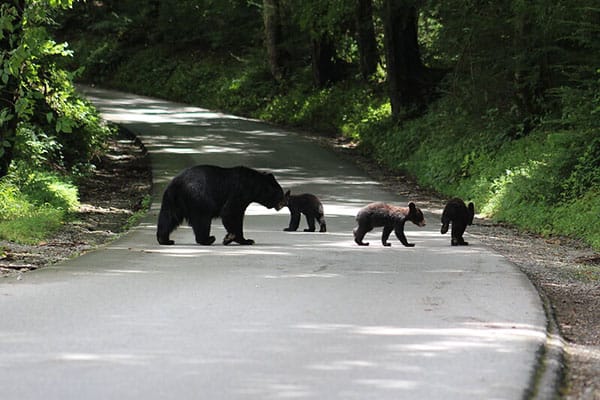 The diverse wildlife that Cades Cove has to offer is a popular reason to visit the area. Bears, raccoons, elk, groundhogs, black bears, white-tailed deer, coyotes, turkey, and skunks are just a few of the wildlife that call Cades Cove their home.
The best time to see bears and other wildlife is earlier in the day. Early morning before Cades Coves gets busy is the best time to go for wildlife watching. The busier it gets, the less likely you will see wildlife.
---
What are the best spots in Cades Cove?
While the Cades Cove Loop is by far the most popular place in Cades Cove, it can get congested once all the visitors start showing up. The loop is 11 miles and can quickly become clogged with traffic.
And since it is a narrow, one-way round that only has one exit, it can take 2 to 3 hours to drive through on the busiest of days. Furthermore, traffic can slow to a crawl when visitors keep stopping to see the wildlife. Locals in the area call this a deer jam or bear jam.
The good news is that there are several other spots in Cades Cove that are hidden gems which don't get nearly as much traffic as the Cades Cove loop. These spots include:
Cades Cove Nature Trail – This short trail starts at the Cades Cove Campground and is a must for anyone who wants a relaxing walk filled with babbling creeks and lush forests.
Cades Cove Horse Trail – While the Cades Cove horse trail is used by the riding stables at the Cove, it is open to anyone who wants to hike the trail as well. And since visitors typically do not know about this hidden gem, you won't find any crowds or "traffic jams". To find the horse trail, just walk about 1/4 of a mile on the Anthony Creek Trail and you will see the horse trail branch off from the right. The trail goes through dense forest and is about a mile long.
Sparks Lane Loop – Hyatt Lane and Sparks Lane bisect the Cades Cove valley and make a wonderful location for a short hike to Cades Cove. Sparks Lane is located on the left side of Cades Cove Loop road about one mile from the cove's gate. Follow this road for a pleasant three-mile loop through the area where you will see peaks towering above the valley and stunning mountain fields.
---
What is the best way to get around Cades Cove?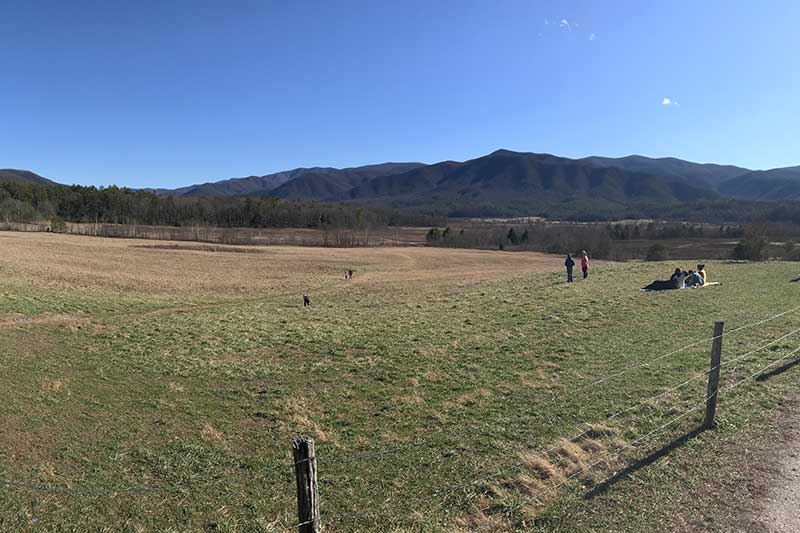 As stated above, driving on the Cades Cove Loop isn't always the way to go, since it can get backed up and turn a relaxing drive into a frustrating situation. Because of this, you may have a better experience by parking outside of the cove and traversing the roads less traveled with a different method of transportation.
Cades Cove can be easily explored without having to drive on the loop, and you can even explore the area on foot, bike, or horseback. With that said, however, you should consider the physical limitations of yourself as well as all those who are traveling with you. Walking or biking may sound like a good idea, but if there are mobility issues, then you may run into problems.
What activities are available at Cades Cove?
Cades Cove provides a wide array of outdoor activities for people of all ages. You can camp, hike, bike, have a picnic, and even go horseback riding. It is recommended to stop at the visitor center when you first arrive.
They will be able to provide you with a map and answer any questions you may have about Cades Cove, as well as assist you in taking part in the various activities that can be done.
---
Conclusion
The best time of day to go to Cades Cove can vary depending on what you want to do in the area. But a good general timeframe is in the early morning hours or later in the evening, so you can enjoy the natural beauty of Cades Cove before it gets too busy.