Gatlinburg, Tennessee is one of the most popular tourist destinations in the United States, hosting millions of tourists each year. The rather small downtown area is full of unique shops and restaurants, and the nearby Smoky Mountain National Park has over 800 miles of trails to explore. You may have noticed or read that there are a ton of breakfast and pancake houses in this one small area. Why are pancakes so popular in Gatlinburg?
At this point it has become a tradition for people who vacation in Gatlinburg, or nearby Pigeon Forge, to visit a pancake place for breakfast. Tourists are consistently amazed by just how many pancake restaurants there are in the city, especially given how small it is.
Why are pancakes so popular in Gatlinburg?
You are probably wondering what started this pancake pandemonium. The truth is no one can really put a finger on when or why this started. There is no specific reason that the tradition of eating pancakes started in Gatlinburg, but lack of an origin story hasn't kept people from enjoying the town's signature breakfast food.
Some people believe it has to do with Gatlinburg's location in the southern U.S. While various types of pancakes are found across the world, the south is known for perfecting one of America's favorite, the buttermilk pancake.
Other people think it has something to do with lumberjacks who once called the mountainous region home. Hearty pancakes kept the lumberjacks full and gave them the energy they needed to start the days work.
I'm guessing the rise of tourism in the region also had something to do with it. Pancakes are an American breakfast favorite, especially as a vacation treat. With all the vacationers trying to feed their hungry family something in the morning that will give them plenty of energy for a day exploring the Smoky Mountain trails, pancakes seem like a no-brainer.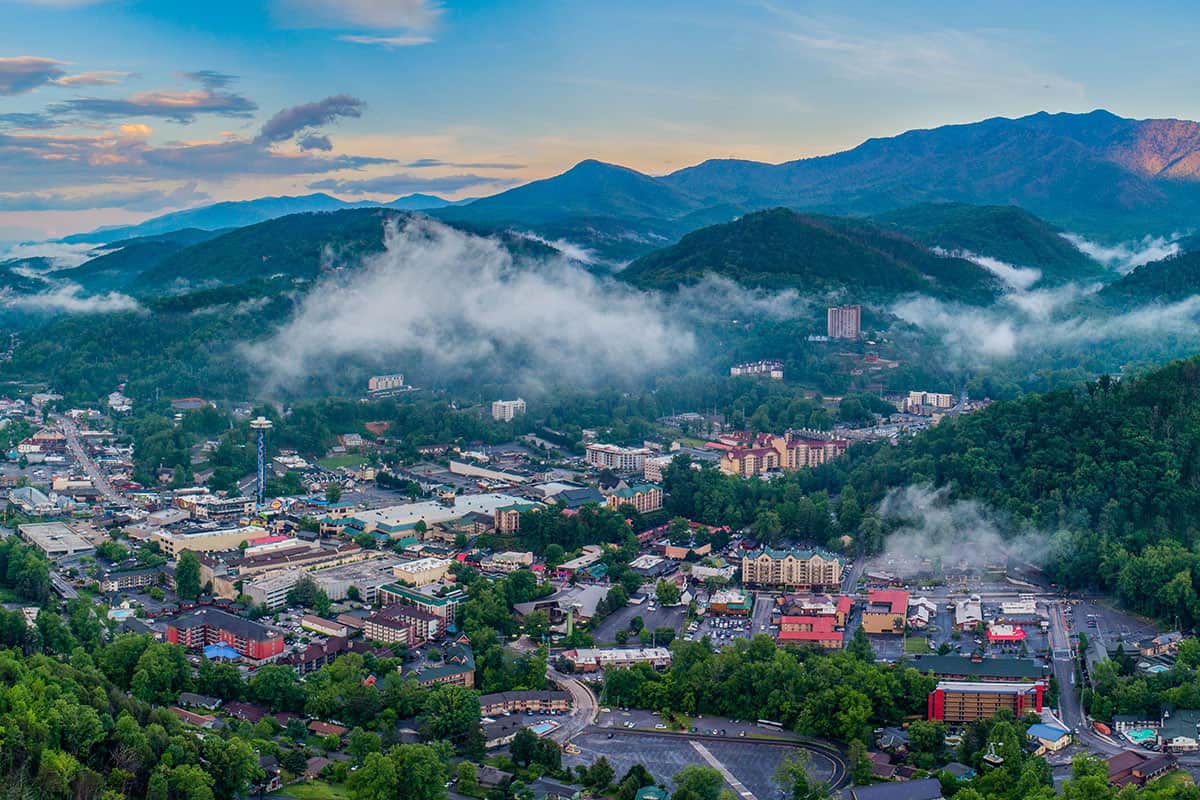 Long Waits
Every day in Gatlinburg tourists can be found waiting in long lines just to enjoy a plate of fresh pancakes. Given how numerous these breakfast restaurants are, it's surprising that most of them still routinely have long lines. Restaurants open early and are busy into late morning. You'll even be able to smell the pancakes just by walking through the street.
The trend even reaches into nearby Pigeon Forge and the rest of Sevierville. Weekend morning are typically the most busy, with mid-week being less crowded. Visitors do report that some of the bigger pancake houses know how to get people in and out fairly quickly. But keep these wait times in mind when planning your day, and build in some extra time for breakfast.
---
8 of the Top Pancakes Places in Gatlinburg
Given how many pancake houses there are in Gatlinburg, it would be nearly impossible to pick the absolute best. However, there are a handful that always rank high on "best of" lists. We have complied a short list below, in no particular order, of these customer favorites. Just remember the more well-known, the busier it will be. Try out a few different locations and see which you like best.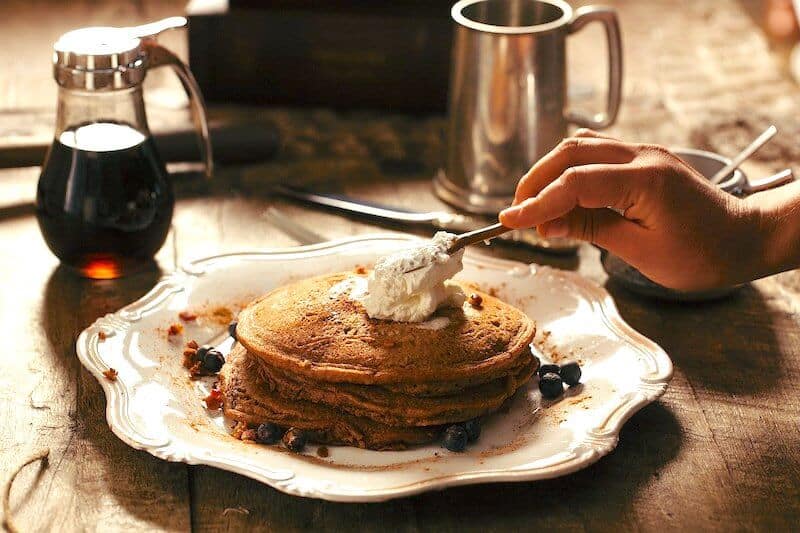 1. Pancake Pantry
The Pancake Pantry is known as the original pancake restaurant. It was opened in 1960 as the first pancake house in Tennessee. The restaurant has been going strong ever since and today is a staple of Gatlinburg. Patrons can enjoy a wide range of pancake flavors, including cornmeal, potato, orange-walnut, and blueberry. It has become one of the number one restaurants for tourists to visit, even if just for the historical significance.
2. Smoky's Pancake Cabin
Smoky's Pancake Cabin is known for its simplicity. While other breakfast restaurants in Gatlinburg like to build unique pancake creations, Smoky's just has old fashioned flapjacks. One of their most popular menu items is the Pineapple Upside Down Pancakes, something no other restaurants in the area serve.
3. Flapjack's Pancake Cabin
In Sevier County, there are six total locations for Flapjack's Pancake Cabin, and each one offers pretty much any kind of pancake you could want. They've been serving made from scratch flapjacks for over 50 years, and they even have some gluten-free options. Three of their locations are in Gatlinburg. There's one location in Pigeon Forge, Kodak, and Sevierville.
4. Frizzle Chicken Farmhouse Café
The Frizzle Chicken Farmhouse Cafe is known for its singing animatronic chickens. That's right, they apparently have over 100 animatronic singing chickens. The kids are sure to get a kick out of that. Let's face it, you probably will too! While this feature gives them a unique spin, their pancakes are just as good as any others found in Gatlinburg. Many tourists claim to visit for the strange atmosphere, but end up returning for the food alone.
5. Reagan's House of Pancakes
Reagan's House of Pancakes has actually earned a nickname in Gatlinburg as the place that was "so nice it was built twice." The first location can be seen shortly after entering Pigeon Forge, and the second one is found less than two miles down the road. No matter which location you pay a visit to, you're in store for some delicious pancakes and other breakfast delicacies.
6. Crockett's Breakfast Camp
Crockett's Breakfast Camp restaurant was made to honor David C. "Crockett" Maples, who was a frontiersman during the Civil War, serving as a private and corporal in the Ninth Tennessee Cavalry. After the war, he set up a supply store at Mount LeConte with his wife, Mary R. Ogle. There the pair would serve breakfast to hungry travelers. Of course, when tourists first hear the name of this pancake house they assume it was named after Tennessee legend Davy Crockett.
7. The Atrium
The Atrium is considered one of Gatlinburg's hidden gems. It has some of the best breakfast food in the city but is known for having amazing flapjacks. They serve the famous Baked Apple Pancake, a breakfast delicacy that has gained somewhat of a cult following. This pancake is made in a skillet, complete with apple slices and brown sugar. It was even once featured in Taste of Home magazine.
8. Little House of Pancakes
This is one of the smaller pancake joints in Gatlinburg, but it's still worth paying a visit to. It's a mom and pop shop, open from seven in the morning to two in the afternoon. It's a great budget-friendly option since they have reasonable prices and an all you can eat pancake special.
---
To sum it up
When it comes to breakfast in Gatlinburg, pancakes are king. There isn't a clear answer why this came to be, but you have to admit a big stack of pancakes in the crisp mountain air sounds pretty darn good. There are no shortage of pancake houses, so make sure you give one a try during your next visit. It will be worth the wait.