If you enjoy mountain biking, having cold-weather cycling gear available for you to use can help to extend your mountain bike riding throughout the year, even when it gets quite cold outside. In this article we'll take a look at what to wear mountain biking in the cold.
No matter where you live, having some of these items can be useful and can help extend your biking season so you can enjoy your outdoor hobby for longer than you would otherwise. The items recommended in this article are great biking accessory options and will help ensure that you are comfortable and safe during your cold-weather mountain biking adventures.
What to wear mountain biking in the cold – 8 things to consider wearing
1. Warm Pants
These biking tights from REI are the perfect biking gear to invest in. While they are a bit on the expensive side, you get what you pay for and these will last a long time. They are mostly seamless, which means they will be comfortable during long rides and cause less chafing.
They are also water-shedding, so they will help keep you warm and dry if you happen to get caught in the rain or bike through puddles. They also are thin and lightweight, which means you can layer them under another pair of pants when you're biking in cold weather. Overall, these make an excellent choice for mountain biking in the cold.
2. Cycling Gloves
Gloves are a necessity for biking in the fall and winter. If you know your hands will be warm and comfortable, you'll be more likely to go for a ride in the first place and also to go for longer rides. These gloves from Amazon will keep your hands warm, but they also have a reflective strip on them, an added safety feature.
They have silicon on the fingers, which helps to maintain a good grip on mountain bike handles. You can also operate a touch screen while wearing them as well, so if you need to use your smartphone, you don't have to remove the gloves.
3. Thermal Jacket
A convertible cycling jacket, men's or women's, is another great investment from REI. It's waterproof, which will help to protect you from rain and snow. It is designed so that rain will bead up on the jacket's surface and not soak through.
The sleeves also snap off and store in the back pocket, which is perfect for if the weather changes and you want to remove layers. It also is reflective, which helps to improve your safety while you're biking. It also has a mesh panel to allow for ventilation, which enhances breathability.
This jacket will keep you warm and cool if necessary, so the flexibility is great. It also fits very well, and you can adjust the fit with the cords on the hem. It's got pockets on the front for storing essentials, or the sleeves if you choose to remove them.
On top of that, this jacket is also made from recycled materials, which is excellent for the environment. If you're environmentally conscious and looking for a great biking jacket, this is the one for you.
4. Waterproof Socks
A comfortable pair of socks is essential for any athletic activity, whether it be biking, running, or skiing. And for cold weather activities, you want your socks to be comfortable as well as warm. These socks are lightweight, moisture-wicking, breathable, and popular on Amazon.
They are also waterproof, which is a great feature for instances where you might be caught out in inclement weather. In combination with a good pair of shoes, these will make your cold-weather mountain biking much more enjoyable.
5. Fleece Face Mask
Before your first ride in the cold weather, it is easy to forget that your face will get cold, too, in addition to your head and ears. This fleece face mask will help to keep the cold air off of your face and neck. It's stretchable, breathable, and it will help maintain your body heat on the cold days when you're out riding.
Not only does it keep your face warm, but it also covers your neck to give you that extra bit of protection if you're jacket or shirt doesn't entirely cover that area. Having one of these will ensure that there isn't much skin exposed while you ride, ensuring that you are comfortable.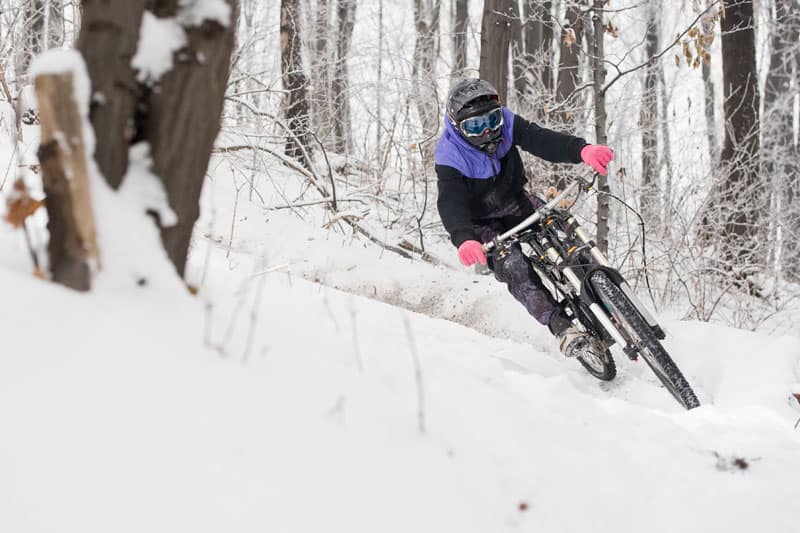 6. Shoe Covers
Cold feet can be enough to make even the most passionate mountain bikers decide to skip out on their ride. These shoe covers are an additional layer between the cold air and your toes, and in addition to some good pair of socks and shoes, they can ensure that your feet will stay warm and dry.
They're waterproof, which is useful if you happen to ride through a puddle. The shoe covers will keep your shoes and socks from getting wet and ruining your ride. They also open and close with Velcro on the bottom, making them convenient to take on and off.
7. Thermal Undershirt
An undershirt makes for the perfect base layer for mountain biking. In order to stay warm during cold weather outdoor activities, layering is key. And since you're doing an athletic activity, you'll want to stay away from wearing anything that's too bulky and that might be uncomfortable.
For long rides, a lightweight but warm thermal undershirt is a great buy. You can find thermal undershirts on Amazon for pretty cheap. It's designed to be warm and moisture-wicking and is made with technology to reduce odors.
8. Hat
When biking in cold weather, it's essential to keep your ears and head warm so that you're more comfortable. A thermal hat like this one is lightweight and thin enough to wear under a helmet. It wicks moisture away, so if you get sweaty on your ride, it will still be comfortable.
It also is breathable and lightweight, but the thermal lining will help to maintain your body heat at the same time. Not only is this great for mountain biking since it can fit under a helmet, but it's also great for your other outdoor athletic activities, like running, snowboarding, and skiing.
Wrap up
I hope this quick list of what to wear mountain biking in the cold helps you stay nice and toasty when you're out on the trails this winter!